In the topic of gravel bikes, there might be two different groups of people : the one who is a diehard drop bars fan, and the other is a stand of flat bars. The debate between the two can get intense, but unfortunately, there is no the most correct answer to determine the ultimate handlebar type for gravel bikes. Instead, it is actually a very personal opinion and choice, depending on the cyclist's style of riding and preference. So, to cover this topic and help you figure out which one is for you, we are going to discuss the pros and cons of a drop bar vs a flat bar. Let's take a look!
Drop Bar Gravel Bike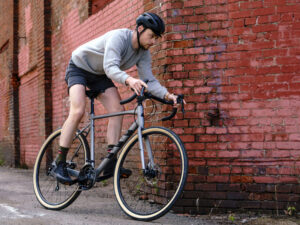 A drop bar gravel bike inherits the characteristics of its predecessor, which is the road bike. Drop bar gravel bike is preferred among cyclists because of its aerodynamics. To see the other aspects for yourself, here is the complete list of the pros and cons of a drop bar.
Pros #1 : Aerodynamics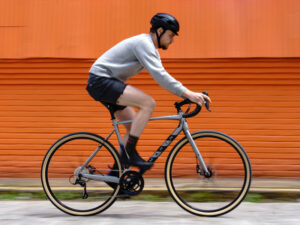 As we have mentioned before, a bike with a drop bar design has more aerodynamics compared to other types of handlebars. It is because a drop bar will force its rider's position to be more bent forwards, resulting in a flatter position of the body. This position will reduce the amount of body area making contact with the air, thus reducing the drag. This characteristic is only important if you are looking for fast-riding with your gravel bike. Whether you are climbing up the hill before an off-road session in the forest, or a downhill ride after your day of fun. If you prioritize the speed in both of those parts of your ride, then a drop bar is for you.
#Pros 2 : More Choice of Hand Positions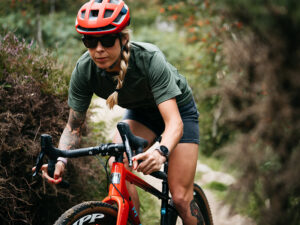 With a drop bar gravel bike, you will have more choice of hand positions. The first one is on the hoods, which will give you a slightly more upright riding position. The second one is on the bars, which is similar to a flat bar. The third one is on the drop part, which will bend your body into a drop position. With these 3 options, cyclists can easily adjust their hand position, giving more comfort for the palm and forearm.
#Cons 1 : Less Control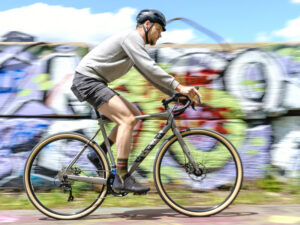 A drop bar gravel bike will have a narrower length of the handlebar. That means you are squeezing your body to be as slim as possible, which might get in the way of your movements when you are maneuvering your bike. Also, you can only pull the break effectively on certain hand positions (on the hoods and drop). The time that it takes to switch your hand position is not effective. Lastly, as said earlier, a drop bar will also force your body to be flatter, which also limits your vision over your surrounding area.
#Pros 2 : Limited Space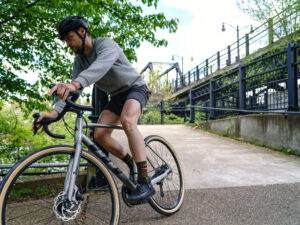 Because of its narrower length, besides the compromised physical comfort, it also limits the accessories you can put on your handlebar. A handlebar bike bag that is too long will not fit right on a drop bar. There is also less space for you to mount your lights, cyclo computer, phone holder, bell, mirror, and other accessories. You will have to mount your accessories strategically and move some to other parts of your gravel bike frame as well.
Flat Bar Gravel Bike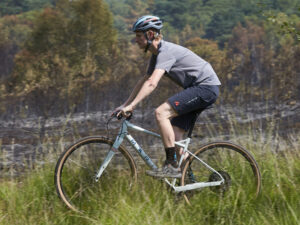 A flat bar gravel bike has more of the MTB bike DNA in its design. The flat bar shape is actually to give more control when you are riding your bike on more extreme and rough terrains. See the complete list of flat bar gravel bike pros and cons below!
Pros #1 : Maximum Control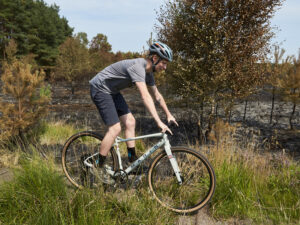 A flat bar gravel bike has a more natural and upright riding position, meaning that it will not strain their back, neck, and core too much. This body position makes it more comfortable for cyclists during long rides. It also gives the cyclists' wider vision over their surrounding area and more control over their bike. A wider length of flat bar provides more area for cyclists to move and precisely maneuver their bike. There is only one hand position for a flat bar gravel bike, which is the standard flat one. With this position, cyclists do not need to adjust their hand position while facing rougher terrains, which is also great for beginners. The leverage you have over the brake is much more firm and steady, as you can access it easily without needing a certain hand position first.
#Pros 2 : More Space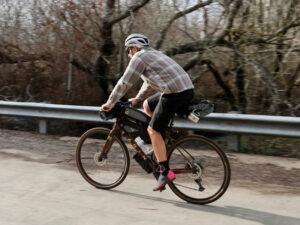 With the wider length of a flat bar, it gives you more space to mount your accessories on your handlebar. You can easily fit multiple accessories that will be very visible to the eyes and easy to reach. The accessories you choose to help make your ride much more comfortable will be used to its maximum potential!
#Cons 1 : Less Hand Position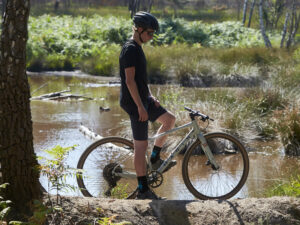 Like mentioned before, flat bar gravel bikes only offer you one hand position. That could be an advantage, but also a disadvantage at the same time. Experienced cyclists might have preference for some hand position while gripping the bars. They might want to change the position several times to relieve the ache on their palm and forearm. Therefore, a flat bar will not exactly work wonders for these types of cyclists.
Cons #2 : Less Aerodynamics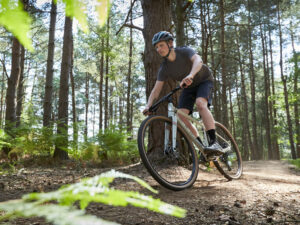 More upright seating position with a flat bar gravel bike means more area of contact between the body and air. Your upright body position will increase drag, which then results in less aerodynamics, making you unable to chase speed efficiently.
Conclusion
To conclude, a flat bar gravel bike is good for beginners, because it provides less option for hand position, giving them less things to figure out during their ride. It gives better control over their bike. To read more about flat bar gravel bikes, we have made a dedicated article about it. Click here to read!
On the other hand, a drop bar gravel bike will be better suitable for those of you who are still aiming for fast-riding. Chasing speed is your priority, but with an option for a once in a while off-roading when you fancy a challenge.
At Rodalink Malaysia, we offer the complete line up for top quality flat bar and drop bar gravel bikes. For a flat bar gravel bike, we recommend the Marin DSX line up, specifically the Marin DSX 2 Gravel Bike. It is made from durable alloy material that can withstand any obstacle, 12 speed option, and Shimano Deore drivetrain. For a drop bar gravel bike, our pick will be the Polygon Path X5 Gravel Bike. With special ALX alloy gravel material, 11 speed option, and Shimano 105 drivetrain. Or, you can also look into the Polygon Bend R line up.
To browse for more flat bar and drop bar gravel bike malaysia, go visit Rodalink Malaysia store! You can search for a bicycle shop or kedai basikal near me, then choose the nearest Rodalink Malaysia location to get directions. You can get professional help from our team to choose the perfect bike for you, even try out the models to really get the feel of it!
If you choose to shop online, you can enjoy free local delivery, various payment methods, and also a 0% installment. You can complete your gravel bike essentials by checking out the sale we have for our bike parts and accessories as well. Plus, by becoming a Rodalink Member, you are eligible for access to more promos and special events. So, start shopping and sign up now!