Whether riding around the city or exploring steep and winding hills, a cyclist should be prepared for every situation and improve their cycling skills as they ride. Any experienced cyclist understands the importance of equipping themselves with proper items such as helmets, water bottles, or locks to keep their bike safe when they're stopping at public places. To guide you better with your riding experience, here are some essential items that could support your riding experience and make your journey less of a hassle.
Bottle and Bottle Cage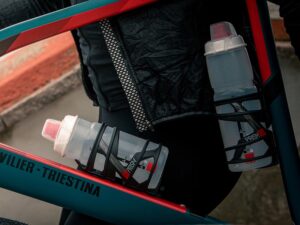 It's no rocket science about keeping hydration when doing physical activities, specifically cycling. Before starting your riding journey, it's better to drink water in about 12 to 16 ounces 4 to 6 hours before and add another 12 ounces 2 hours before. This will help you to cool down the body temperature during the ride and perform better. Consider also only drinking water or drinks with high electrolytes to maintain your body temperature and prevent severe muscle cramping due to low sodium levels. In that case, the best cycling bottle will help you to stay hydrated.
When choosing a cycling bottle, consider fluid capacity, bottle placement with cage mounts, and its valve types. An athletic-oriented cycling bottle usually has a 21-26 ounces capacity, suitable for you who want to ride further. For shorter commutes, a smaller capacity will work just fine.
For valves, there are so many options for your preferences, from a one-way squirt valve to a push-pull valve. If you're using a one-way squirt valve, you can drink by simply squeezing the water bottle and forcing the water out of the valve. Meanwhile, for the push-pull valve, you have open and close the soft rubber with your teeth to drink.
There are also options for insulation as well. If you want to keep your water hot or cold, you can consider choosing the double-wall insulated water bottle. But if you don't need one, a single-wall bottle will just serve its purpose. Remember that an insulated water bottle will be slightly heavier than a single wall.
To secure your water bottle, you will surely need a bottle cage. Usually, bottle cages come in a variety of different materials, from plastic and aluminium, to carbon and even titanium. The materials will determine the prices as well. If you want to get your first bottle cage, consider the construction of the bottle cage as well.
Some people are also interested in trying out innovative solutions that involve a lot of magnets from brands like Fidlock, where people can easily clip their bottle to the frame using magnets. It all depends on your preferences.
Pump/Mini Pump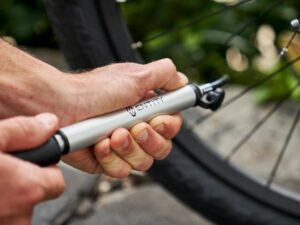 Checking tire pressure before riding is necessary to ensure your bike's performance. Tires with too much air pressure will make the bike jolt every so often while tires with low air pressure will damage the tire since it comes into contact with the ground. In addition, bringing a pump during the ride will help you adjust tire pressure when necessary or monitor the tire pressure during the long ride.
Although tire pressure also depends on a variety of factors such as tire size and sidewall thickness, approximate tire pressure for a road bike is around 80-130psi, for a comfort bike is around 35-70psi and for a mountain bike is around 30-60psi. To be more accurate, you can check the information on the sidewall of the tire.
There are various types of cycling pumps to choose from, depending on your needs. Some features to prioritize when choosing bike pumps are valve compatibility, shape, weight, and capacity. There are usually several types of valves: Presta, Schrader, and Dunlop. For the shape, there are floor pumps, frame-fit pumps, and mini-pump options that you can pick.
Floor pumps provide high-capacity air-filling power up to 220psi/10 bar, however, floor pumps usually have a beefy and bulk fit. Additionally, most of them have large, built-in gauges for easy pressure readings. This type of pump is perfect for garage and bike shop use.
Meanwhile, frame-fit pumps are easy to carry for road cyclists, as they can be attached directly to the road-bike frame. Frame-fit pumps are designed to fill the high-pressure tires on road bikes and come in sizes (S, M, L), providing large capacity air-filling power up to 160 psi. Before choosing this pump, be sure you know your bike's info.
Mini Pumps offer a more lightweight and portable design than Frame-fit Pumps. It comes in various air-filling capacities, from 90psi to 160psi. Some of the mini pumps come with a built-in hose that reduces pumping stress.
CO2 Inflators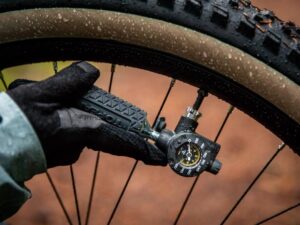 Another alternative option for pumps is CO2 inflators, which consist of a nozzle and a cartridge. CO2 inflator is a single-use blast of the CO2 that fits in your pocket, offering quick repairs for damaged tires during the ride by filling up the tire with CO2. Once you get home, release the CO2 from the tires and pump it with air.
Ensuring the bike condition before cycling is important, but having these supporting items along will improve the cycling experience and offers better assistance in maintaining the bike's performance. Now, all you have to do is just make sure you're ready to ride along safely.