The joy of Giving – The festive season is getting nearer ─ it's finally the time to find a perfect Christmas gift for your loved ones! Have you got the ones that would bring more laughter? Here we got some ideas to make your Christmas merrier.
Polygon Zeta 2 Christmas Special Edition: Happiness in A Form of A Bike
What makes your Christmas complete? You'll be singing Christmas carol, baking fresh cookies, and getting together with your family. You won't forget to wrap up pretty gifts for your loved ones; bringing them the utmost joy.
But how does happiness look like? Happiness comes in form of warm hugs, little smiles while exchanging glances, or a simple surprise. Redefining the answer to this question, Polygon Bikes launched their newest Polygon Zeta 2 limited edition bikes on (Dec 16).
Inspired by Christmas spark and peaceful vibes, this special edition comes in Pine Sky color. The combination embodies the jolly and playfulness of the special day, suitable for stylish urban riders who are agile and love to be captured in a photo. This bike features a lightweight ALX frame, a powerful hydraulic disc brake, and an ergonomic saddle and handlebar.
50 units specially made for Singapore, this bike is an extraordinary alternative to show how special your loved ones are to you. This Christmas edition is the second special edition for Singapore after the Polygon Zeta 2 Singapore Special Edition last August. Simply click the button below to bring home one to your home!
Shop Polygon Zeta 2 Christmas Special Edition Now
Kids Bike and Accessories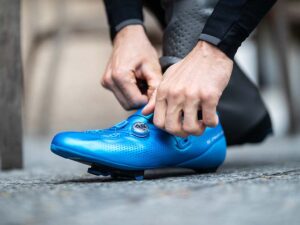 Spending time with the Little Ones is inexplicably valuable, especially when they are in the state of learning new things in life. Cycling with kids can also improve your physical and boost your positive mental attitude. Make cycling one of their hobbies by starting as young as possible!
In order to choose a suitable kids bike for you, consider their height and their ages. You would want to see also the material and the child-friendly design to keep them safe. Special from 1-26 December, stand a chance to get a special Polygon backpack for every Polygon kids bike purchased at Rodalink outlets.
How about the cycling enthusiast? You could get a pair of cycling shoes, a folding tool, phone mount, or even a helmet to upgrade your family or friends' cycling experience. Pack the go-to kit in a box and they are good to go as a gift to make them more enthusiastic in every ride.
Have you got an idea for this Christmas? Find the perfect one and feel the #JoyofGiving with Rodalink!