Stylish Cyclist – Polygon Zeta 2 is the newest mini velo bicycle made by Polygon Bikes in order to answer the needs to ride in a short distance with a small bicycle that is easy to store, lightweight, and also stylish at the same time. The bicycle is a type of mini velo weighing only 12 kgs. It's also small enough to be carried into the elevator without much problem. Riders can use this bike for a short distance bike to work or even stroll around the photogenic places in the city.
Urban Rider Lifestyle With Polygon Zeta 2
What's Special About Zeta 2?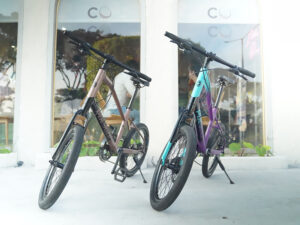 With carrier-ready mounting on the back of the bicycle, riders can add an additional carrier (sold separately) to bring more items along the way. Riders can ride Polygon Zeta 2 while running errands and bring home all the groceries in one easy way. This bicycle is also equipped with fender-ready mounting for a more comfortable ride during the rainy season. The comfort also comes from the ergonomic saddle and handle grip that is specially designed to make sure the short ride is enjoyable. Polygon Zeta 2 is completed with powerful hydraulic disc brakes for a safer stroll, especially on the park connector network.
When Can I Buy It?
The mini velo from Polygon Bikes is coming in 2 stylish colors; Blue Purple and Black Brown. It's available at Rodalink Singapore for purchase. From March 28, 2021 – April 4, 2021, you can only purchase it at Rodalink.com/sg only with special merchandise for each purchase. If you are looking for a modern design, stylish look, and an easy-to-bring-along bicycle, then Polygon Zeta 2 is the best bicycle that you can get today.
Visit our store at Rodalink Jurong East or East Coast to see the bike or visit Rodalink.com/sg to purchase right now!