New into the biking world and wish to find a suitable bike for you? Here is our recap of guidance for a beginner road bike. Discover everything you need to know about a road bike starting from the definition of a road bike, its components, until the tips to choose the ideal road bike according to your riding style only in this article. Have an informative reading!
What is a Road Bike?
A road bike is a bicycle specifically designed for fast riding on smooth pavement. The typical characteristic of a road bike has drop handlebars that allow the riders to crouch down and reduce drag to increase their speed and efficiency.
The material used to manufacture their frameset is either carbon fiber or alloy, which contributes to its lightweight. Some manufacturers might come with a steel frame or fork, but this version is not as lightweight, although cheaper. Road bikes will also have a slick tire that enables them to reduce the rolling resistance and roll faster on a smooth surface.
In general, there are three types of a road bikes, such as:
Performance Road Bike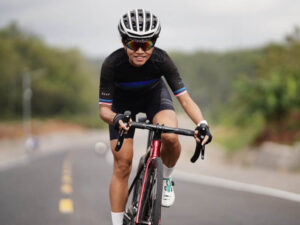 This bike is also known as a racing bike, specially designed for racing and climbing. The features of this bike are stiffer frames, higher-ends components, and lighter wheels. One of the best road bikes in this model is Polygon Helios A8X is manufactured with the UCI certified ACX Performance frameset with a tapered head tube 1-⅛" to 1-½" that makes the bike lightweight.
Polygon Helios A8X comes with Shimano Ultegra Di2 2X12-speed groupset, which has essentially identical functionality to the pro-level groupset Dura-Ace, with an electronic-only gearing and semi-wireless shifting that offer a faster and smoother ride with an affordable price for compared to others in this tier. But, of course, if you visit Rodalink, you will have many more models of performance bikes to choose from.
All-Rounder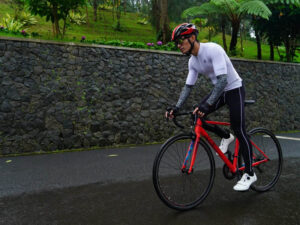 An All-rounder bike is a road bike suitable for climbing as it provides stability and advanced technology in a reliable package. The frame design and materials mostly focused on all-around performance with a geometry that accommodates a range of positions. Polygon road bike Strattos S5 is one example of this model.
Polygon Strattos S5 is manufactured with mix carbon alloy frameset. The frame is made of ALX all-round, and the fork is ACX all-round with a taper head tube of 1-⅛" to 1-½". It is equipped with a Shimano 105 R7000 groupset that combines trickle-down technology and greater accessibility, making this series one of the best beginner road bikes that will help train and enable riders to ride in a more serious race.
If you want to look for another best Polygon road bike, you can visit Rodalink. There are plenty of models you can choose from.
Gravel Bike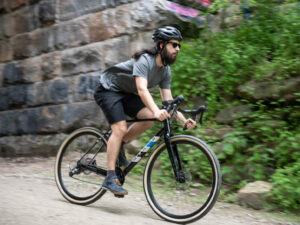 A gravel bike is a drop-bar bike designed to let riders experience riding over many different surfaces. This bike has a more sporty geometry which allows its rider to ride well on both smooth pavement and off-road riding.
A gravel bike might not be as fast as a performance or all-rounder road bike because instead of having a slick tire, a gravel bike comes with wider tires and lower gearing with stable handling. This design makes it possible for riders to ride this bike over gravel roads, bridle paths, or even go for a bike packing.
Polygon Bend R5 is an example of one of the best gravel bikes you can choose. Manufactured with a Gravel ALX frame and rigid carbon fork combined with a taller head tube, this bike offers greater comfort and a more comfortable riding position for bikers seeking more relaxed rides.
Polygon Bend R5 comes with a Shimano mix GRX RX810 groupset, a 1X11-speed which is on par with Shimano Ultegra Di2. If you want other options or models for a gravel bike, you can visit Rodalink.
Road Bike Components
There are three main components of the road bike, divided into:
Frameset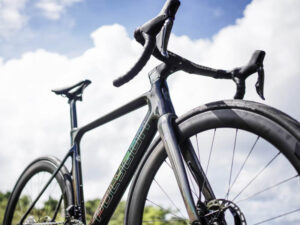 The material used in a road bike defines the budget road bike itself. Most entry-level road bikes are usually made from aluminium alloy, but some manufacturers also use steel. The full carbon fiber frameset is the most lightweight and comes at a higher price than the other two.
A mid-range road bike usually comes with a composite frameset, combining the reliability and robustness of an alloy frame with a vibration absorption system provided by the compliant carbon material in the fork.
Tires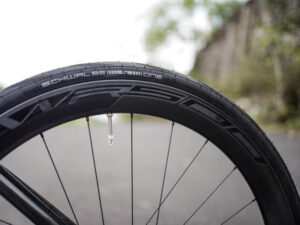 Performance tires usually come with the 700C performance slick tire, while gravel usually uses the word 650b performance tire tubeless for a better grip on uneven road.
Brakes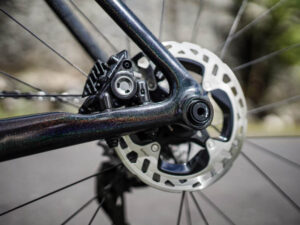 Most performance road bikes use a disc brake that generates stopping power with less pulling force needed by the racer to get faster during the cornering. The V-brake is commonly found in an all-rounder with a lightweight and money-saving option as it is easier to manage.
Tips for Choosing Road Bike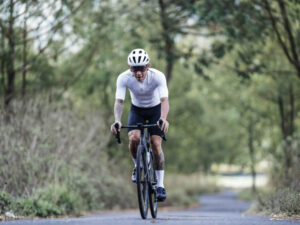 When choosing a road bike, you first have to determine your riding style and find one within your budget. Choose a road bike with the sizing that will fit you perfectly, serve your riding style, and be within the budget.
Each manufacturer will provide the road bike sizing chart to help you find the most suitable size for you based on your height. You might also seek beginner road bike women's, which come in smaller sizing to fit you more.
Polygon beginner road bike offers the best entry-level road bike and a more professional level bike, all in quality for the price. Using the high-quality Shimano groupset in their machine, Polygon's road bike price is considered affordable compared with other brands that use the same mechanical system.
Their ALX and ACX framing material is the advanced level for both alloy and carbon fiber material. ACX is Polygon's answer to market demand which is looking for a light savings frame without decreasing its durability. Meanwhile, ALX in the Polygon bike's frame uses an aluminium blend that is lighter and more durable than any other alloy material.
Road Bike Gear and Set up
The three most crucial biking gear in Singapore is a helmet, front and rear light, and a bike lock. It's highly recommended to look for a helmet with MIPS technology that has a low-friction layer that slides independently of the outer shells and limits the rotational force to the brain when hitting any angle.
Another additional gear you might consider getting is the knee pad, comfortable road bike shoes, and road biking apparel that will fit snugly and improve your aerodynamics riding experience.
Conclusion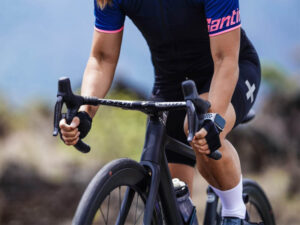 Road bikes are designed specifically for fast riding over smooth pavement. There are three characteristics of a road bike:
Lightweight
Using a drop handlebar
Having a slick tire
Before investing in a road bike, you will have to understand your own needs and riding style. If you are more into competitive racing and fast bunch riding, then a performance bike will be a better option for you. But if you are looking for a bike that balances out the lightweight, stiffness, and comfort for climbing while sometimes being aerodynamic, you can anticipate an all-rounder bike.
Are you looking for the best beginner road bike under $500? Well, although not necessarily being road bikes under $500, you should give Polygon's bike a shot. They are one of the bike manufacturers that guarantee high-quality bikes at affordable and reasonable pricing.
Their bike is manufactured with the advanced frameset material of ACX and ALX combined with the well-known for its high-quality's groupset of Shimano, topped with strict quality control and high investment in research for innovation; Polygon is one of the best bikes manufacturers who offer quality for the price.
As an official distributor of Polygon, Rodalink is also committed to providing high-quality services and products. They do not only have a wide range of bicycles selection but also various bike accessories, parts, and apparel you can easily shop for.
Only in Rodalink will you be able to shop your bike online and have them delivered in front of your doorstep in ready-to-ride form. You can also register to be part of Rodalink's community for free and get the chance to claim special deals and join events that are only eligible to members. As part of Rodalink's community, you can collect points for every purchase, which are redeemable.
For every SG$1 spent, you will get 1 point. Every 100 points can be redeemed for SG$2 of purchase discount. The more you spend, the higher tiers your membership status will be, and the more benefits you can unlock. Hassle-free bike shopping with lots of benefits? Possible only at Rodalink!
You Might Love This!