During the pandemic outburst, cycling made its comeback as one of the most popular activities done by many. However, the bicycle boom or bike craze became a thing as early as 1819 and 1868. Besides being one of the transportation options, there are lots of benefits of cycling that ensure you won't regret deciding to hop on your bike and go for a ride.
Wondering what benefits you can gain by cycling and what kind of benefits of cycling for men and women? Or perhaps, you are looking for any cycling safety tips that will improve your confidence when hitting the road? Regardless of what kind of information you are looking for, you might've come across the right page. So, since you've been here, let's just get started on our main topic and hope you enjoy your reading.
What Kind of Exercise is Cycling?
The word "cycling" is not new to the vocabulary of many people. Some of you might even be doing the activity daily. However, do you know what type of exercise is considered cycling? Nikki Pebbles, the NYC-based professional trainer once said that cycling is one of the greatest exercises for cardiovascular.
This is because when you are cycling, multiple large muscle groups simultaneously work together, increasing the demand of your heart to the point it might make you feel breathless. Cycling helps riders to strengthen their core and lower body, especially if you pedal with lots of resistance. With this in mind, we can conclude that cycling is the type of hybrid exercise that is good for both cardio and strength work.
Difference Between Indoor and Outdoor Cycling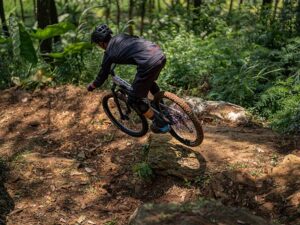 Nowadays, many people have done indoor cycling, too. So what differs between the two besides the location? It is safe to say that indoor cycling can be less intimidating and is a good option for beginners to practice their cycling skills.
By doing indoor cycling, you can focus on maintaining good form and having control over your workout while giving your 100% effort on it. You don't have to worry about the traffic, potholes in the road, or even the weather that can suddenly change.
On the other hand, outdoor cycling helps you to get fresh air. You can also ride your bike as a transport option to achieve both workout routine results when commuting. But keep in mind that by doing outdoor cycling, you will not have the comfort of indoor rides moreover if you are pedaling around a busy road with high traffic.
You are not necessarily advised to avoid outdoor riding, though. But it will be best to ride along with the people in the cycling group for beginners. This way, you will get the chance to learn from more experienced riders. Or you can go for both indoor and outdoor rides where you learn to advance your cycling skills on an indoor bike before hitting the rougher terrain outside.
5 Benefits of Cycling
According to Better Health Channel in their reports about the benefits of cycling essay, it is concluded that riding a bike is a healthy, fun, and low-impact form of exercise that is suitable for all ages. Aside from that, there are just lots of cycling benefits for ladies and gentlemen in both physical health and mental health well-being.
To give you more reasons for starting your bike journey immediately, here are the top 5 benefits of cycling that we have compiled:
Improving Cardiovascular Health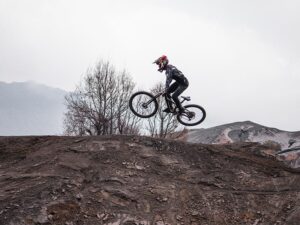 As mentioned above, cycling is an activity of cardio exercise. This is validated by a published review in Medicina journal in 2019 which concludes that cycling improves the capacity of your cardiovascular system's ability in providing oxygen to riders working muscles. The same review also suggests that cycling can help reduce the risk of cardiovascular disease and other physical risk factors like diabetes, high blood pressure, and physical inactivity.
Several studies have suggested that you can gain cardiovascular health benefits of cycling 15 minutes a day.
Helping to Lose Weight and Building Muscles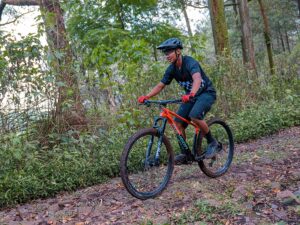 Do you know that cycling can burn calories between 400 and 1000 in an hour depending on the intensity and the weight of its riders? Hence, it is not a surprise if we tell you that one of the benefits of cycling for weight loss is a real thing. But of course, the attempt of losing weight is not only dependent on cycling.
You will also have to consider the amounts of calories that you consumed, the quality of your sleep, and last but not least, how long the time you have been spending burning your calories.
Aside from burning fats, you will also have to experience the effect of cycling on body shape as it helps build your body's muscles, especially around the glutes, hamstrings, quads, and also calves.
Allow You to Sleep Better and Improve Brain Power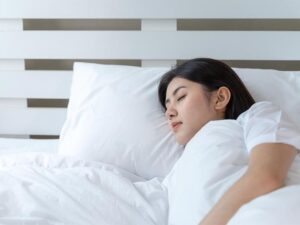 According to research by the University of Georgia, it is reported that for over 35 years of study, among men and women aged 20 to 85 who have dropped in fitness 2% of men and 4% of women have sleep problems.
One of the lead authors, Dr. Rodney Dishman said that the steepest decline in cardiorespiratory fitness happens between ages 40 and 60 and happens to be the time when the problems of sleep duration and quality have been elevated.
Examining these causes, scientists suggest that exercises can reduce anxiety and elevate the ability to sleep as well as protect someone from weight gain with age which has also been one of the factors that causes sleep dysfunction. Aside from that, exercises are also highly related to brain health.
In 2013, a study discovered that during exercise, cyclist blood flow in the brain rise by 28% up to 70% in specific areas. This improvement in blood flow helps you to deliver all sorts of goodies to keep yourself healthy.
Improves Mental Well-Being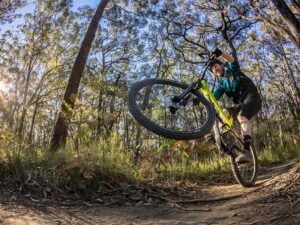 The YMCA study reported that people with a physically active lifestyle had a well-being score of 32% higher compared to those who are inactive. The basic release of endorphins and adrenaline can improve the rider's mood as well as the confidence that comes from achieving new things.
In 2017, a study by ISGlobal found that people who biked to work had a lower risk of being stressed than people who commuted to work using another type of transportation. Despite no type of exercise that can fill in for actual treatment for mental health conditions like depression or anxiety, the research still suggests that cycling can at least give a positive benefit to psychological health.
Develop Healthier Lifestyle for Better Environment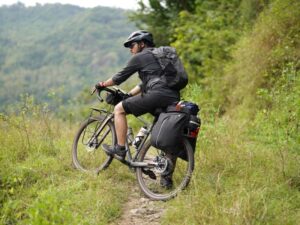 Pollution has become one of the reasons that accelerate the global warming rate. By substituting a personal car or motorbike with a bike you are not only allowing yourself to develop a good habit for a healthier lifestyle but also participate in reducing pollution and creating a better environment.
Cycling Safety Tips
If you have already decided to start getting on your bike and going for a ride, don't forget to pay attention to your safety. According to the rules and code of conduct by the Land Transport Authority in Singapore, three mandatory safety rules every rider should follow, such as:
Riders are required to wear a helmet when cycling on roads;
Riders should switch on a front white and rear red light in the dark;
A bike lock is mandatory.
Aside from this, other cycling safety tips you might want to know are:
Check your equipment before you go for a ride, ensure your tire is properly inflated, your brakes are responsive, and your gearing is working properly;
Riders should keep a sense of balance hence, riders should never lose their grip on the handlebar;
Remember to always ride your bike with the flow of traffic or travel in the same direction as other vehicles on the roads.
Conclusion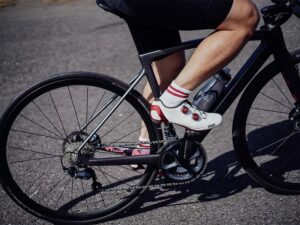 There are lots of benefits you will gain from cycling. By being under the healthy sunlight for a ride, you will gain the benefits of cycling for skin health. You can also widen your networking connection by biking as you may join the cycling club in your area or bump into groups of bikers during your daily training routine.
Looking for a good bike to start your cycling journey? You can visit Rodalink to find your desired bike. Rodalink is an official distributor of Polygon bikes but they also offer a wide range of bike selections, accessories, apparels, and parts from the world's renowned brands. The best part is they offer high-quality bikes at an affordable price.
You can also find the additional gear that you need at Rodalink. Besides, if you are purchasing non-bike items, you will get free shipping after purchasing over SG$200.
If you are on budget control, you can buy it now and pay it later by using Shopback as your payment method and get a 0% installment fee. So don't wait any longer, visit Rodalink at Jurong East or East Coast right now and get your dream bike that suits both your needs and budget.