Cycling has been a trend of sports activity, especially during the pandemics, and one of the most popular cycling activities is mountain biking. What are the benefits of mountain biking, and how does it differ from regular cycling? Find out your answer through this article.
Mountain Biking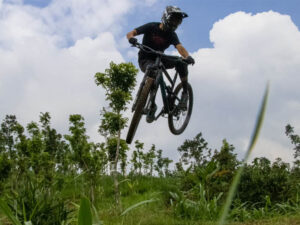 The riding area and vehicle used for mountain biking differ from regular cycling activities. Mountain biking is often being ridden off-road over rough terrain and usually using specially designed mountain bikes. Mountain biking was also officially included as one of the Olympic programs during the Atlanta Olympics in 1996.
Since this activity is mainly being performed on off-road trails such as singletrack, back-country roads, and other rough terrains, the bike used for mounting biking is also specially designed to enhance durabilities such as having wider tires and wheels, stronger frame materials, and hydraulically actuated disc brakes.
Is mountain biking aerobic or anaerobic sport? Mountain biking requires its rider to control breathing as your heart might be beating around 180bpm during the ride. Control breathing with an excess of oxygen could also pump up the rider's body and boost stamina. However, when overcoming obstacles, riders need to hold back their breath to be able to use the muscle power.
To conclude, mountain biking is an aerobic and anaerobic sports activity, depending on the situation. Generally, mountain biking can be broken down into five categories such as trail riding, cross country riding, enduro, also known as all-mountain riding, downhill riding, and free riding. The unique trait of a mountain bike is all of them come with flat handlebars to allow more upright riding positions and give the rider more control over the cycle.
A mountain bike disadvantages for daily usage as they tend to be heavier and produce more rolling resistance due to the size of its wheels and tires. But if you only use it for a short commute over a pothole's roads, then a mountain bike will do just fine.
But, a mountain bike is firm with a geometry that helps traction for steep and loose climbs. Its wide knobby tires give you more control over the bike on loose dirt or mud terrains.
Trail Riding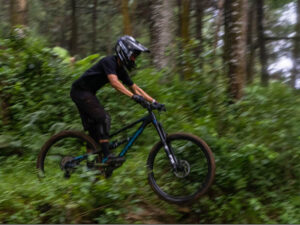 Unlike regular cross country riding, trail riding generally seeks more adrenaline-pumping paths where there are more obstacles and need highly technical skills. Trail biking usually takes place on steep mountain trails and high passes or constructed trails with a mix of jumps, drops, and rocks.
It sometimes also happens on longer trails such as bridle paths, rail trails, farm and forest roads, and towpaths.
The Benefit of Mountain Biking
Just like any other sport, mountain biking is also offering lots of welfare to its rider. Here are some mountain biking benefits that will make you want to engage more with the sport:
Improving The Health of Your Heart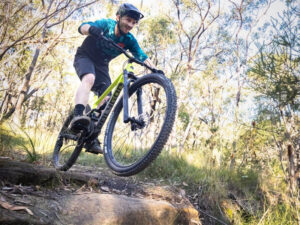 As reported by Sussex Sport, The British Medical Association once made a study on 10,000 participants, and the result showed that riding a bicycle for at least 20 miles a week could lessen the risk of coronary heart disease by 50% because mountain biking uses a large group of muscles which require lots of oxygen. This factor makes the heart work steadily and resulting in increased heart fitness by three to seven percent.
Increase Brain Power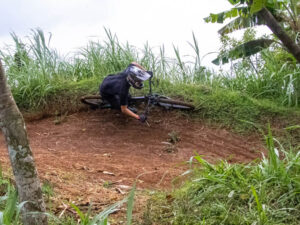 Researchers at Illinois University discovered that a 5% improvement in cardio-respiratory fitness from cycling improved mental tests by about 15%. Citing to Professor Arthur Kramer, cycling boosts blood flow and oxygen to the brain, fires and regenerates receptors, and explains how it helps ward off Alzheimer's.
Best Form of Excercise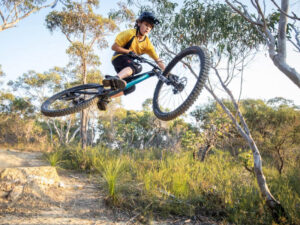 You can get a complete workout result just by doing mountain biking. By doing mountain biking, you are using the muscles of your whole body. Therefore, it helps you build strong legs, thighs, and calves, as well as allows you to tone up your glutes. Not only that, climbing and maneuvering turns also strengthen your upper body.
Best for Mental Health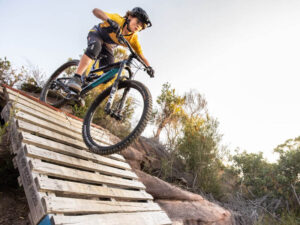 Little that you know, there are also mental health benefits of mountain biking as its strong demand stimulates your body to release endorphins naturally and gives you a better feeling and gain more energy. Aside from that, exercise also boosts serotonin which helps you prevent depression and anxiety.
Riding challenging singletrack requires focus, thus, making mountain biking another form of moving meditation that helps the riders relax and be distracted from negative thoughts. Improving mountain biking skills also helps to build confidence and self-esteem.
Social Benefits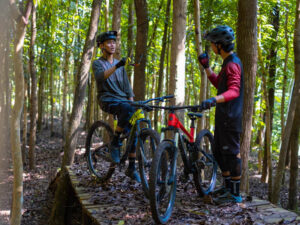 Aside from serving a benefit for mental health, there are also social benefits of mountain biking as you will often have to do this activity with a group of people. It becomes a medium that provides the opportunity for each biker to make new friends and build personal bonds.
Conclusion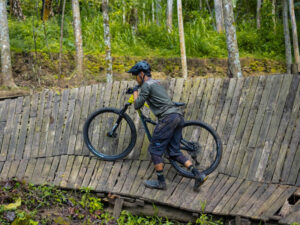 Mountain biking is considered a fun sports activity, especially for those who love a little more challenge during the ride. Besides, mountain biking also offers many benefits for your physical and mental health.
But everything is always two sides of the coin. You have to be careful when trying this activity. No matter how fast your mountain bike can speed up during the ride, make sure you're not abusing it to refrain from falling and hitting your face on hard surfaces or, even worse, injuring yourself badly.
You also have to remember that no machine is flawless. This includes your mountain bike, regardless of its brand and price; mechanical errors might happen, especially when you forget to maintain it regularly.
Why is mountain biking terrible? Instead of labeling it as bad, you can say that there were disadvantages when you didn't choose the right bike according to your riding style. For example, if you don't live near a chairlift or shuttle road, don't go for a downhill bike.
Choosing the wrong bike will result in an uncomfortable riding experience or, even worse, cause a severe injury. So, it's vital to know which trail you are going for when deciding on what bike to get.
If you are into fast riding uphill or around a race track, you can choose a Cross Country bike. For riders who usually ride through terrain with more obstacles and technical trails, go for a trail bike. Want to be able to ride fast downhill but still be able to pedal uphill? Choose an enduro bike.
However, after discussing the advantages and disadvantages of mountain biking, we can conclude that as long as you are not overdoing the sport, the benefits of mountain biking are much more than the disadvantages.
Just look at the health benefits you can achieve through cycling and mountain biking; it safe you a lot of money by registering a gym membership, going for psychological therapy, and saving you from possible cardio disease, which costs a lot for treatment. In short, what comes along with health benefits is the economic benefits of mountain biking.
Ready for a mountain biking sport? Find the most suitable bike for your mount biking activity through Rodalink. They have a wide range selection of bicycles which guarantee you will find the most suitable bike within your budget. Rodalink also has a one-stop cycling shop, which means that aside from purchasing your bike in their shop, you can also maintain and repair your precious bike there.
Rodalink also comes with an online web store that allows you to make purchases anytime. All you have to do is register an account and make a purchase. Rodalink will have the mountain bike of your choice delivered to you. Visit Rodalink right now for hassle-free bike shopping.