If you wish to be able to control your handling over the bike and work with your stability before hitting the actual road and getting some serious injury, you might want to consider investing in the bike roller trainer.
What exactly is a bike roller trainer and what benefits does it offer for readers until you are recommended to consider having them around? Find out more information about bike rollers and get the best recommendations for well-performing bicycle trainers at an affordable price at the end of the article. Enjoy your reading!
What is a Bike Roller Trainer?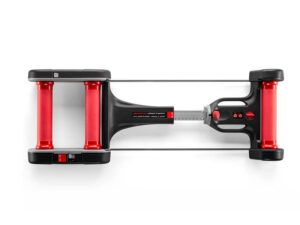 Ever wonder how to train your cycling skills without hitting the road because you are afraid to injure other people and lowering the risk of putting yourself in a road accident? Well, honestly speaking, the advancement of the cycling industry has made this wish of yours come true.
Bike roller is one of the three types of indoor bike trainer, which allows you to ride a bicycle indoors without having to move from your space. The bike roller is often used by riders to enhance their riding skills starting from finding balance during the ride and improving the overall bike handling skills.
Typically, the bike roller consists of three cylinders as the rollers and a rubber band that connects the front and rear rollers. Among three kinds of indoor bike trainers, the roller bike trainer is the easiest to set up but needs extra patience to master.
Reason Why You Should Train with Rollers
If you want to replicate the outside riding experience indoors, a roller will be the perfect match. Unlike the direct drive and wheel-on type of bike trainer stand that provide you stability and comfort, the roller bike trainer requires you to balance yourself as you move the pedal, just like how you should be doing when riding the bike down the street.
The only way to save yourself from falling during your indoor training with a roller bike trainer is to give extra concentration on your riding while ensuring your pedaling is smooth and steady. The roller is also much easier on your bike, and it doesn't go hard on your tire, which lowers the rate of tire wear.
The Benefit of Training with Rollers
If it is your first time hearing about the bike roller, it is normal to wonder what is the benefit of bike rollers for beginners? To answer your curiosity, here are some of the benefits you can gain by having a bike roller in your house:
Improving Your Pedaling Technique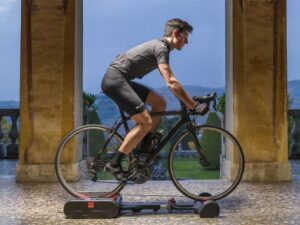 To balance your position on the bike and avoid falling hard to the ground, you will need to make sure that your pedal strokes are not choppy. Hence you will have to focus on how to apply power to your pedals smoothly and efficiently.
The correct pedaling involves applying all your power in the push phase of the stroke and limiting any negative power in the up phase by lifting the foot at the same rate as the pedals are being turned but not pulling.
Work on Riders Fitness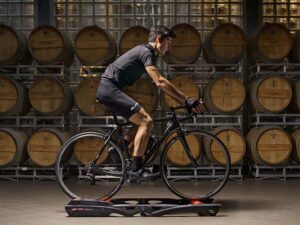 When you take a long break from cycling because the weather conditions out there are not friendly, you might find yourself needing to take some time to adjust before beginning to get used to back on rides in groups.
When riding with groups of people, you must constantly alter your cadence and torque to ensure your front wheel is at the safe and correct distance from the rear wheel of the rider in front of you.
By having an indoor roller, you can simulate your pedaling to fit the group riding as long as you are not training in groups. This is because you will need to constantly adjust your pedaling technique to remain centered and balanced, therefore, making your body's muscles memories the torque and cadence.
Which is the Best Pick Between Bike Roller vs Turbo Trainer?
Before making a purchase decision, it is just common if you have a question such as which is better between bike roller vs trainer. Again, there is no one better than another. It all depends on what type of training session you want to complete.
If your training session requires a heart rate zone or strength work at lower cadences, the turbo trainer will be more suitable for you as it will add the resistance you need. On the other hand, if you are going to do a recovery training ride or a session based on cadence, the roller will be your best choice.
The bike roller will enable you to ride at a high cadence with lower resistance and allow you to shift cadence without changing the resistance easily. The bike roller will tempt you to shift into a harder gear to make the wheel spin faster and make it easier to balance; hence, having a cassette of a minimum 15T cog will be better.
Besides this, you need to pay attention to what type of bike you want to ride. Usually, the rollers will be compatible with bikes from any wheel size. For the mountain bike roller trainer, road bike, and fat bike, you only need to set up the roller according to the manual books and you are ready for a ride.
Conclusion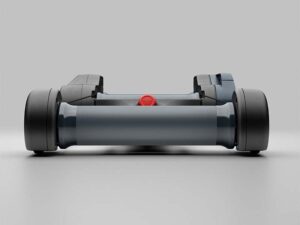 Based on all the information collected above, we can conclude that a bike roller has a simpler setup, can help you to improve your pedaling form like the smooth stroke or holding a straight line, and has a light and more moderate riding effort to make it more entertaining. The setback of bike rollers is riders are required to have a higher level of skill and practice and are not as stable as the turbo trainer.
You just need to be clear about the training goals you want to achieve before deciding to invest. If you are not sure what type suits you best, you can visit Rodalink and consult with the professional team so they can assist you to find the perfect bike that suits your needs.
At Rodalink, you can have high-quality bike trainers and rollers at an affordable price; for example, the Polygon bike trainer includes Elite Tuo, Elite Direto XR-T, or Elite Drivo II. Aside from this, Rodalink as the official distributor of Polygon bikes also offers a wide range of bikes, accessories, parts, and apparels from the world's renowned brands.
Aside from the turbo trainer, there's also the Polygon bike roller trainer known as Elite Nero which is built with two flywheels for hyper-realism, mechanical efficiency, and pedaling roundness. Polygon Elite Nero is simple to assemble despite the roller drum spacing will need adjustment to fit your bike wheelbase.
By purchasing at Rodalink, you are guaranteed to receive the original piece of your purchase. If you are tight on financial management, you can choose ShopBack as your payment method to be able to get the 0% of interest charge for installment.
Come and visit Rodalink now to grab the indoor bike trainer that suits your needs so you can start your training journey and achieve your exercise goals without having to worry about readjusting your hectic schedule or the unfriendly weather conditions outside.