Just like the usual road bike or mountain bike, the indoor bike trainer also comes with various types of accessories that you might need to enhance your training experience. Some types of trainers will need the bike trainer tire. But what kind of bike trainers will need a trainer tire and why do you need to consider a trainer tire to invest in? Find out your answer through this article.
What is a Bike Trainer?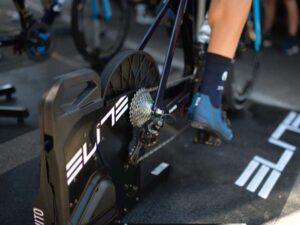 The bike trainer is a piece of equipment that is commonly used for training indoors, especially during unfriendly weather conditions. Trainers allow riders to build bicycle skills and efficiently control riding power without the unavoidable interruptions of outdoor riding.
A bike trainer can simulate any type of steepness and size that mimic hill riding and provide a more realistic-feeling ride, making it great pre-racing preparation equipment. Some bike trainers are often equipped with sensors that will help to monitor the rider's performance.
Generally, the bike trainer is divided into three categories, such as:
Turbo trainers: the compact and affordable type that has become one of the most popular picks among cyclists. The bike trainer differentiates from the wheel-on and direct-drive trainer depending on how the bike is attached to the trainer. Wheel-on bike trainer directly attaches the bike to the trainer while a direct-drive bike trainer replaces the rear wheel of a bike to have it attached on the trainer;
Smart trainers: this type of bike trainer comes with built-in electronics: Bluetooth and ANT+ connectivity to allow the trainer to communicate with your other electronic device. The direct-drive models remove the rear wheel and directly connect the chain to the cassette that mounts into the flywheel while the wheel-on models have a simpler setup;
Indoor bike: this model often has less noise and is easier to adjust. It allows the rider to monitor their power output, measure pedal stroke, cadence, heart rate, automatically control resistance, and many more.
If you are having a direct-drive trainer, usually you will not have to look and invest in the extra best bike trainer. This is because the direct-drive trainer requires the riders to entirely remove their rear-wheel wheel so the bike can be directly attached to the trainer.
However, if you have a bike trainer where the barrel or other components touch the rear wheel of your bike, then you will have to consider investing in the bike trainer tire that is compatible with the type of your bike. For example, if you are having a fluid or magnetic wheel-on trainer for your mountain bike, then you might want to consider getting a bike trainer tire for mountain bike.
Why Do Trainers Require Tires?
The standard bike tire is specially designed to have a better grip on the road but the barrel roller of a trainer that comes in contact with your bike tire is often made of smooth metal which is a completely different material from the asphalt.
When training using the bike trainer, your tire will consistently spin in the same place on the barrel which will result in a heat that will not only make your regular tire wear out faster but can also leave the rubber residue around your barrel or other parts of your indoor trainer setup.
Meanwhile, the trainer tire is specifically built to be heat resistant, therefore, using the trainer tire will save your regular tire from excessive wear out as well as avoid any outdoor dirt that is attached to your tire so you can lessen the probability of damaging the barrel of your trainer.
Besides, the smooth surface of the bike trainer help to reduce the noise produced between the tire and roller and increases the gripping power over the roller, giving a more enjoyable cycling experience.
Trainer Tire Tips
Before getting the trainer tire, here are some tips you want to consider:
Consider a Spare Wheel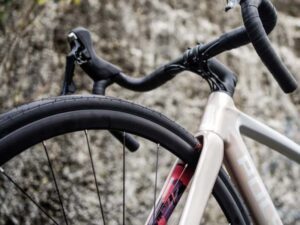 For riders who use their bike for indoor and outdoor training, you can consider keeping a wheel mounted with a trainer tire. If you are upgrading the wheels on your bike, you can use it as the stock for the rear wheel.
Pick Smooth Treaded Trainer Tire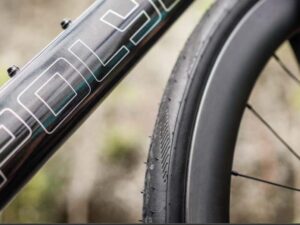 If you want to use the standard road bike tires, it will be better if you are looking for a road bike trainer tire with a smooth tread that is usually designed for all-road use. This type of tire usually performs well on the bike trainer.
Avoid using the tires designed for puncture resistance or one for high-mileage tires as it is often made of a harder rubber compound which can result in premature wear due to slippage. You can consider getting the bike trainer tire 700×25 sized to maintain a natural and realistic road-contact grip so you won't slide during sprinting or indoor race training.
Most 700x25c trainer tires will fit the 29-inch mountain bike. If your bike is a 26-inches, 27.5-inches, or 29-inches mountain bike, you can consider looking for the WTB Thick Slick for bike trainer tire 26-inch wheel-sized, 27.5-inch, or even 29-inch.
Make Sure The Tire and Roller are Clean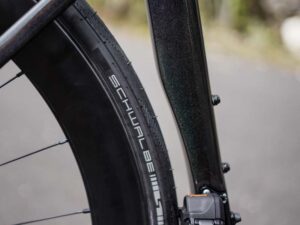 Regardless of what type of tire you choose to invest in, the mandatory is to keep your bike trainer tire and wheel clean. You can wipe the tire and roller with a little bit of rubbing alcohol or glass cleaner on a rag to remove the grime that could build up.
Conclusion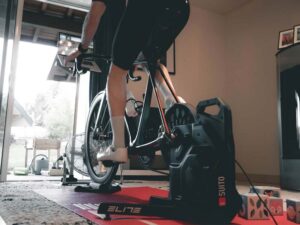 An indoor bike trainer is a perfect solution for riders who want to keep up with their training but don't get enough free time for outdoor riding or simply can't go outside because of the extreme weather conditions.
Usually, the bike trainer will fit various styles and bike sizes—from the 700x28c tire road bike to the mountain bike trainer tire the 29-inched size— but to make sure you are getting the right and correct bike trainer, you can consult with the professional team from the bike shop.
Looking for a great bike trainer tire and bike trainer tire cover that will suit your indoor training needs? You can visit Rodalink for a wide range selection of bikes, accessories, parts, and apparels from world-renowned brands.
At Rodalink, you can get assistance from the professional team on their one-stop cycling store to help find the best bike trainer and trainer tire that suits your training goals. By purchasing from Rodalink, you will not have to worry about breaking your bank account because they offer the best competitive price among any other dealers.
You can also consider becoming part of Rodalink community member through free registration to get the latest news of new arrival, deals, and exclusive events. Every member of the Rodalink community will gain 1 point for every SG$1 purchase. These purchase points are collectible and will be valid for two years counted from the purchase date. Every 100 points can be redeemed into SG$2 purchase discounts.
Achieve your body goals and healthy lifestyle by keeping good track of your training and get the most benefitted outdoor and indoor bike training tools only at the official distributor: Rodalink.