Wishing to still be able to maintain your cycling fitness in the middle of extremely unfriendly weather conditions? Or you are just not a morning person yet still want to keep healthy and have a muscle workout? You might have to consider investing in the bike trainer. What is a bike trainer and where to find the best bike trainer in Singapore? Keep reading this article to find out more.
What is a Bike Trainer?
A bicycle trainer consists of a bike frame, a clamp that is used to hold the bike securely in its place, a roller that presses up against the rear wheel, and a mechanism to provide resistance when the pedals are turned.
This type of bike is usually used by pro riders to warm up before the race or by casual riders to keep their cycling routines during the bad weather conditions. A bike trainer is also very useful to help riders build their cycling skills and power efficiently within a highly controlled environment.
Some of the bike trainers are even equipped with sensors to help their riders monitor the power output, virtual speed, cadence, and heart rate to measure the rider's performance, and is very useful to fine-tune athletes' training.
Types of Bike Trainers
Bike trainers are just like a gem for nearly every cyclist out there. Regardless if you are a pro or a beginner, if you have the means and enough space in your living place, a bike trainer is one of the best investments to make after the actual bike.
Every type of bike trainer will provide its owner with a great aerobic workout. Generally, there are three types of bike trainers, which is:
Wheel-On Bike Trainer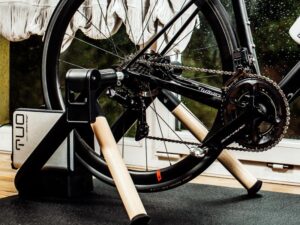 Wheel-on bike trainers are considered one of the most compact and affordable styles among all types. The wheel-on bike trainers are divided into the following mechanisms:
Wind: using a fan that is powered by cyclists' leg power to provide resistance on the rear tire;
Magnetic: the resistance on the rear wheel from the magnetic bike trainer can be controlled manually and is created by the magnetic flywheel;
Fluid: most of the entry-level wheel-on bike trainers will use the fluid resistance where the trainers will be featuring a fluid-filled container;
Rollers: the older type of indoor trainer which is still being used today. The resistance of these wheel-on bike trainers are coming from the riders' body weight, the bike's weight, as well as the gear used.
In general, here are the pros and cons of the wheel-on bike trainer:
| | | |
| --- | --- | --- |
| No. | Pros | Cons |
| 1. | Price-wise, this type is more affordable than the other types | Less smooth or stable if compared to the other types like a direct-drive trainer |
| 2. | Easily mounted to almost any bike | On certain usage levels, it might cause some wear to your wheel or tires |
| 3. | Most models of this type can be folded up so they can be easily stored | Low-cost types might not be able to connect to apps but can add a sensor to gain basic information about your performance |
Direct-drive Trainer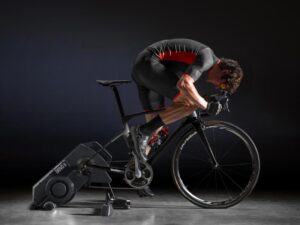 These bike trainer styles require the riders to remove the bike's rear wheel and attach the mechanism to the groupset. It provides a smooth power transfer as well as app connectivity on most of the models that make it worth it for you to spend some extra dollars.
This type of bike trainer might be slightly heavier and some will require electrical power but it has an accuracy of power within 1% to allow real-life stimulation indoor cycling. The pros and cons of this type of bike trainer can be seen through the following tables:
| | | |
| --- | --- | --- |
| No. | Pros | Cons |
| 1. | >Offers quiet operations system compares to wheel-on trainers | The cost of this bike is slightly higher when compared to the wheel-on type |
| 2. | Mimics a road bike feels better | The attachment setup of the trainer from this style is more complex |
Bike Simulator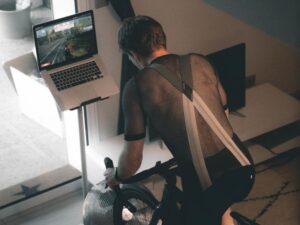 This type of bike trainer offers a realistic riding feel on a robust, comfortable, and stable platform. Equipped with wireless app connectivity that allows riders to steer their way through the virtual world visualization and pedals faster when going uphill.
The pros and cons of the bike simulator type of trainer are:
| | | |
| --- | --- | --- |
| No. | Pros | Cons |
| 1. | Offers the feel of a real-world cycling, whisper-quiet operation system, as well as the training app connectivity | Got the premium pricing just like the performance that it offers |
| 2. | Durable and adjustable ergonomics while keeping the bike ready for outdoor rides | Heavy-duty build, you will need to make a special room to store it |
Smart Trainer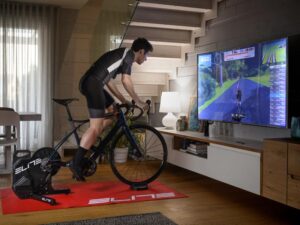 To be fair, rather than saying this is another type of bike trainer, the smart bike trainer is more of a feature in the bike trainer device to facilitate two-way communication between the smart bike trainer with other devices like sports watches, bike computers, and a mobile cycling app.
The smart bike trainer with ANT+ protocol, for example, allows the device to communicate with your tablet, smartphone, or computer, giving you a built-in power meter while being able to replicate climbs, descents, or structured interval sessions if you wish for a more fascinating workout.
Bike Trainer For Beginners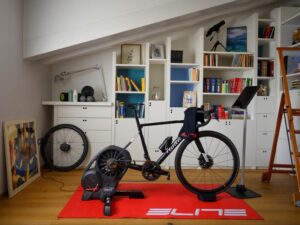 Nowadays, bike trainers are built to be durable and beginner-friendly. Here are some reasons why you should consider investing in a bike trainer:
If you wish to have a great workout experience without having to deal with interruptions like the stop light or swarms of pedestrians, a bike trainer is a worth investment;
A bike trainer is also a great option for beginners to quickly build up muscle without having to worry about safety issues;
If you want to build your body muscle but still wish to catch up on your favorite series on TV, there wouldn't be any other options greater than having a bike trainer. What's better than watching a series, listening to an audiobook, or even reading your favorite book while still being able to build your body?
If you decided to finally get yourself a bike trainer, you can follow these few indoor bike trainer workouts for beginners tip:
You can begin by warming up for ten to twelve minutes;
Then proceed to put technical focus for three to five minutes;
After that you can perform the main body of your workout;
Last but not least, you can finish your training with 7 to 10 minutes of cool-down.
To get your bike trainer to work best and offers more comfortable riding for you, here are the things you should do:
Make sure your bike trainer has been set up correctly;
Remember to feed and dehydrate yourself well before start working with the bike trainer;
Enjoy your ride on a bike trainer as if you are riding an actual bike outside;
While the cadence sensor help to keep track, you can use the shifter to help you avoid extra wear and tear on your leg;
Set a goal you want to achieve before starting your ride on the bike trainer so you are not riding mindlessly.
Conclusion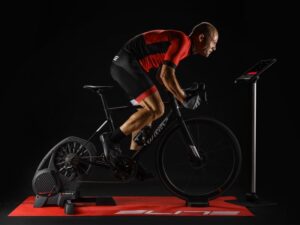 The bike trainer is one of the best options for people who want to keep up with the training without having to be troubled by tight schedule adjustments or worry about the unfriendly weather conditions. From the whole article above, you have been informed about the types of bike trainers as well as tips on how to use a bike trainer effectively.
Now we will be giving you some shopping tips consisting of things that you might want to consider when deciding which type of bike trainer to invest in:
If you want a simple workout option for occasional use and are under tight-budget control, consider having a wheel-on bike trainer instead of a direct drive. But if pricing is not a problem and you wish to have an excellent performing bike trainer, the direct drive will be your best option;
Double-check the trainer and your bike specs to make sure both fit well together;
It will be best to look for a bike trainer that provides wireless connectivity to training apps to get thal-time workout feedback.
Looking for a budget-friendly bike trainer that still offers good performance and is built with high-quality material? You might want to consider investing in a Polygon bike trainer. If you want a less-expensive pick with a simpler setup type of bike trainer, the Elite Novo and Elite Tuo wheel-on bike trainer is the perfect choice to pick.
Both models are compatible with My E-training software and app, Zwift, Trainer Road, Bikevo, and Kinomap. The Elite Tuo models are also compatible with The Sufferfest and other training software.
Aside from this, there are also direct-drive types of bike trainers from Polygon bike such as the Elite Suito T, Elite Director XR-T, and Elite Drivo II which come with a compact design for easier storage, accurate and powerful bicycle workouts, sensorless cadence, and compatibility with lots of training software.
Get the original piece of your Polygon bike trainer only at their official distributor store at Rodalink which is located on the East Coast and Jurong East. Get full assistance from the professional team of Rodalink to find the best bike trainer that will suit your needs and budget.
Rodalink also provides a wide range of bikes, accessories, parts, and apparel selections from world-renowned brands that will enhance your riding journey. You can also purchase your desired bike trainer and accessories with the buy now and pay it later options if you choose ShopBack as your payment option.
So, what are you waiting for? The solution to keeping your body to stay in shape without having to worry about extreme weather or readjusting your tight schedule is within your reach. Visit Rodalink now to grab it.