Mountain biking has gained popularity over decades and is the perfect choice of bike for cyclists who love riding through more challenging terrain. However, you can't ride through mountain areas every single day, and those who don't want to go through a lot of money spending usually will start to question "can I use mountain bike on the road?" before deciding whether or not to invest in a mountain bike.
If you are also facing the same issue with the same question in mind, allow this article to give you a rightful answer. Here is what you need to know about riding a mountain bike on the pavement:
Reason Why Ride Mountain Bike on Road
The purpose of mountain bikes is to offer their riders slightly more aggressive mobility. But that doesn't mean you can't ride this bike on the street like any other bike. There are also no written rules mentioning that mountain bikes are not allowed to be seen on the road.
Besides, buying an additional bike when one bike can cover both needs is just a waste of resources, be it money or a space to store the bicycles. So instead, you can use your mountain bike for your daily commute. The best mountain bike for road use will go for a Cross-Country mountain bike. But if you have another type of mountain bike, worry less because you can also use them as a road bike, too.
Mountain Bike Factor Suited to Road
When facing an obstacle in the road, such as potholes or bumps, a mountain bike might handle it better than another bike. It will even offer you an enjoyable ride among dirt trails and pavement.
Many other factors surprisingly add more reason to make the mountain bike the perfect option for road riding. For example, mountain bikes is built with brakes that will allow you to stop quickly and will save you from bumping into a pedestrian who suddenly jumps in front of your sight. All you have to do is pull the brake, and everyone is good to continue the ride.
Difference Between Mountain Bike and Road Bike
As much as you can ride a mountain bike down the street, by the end of the day, a mountain bike still is different from a road bike. There still are apparent differences between these two types of bike, such as:
Suspension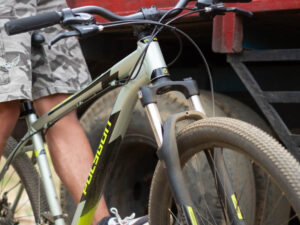 The main idea behind mountain bike manufacturing is to offer a better riding experience for rougher terrain. Therefore, the mountain bike is built with a perfect suspension for off-road activity but doesn't necessarily need it when riding on the road.
Tire and Wheel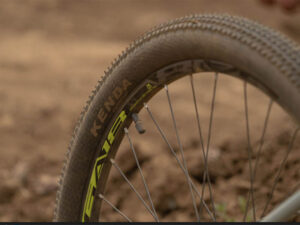 Road bike tires are designed for low resistance racing but do not come with off-road traction. In contrast, standard mountain tires are built to grip the terrain commonly found on bike trails better.
The Seat and Handlebar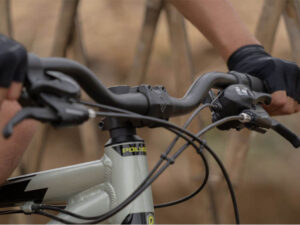 On mountain bikes, the seat and handlebar are commonly set to an aggressive stance so the riders can optimize the body movement and easily take the corner. However, when riding on the street, you will need to adjust this seat and handlebar to give you a more relaxed ride and better sight of the road.
To sum it up, here are the differences between a mountain bike and a road bike in tables:
Mountain Bike
Road Bike
Biking Surface

Technical forest trail
Rock garden
Others technical terrains

Street Roads
Paved Surface
Routes with a tarmac bias

Suspension
Yes
Rarely found
Handlebars
Flat
Curved
Wheel and Tires
Wider and Larger
Narrower& Slick
Tips to Make Mountain Bike Comfortable for The Road
Here comes the question on how to make mountain bike faster on the road? Is it even possible? Well, of course, it is possible. You can continuously optimize your bike to offer you a better riding experience. Here is how to do it:
Block the Suspension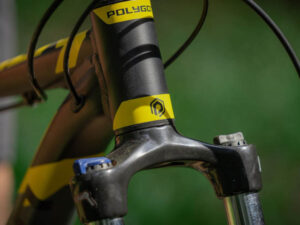 As said before, a suspension is not necessarily needed for ordinary street riding. So if your mountain bike contains a suspension lockout, you can block the suspension travel so your mountain bike can work like any other regular road bike.
In case your mountain bike doesn't have a suspension lockout, though, then you can adjust it by increasing some air pressure in your suspension, so it can stiffen up and help you reduce bobbing when you pedal and stand to sprint.
Change the Tire
Although changing road tires for mountain bike is not cheap, it's indeed a worthy investment if you intend to use a mountain bike for daily street riding. For street riding, road tires can help you go faster without wasting much energy on pedaling. It will also be easier to take corners and ride smoothly on the pavement.
Change the Gear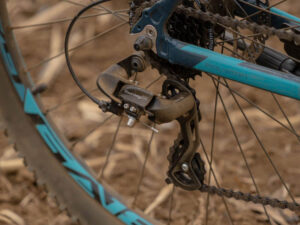 Mountain bikes have gear that accommodates slower speed as well as steep climbing. This kind of gear will have you spin quickly when the speed comes up. To improve this, you might need to change the rear gear of your mountain bike to a larger chainring, but don't forget to check the terms and conditions on your bike's warranty first.
If you are unsure, you can always ask your dealer about what's the best gearing to improve the speed of your mountain bike without risking the warranty being void.
Bring your bike to Rodalink's one-stop cycling store where you can do a consultation and ask for advice on what you can do to make your mountain bike able to comfortably hit the smooth surfaced road.
Conclusion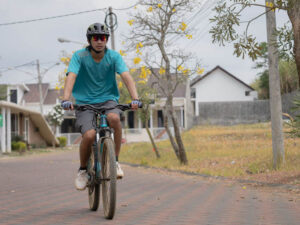 The final words for this article are that at the end of the day, you can still hit the road with a mountain bike. A mountain bike could make your ride on a surface with potholes better than a road bike.
Besides, when comparing road bike vs mountain bike for exercise purposes, you will love the result given by mountain bikes more because a mountain bike offers you an option to travel through different surfaces without worrying about breaking any vital parts of the cycle. A mountain bike can also allow you to spin at the average rate of 95 rpm and enhance your fitness in the long run.
If you are looking for the best mountain bike brands that will also be suitable for daily commutes, you can try out Polygon Mountain Bike, especially the Xtrada 7, which is constructed with a durable and lightweight ALX XC Frame and designed with a tapered tube that will give you a more stable ride.
Or, you can visit Rodalink to find a mountain bike that suits your riding style the most since they have a wide range of bicycles that are of the highest quality. You can also shop for your bike accessories and parts there.
The best part about shopping with Rodalink is that you will be getting your bike delivered to you and claim free shipping for every SG$200 spent on the accessory and part shopping. There are no other deals greater than what Rodalink can offer so make sure you don't miss out the chance.