As we start the a new year, everyone is thinking about what they want to achieve in the coming year. Chinese New Year can be a great new year to start with. If you are an avid rider, the new year may be an occasion to achieve your fitness goals. Whether you're looking to improve your fitness, beat the best of yourself or just to ride more often, New Year's Day is a great time to consider what you want to achieve this year and how.
Besides improving your fitness or increasing your cycling time, you can give yourself a new look—and your bike too! If some people use Angpao to buy things they want, this year you can give a new look your favorite bike by using the money inside!
Here are items that might make your bike look like brand new:
1. Bike Accessories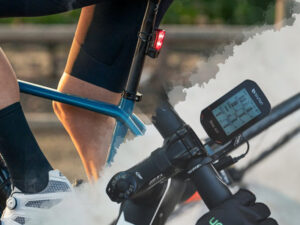 Giving new looks by adding or changing worn out bicycle accessories is one way to update a cyclist's look. Adding lights to your bike can give it a new look and make you feel more protected. But bicycle lights are important safety equipment that should be used when riding anywhere outside the house. Cyclists can be seen by other riders, especially when visibility is low or it is nighttime. By using a bicycle light, they have a large beam angle so that others may spot them—especially if you're out riding during foggy conditions or early in the morning.
Another accessory you can add to your bike is a bottle cage: in order to stay healthy while cycling, having water on hand at all times is important.
A bike computer, then, can be an accessory that makes it easier for you to access data—like distance traveled or elapsed time—without the need to constantly look at your phone screen. This way you'll have pertinent information while cycling and also later when reviewing performance metrics like cadence (revs per minute).
Finally, mudguards can protect your clothes from splashes of mud when cycling on muddy terrain and racks/carriers will make it easier for you to carry belongings anywhere. These accessories support cycling activities, and of course it can give a fresh new look for your bicycle!
Discover More Bike Accessories Now!
2. Cycling Apparel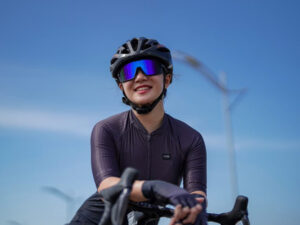 Apart from its function to support cycling activity (aerodynamics), cycling apparel also supports the cyclist's appearance when cycling. When cycling, you should wear clothing that is made for the activity. Cycling is a physically demanding sport and your clothes need to allow you flexibility in order to avoid injury. Clothing designed for cycling should be form-fitting and not catch on the spokes of wheels or chains.
Cycling apparel includes a jersey, shorts or pants, a jacket, eyewear and gloves. Why is this important? By using special cycling jerseys that provide aerodynamic benefits —you will be able to ride faster.
Cycling jerseys usually have pockets on the back, where you can keep maps or snacks without interfering with your pedaling. Well-fitting shorts will make any ride more comfortable—you'll be able to go farther and faster than ever before!
Cycling apparel can not only support your performance but also give you a new look. Using special cycling clothes will inspire you to get out on the road or trail and ride with confidence! You won't need to search for a place that sells bike apparel with various choices—just visit the Rodalink Singapore website and you'll get everything you need!
3. New Bike, Why Not?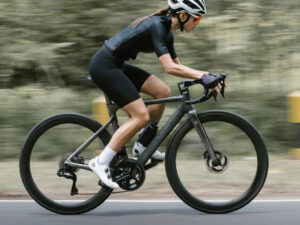 It's time to welcome the new year and that means you should celebrate a prosperous year ahead with family and friends. But speaking of the new year and new beginnings, did you know that bicycles are a symbol of prosperity? Because of their association with good luck, many people believe that buying a new bicycle during the New Year will bring them luck as well.
If you've been thinking about trying it out or buying a new bike, now is the perfect time. When purchasing a bicycle, first find out as much detailed information as possible about what kind of bike is best for you and your lifestyle.
Different types of bicycles are suited to different environments. For example, mountain bikes perform best on rugged terrain while road bikes handle well on smooth surfaces like pavement. The city bike is the perfect option for riding in an urban setting, while the touring bike allows you to travel with comfort and convenience! Or, for you who want a bicycle that can handle any type of terrain, not just the ones with steep inclines or paved roads—the Gravel Bike is perfect!
Rodalink can help you find the right type of bike for your needs! No matter if you are still unsure which model to choose, Rodalink offers advice and helps to decide. Get your best bicycle at Rodalink Singapore now!
Discover New Bike at Rodalink Now!
4. Bike Maintenance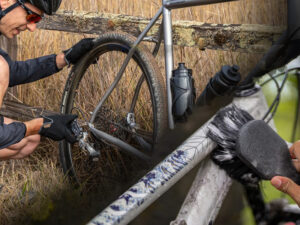 The ritual of cleaning all corners of the house before Chinese New Year is a must. While families are busting their fingers spring-cleaning the dusty and hard-to-reach sections of their homes, turning out clutter both inside and outside, it's time you do something to your bike, too! You can do bike maintenance such as a cleaner, degreaser, chain lube, or grease which can make the bike look new all the time.
Cleaning a bicycle can give it a new, polished appearance and make the rider feel good about his or her bike. A quick wash of the frame, wheels, and components helps to remove stubborn dirt. The cleaning agents in bike cleaners are not as strong as those found in degreasers, so they're ideal for areas of the bike that don't get too dirty—like the frame, saddle, and steering components. Bike degreasers and chain cleaners can help get rid of oil and grease on your bike, which helps keep it clean as well as keeps the parts working efficiently.
Clean & Maintenance Your Bike Now!
If you are looking for bike accessories, bike apparel, and everything related to your cycling needs, you can visit the Rodalink website. Why choose Rodalink? You can take advantage of various benefits, such as free delivery and OCBC 0% installment! Moreover, by joining as a member of Rodalink Singapore, you will be able to receive various benefits and information updates related to on-going promotions. Now that there are a variety of payment methods to choose from, or ShopBack It, Pay Later! Take your cycling journey to the next level by visiting the Rodalink Singapore website!