According to The Straits Times report, there are an average of about 560 and 90 serious accidents involving cyclists on roads and park connectors being recorded yearly since 2017. By these numbers, we have been reminded of the importance of understanding safety during the ride. Here are a few cycling safety tips to save your life and others.
How Can a Driver Keep Cycling Safe?
In recent years, the bike boom has become a trend again. The pandemic is the peak that makes people aware of the importance of keeping a healthy lifestyle. Hence, commuting by bike has become the latest lifestyle.
However, cyclists often have to share the road with other vehicles such as cars and motorbikes, exposing the bike riders to a higher chance of injury, even when riding along the designated path.
The Injury Facts® reported that there would be around 1,089 cyclist mortality by 2019, with 712 involving a motor vehicle, and there are about 80 million cyclists that share the road with motorized vehicles, urging anyone to take safety precautions to hinder themselves from unwanted accidents.
10 Cycling Safety Tips
A road accident involving cyclists might sound terrifying, but fortunately, you are in control to limit the risk of any bike accident when you ride. Here are the top 10 bicycle safety tips you might need to keep yourself, and your fellow bikers buddy safe during the rides:
Wear a Helmet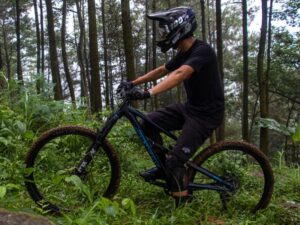 According to the Land Transport Authority (LTA) of Singapore, all cyclists and power-assisted bicycles (PAB) riders must wear a helmet when cycling on roads. Besides, the Guardian reported that Australian researchers studied more than 64,000 cyclists worldwide and found helmets reduce the risk of a severe head injury by nearly 70% and fatal head injury by around 65%.
Wearing a helmet is not only mandatory for an adult but also one of bike safety for kids' practices. Always choose a helmet with high-quality and in a better-fitted size for comfort and safety rides.
Keep Your Hands on The Bike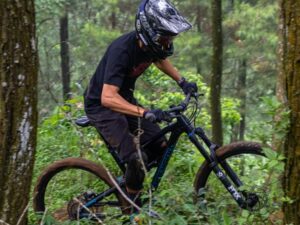 The LTA also encouraged cyclists and PAB riders to adopt the bike safety course by keeping both hands on the handlebars to keep a better balance and allow you to brake faster in case there's any emergency.
Limit Your Distraction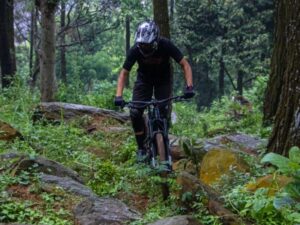 In the United States, the leading cause of fatal car accidents is because of distracted driving behavior. Unsurprisingly, riding a bike while distracted can be equally dangerous or even riskier since bike riders are more vulnerable to severe injury and even mortality.
While some might suggest opting for a water bottle that is easy to operate with one hand in case you need to drink in the middle of your ride, it is still best to stop for a while and take your bike to the side if you need to drink water. By doing so, you also won't be breaking the law of ensuring both hands are on the handlebars.
Other crucial bike safety tips for adults are: to avoid using mobile devices and headphones while cycling because the music can distract riders from the significant noise around them, such as the car horn, for example.
Ride Along the Traffic Flow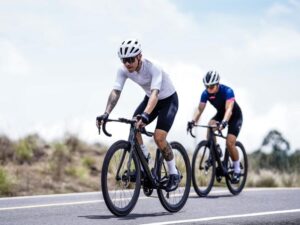 Safe wise reported that bike riders are 3.6 times to get into an accident when riding on the left side of the road because the drivers entering the street from a driveway often forget to look for the incoming traffic from their right side.
Besides, riding in the same direction as other vehicles on the road can lower your risk of getting into a crash. If you are going against the grain and an accident happens, you are more likely to be responsible for the car crash. So, to prevent or reduce the financial recovery charge.
See and Be Seen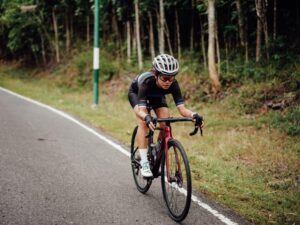 Have you ever wondered why the bikers you see on the road always wear shirts with glaring colors? The reason is that wearing bright-colored apparel and putting reflectors on your bike is an attempt to help you stay safe during your ride. The color of your clothing makes you more visible, and other road users are less likely to run into you.
Since limited visibility drives the leading cause of bike accidents, riders must avoid wearing clothes that are dull in color and not noticeable from afar. Aside from it, the LTA of Singapore has enforced every biker to install a bike light/reflector on their bike. White on front and red on the rear to help the bikers easily see and be seen by other road users.
Prioritize Safety Before Aesthetic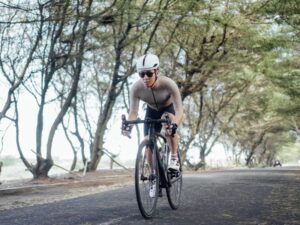 If you know a female rider around you, or if you are a female rider yourself and you do care about "how can she be safe while enjoying her bicycle ride?" type of question, one piece of advice from us: remember to avoid wearing a dress or long skirt during your ride. As much as it looks cute on the TV series, trust us, it only appears on TV and should stay there forever.
During a ride, the last thing you want to happen is to get caught in your bike chain because of a loose pant leg, long skirt, back straps, or shoelaces. This point also stands for male bikers to avoid wearing any fancy pants with lace, rope, or similar design.
Both female and male cyclists can choose apparels that are stretchy, breathable, moisture-wicking, and quick-drying with reflective trim or material that will be helpful during a night ride.
Ride on The Bike Lane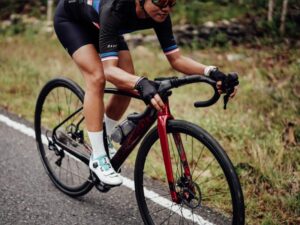 One of the rules stated by the LTA that any riders should obey in Singapore is always to use the bike lane and not use any other part of the road. Several bike lanes of all varieties are popping up across the country to keep riders safe when riding in them.
Check Weather Forecast Before Riding Outside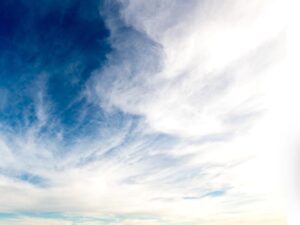 Any rider should wear waterproof gear for outdoor riding because getting drenched in the middle of your ride can be very uncomfortable. You can also carry a small waterproof backpack to hold extra layers and other essentials for every ride.
Before Cycling, Check Your Equipment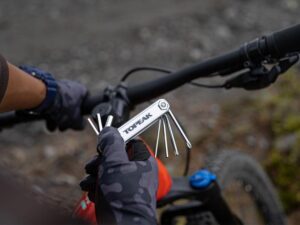 Besides distracted riders, bike accidents may also be caused by equipment malfunctioning. Hence, you are suggested to check your equipment before going for a ride to reduce the risk of a crash because of the bike, gear, helmet, or other accessories that are not properly working when needed.
Follow the bike safety presentation and guidance by ensuring your tire has been inflated according to the suggested PSI number, re-heck your bike reflector to ensure it has been correctly installed, and inspect the chain and gear for any possible defects or operating issues should become the few simple habits that you should develop so you can prevent caught in the crash due to bike malfunction.
Plan Your Route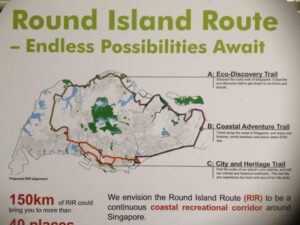 Being familiar with the route you will cross and getting to the destination safe and sound should be your primary goal when riding your bike. Hence, it is essential to use only the most recent cycling map and plan your route before riding there. Determine the best path within your capability for the best riding experience.
Conclusion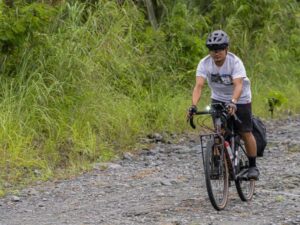 There are a few bike safety facts that might help you to prevent any unwanted injuries during the ride, be it on or off-road. For adults with a cycling kid at home, you have to ensure your kid will also practice safe riding guidance whenever they are on their two-wheel.
If you are wondering what bicycle safety for school age child that they should be following, the mandatory one is to wear a helmet, install a bike reflector, and inspect the bike to ensure the equipment has been properly working. It will also be safer if adults bring their children to school using other transportation options rather than letting them ride their bikes to school without supervision.
Are you looking for the best-performing bike built around high-quality equipment? Or are you looking for the best-quality bike accessories for the bike safety ride? You can find everything you are looking for only at Rodalink.
As the official distributor of Polygon bikes, Rodalink also offers a wide range of bikes, accessories, parts, and apparels from the world's renowned brands, guaranteeing you only get the most original piece at a reasonable and affordable price offers.
Don't worry about breaking your bike accounts or disrupting your savings plan because, at Rodalink, you can purchase your dream bike by buying it now and paying for it later. You only need to select Shopback as the payment method and get 0% of the installment fee charge.
If you are purchasing a bike through Rodalink, you will not have to worry about the nuisance of putting your bike together on your own because Rodalink will take care of it for you. You will have your bike delivered right in front of your door in a ready-to-ride form, so you can immediately go for a safe ride right after the bike is returned. So what are you waiting for? Visit Rodalink directly and grab everything you need to start your riding journey.
You Might Also Need