There are just a lot of things you have to discover and learn if you wish to focus on the cycling world, including the average cycling speed, how it matters on your rides, and tips to improve your average speed. Grab your notebook and write down the key point you need to remember or put this article on your bookmark so you can get back anytime.
What is a Good Average Cycling Speed?
The standard of reference to your performance on the bike is by counting the average cycling speed. However, since there are a lot of determining variables to calculate your average speed, you will somehow realize that it is not always accurate and constant each day.
Regardless, cyclists will still be curious and address questions about the good average cycling speed. Here are some of determining factors:
The Type of Bike You Ride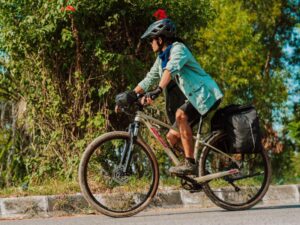 Riders who ride on a road bike with aerodynamic geometry and a slicker tire with less rolling resistance tend to have a faster cycling speed compared to the mountain bike that builds to be focused on rougher terrain instead of rolling fast on the road.
Your Level of Fitness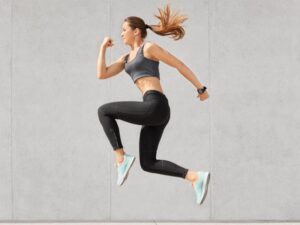 The more you ride, the better you familiarize yourself with your bike. For a beginner, keeping up with the average speed of 10mph for one to two hours on a road bike might seem like a difficult task to finish. But once you get used to your bike, maintaining around 15mph over several hours should not be a challenge anymore.
If you wish to hit the faster of 20mph (same as the average of 32 cycling speed km/h), you will need to put more effort into systematic training and consistency to keep up with the training.
Riding Conditions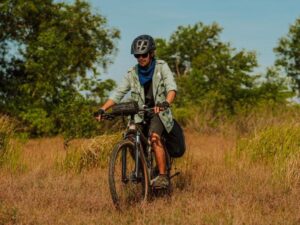 If you are riding a road bike over smooth pavement, you are guaranteed a higher average speed than riding a road bike over gravel terrain. The same goes for mountain bikers. You can be fast on the specific terrain your bike is built for but a little less fast when it comes to smooth pavement.
Besides, some riding areas might be windier than others, and it may affect the cycling speed a rider has. The weather temperature is also becoming a factor that will reduce the average speed of a bike.
Tips to Improve Your Average Speed
After knowing that each rider will have a different average cycling speed because of various variables, you might start to wonder how do I improve my cycling speed? Here are a few tips you can try to improve your average speed, they are:
Change Your Riding Position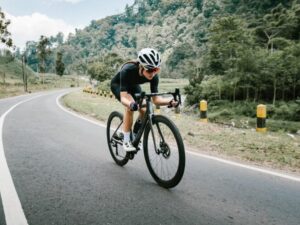 Wind resistance is one factor that interferes with the rider's average speed. To easily cut through the wind as you ride, try to lower your body position on the bike. The reason is that an upright riding position might leave enough open space that attracts more wind and makes you unable to go as fast.
Ride in Groups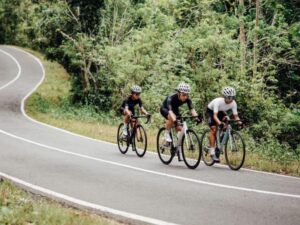 Riding along with other cyclists will encourage you to lift your effort level while trying to keep up with other riders cycling faster than you. Increasing your level of competitiveness can make you speed more quickly and uplift your average speed level.
Check Your Tire Pressure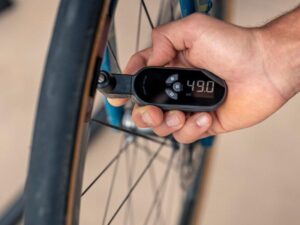 The amount of tire pressure is also one of the factors that affect your speed. Calculate your ideal tire pressure according to the type of your bike, your riding style, and your weight, then consider investing in a track pump with a gauge to keep the accuracy of your tire pressure.
Only Use Brake When It's Needed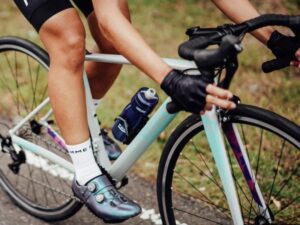 Braking will slow down your speed, making you have to pedal harder so you can keep up with your actual speed. It is okay if you wish to get your speed down to the comfort level, but if there's no obstacle around the road you are riding through, slowing down your speed isn't necessary.
When cornering, braking will help you to hold your current speed longer. Hence you will need to brake in a straight line to keep you on a comfortable cornering pace before you start to corner.
Train Indoors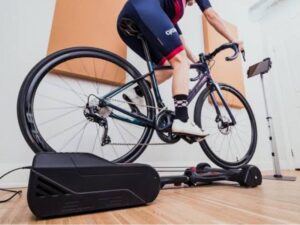 Using an indoor training device will help you increase your average speed. If you invest in a smart trainer, you will also be able to keep track of your training. Besides, the ability of a smart trainer to connect with various indoor training apps will also increase your motivation to continue the training.
Does Your Average Speed Matter?
Wondering about how fast your average is and comparing it with other cyclists is normal. You can use a cycling speed calculator to know your average speed, or you can divide your total distance by the total duration of your ride to determine your speed.
However, you will need to keep in mind that there are so many factors that affect the average speed. If you use the information on average speed to monitor your fitness progress, it shouldn't be a problem, but it is not okay to become obsessed with it. What's more important is to keep your motivation on cycling and keep improving your riding skill.
Conclusion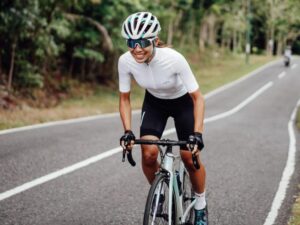 The average cycling speed for beginners will be different from the average cycling speed of cyclists that have been riding for years. The difference in riding area, humidity, weather conditions, traffic volume, and body fitness will result in different average speeds.
Besides, the different types of bikes will also affect the average speed. For example, the average cycling speed of a road bike when riding on inclines of 5% is between 8mph to 12mph. However, the average cycling speed mountain bike can drop to between 4mph to 8mph when being ridden over technical trails or on a steep uphill section with an incline of around 5% or above.
The average bike speed for 60 year old cyclists could also be different from younger cyclists since there will be a significant difference in body fitness level. Body fitness level is also affecting endurance during the rides. You might be aware of a noticeable drop in speed that comes in line with the longer distance you have been riding.
Chasing over the average speed might be a good motivation to improve your riding skill as long as you are not overdoing or obsessing over it. Training with an indoor bike trainer can also help your speed, so it is good to consider investing in one.
To get bike supplies in high-quality components at an affordable price, you can visit Rodalink. At Rodalink, you will find a wide range of bikes, accessories, parts, and even apparel selections from the world's famous brands.
Rodalink also collaborated with Shop Back, so you can purchase your bike and pay for it later with a 0% installment fee. If you buy a bike from Rodalink, they will make sure to deliver it ready to ride, so you can directly hop on your bike and start your cycling journey. They also have various types of bike trainers that will help you to improve your average speed. Get better on your cycling together with Rodalink.
You Might Like This!