Cycling has been a favored leisure activity and stimulating sport to try on. Thinking of testing your cycling skill through rugged terrain and hectares of wilderness? You might want to take a short trip to these natural sweethearts of Singapore with your hybrid bike. The hybrid bike delivers various functions for commuting, utility, and family ride bikes with a simple flat handlebar and adaptable style that offers some mountain bike power and versatility without its heavy scale. Using a hybrid bike, it is possible to get on slightly rougher terrain beyond the road. Get ready to put your gear on for an energizing ride in Singapore's natural wilderness.
1. Northern Explorer Loop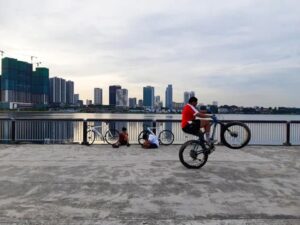 This 25km long route delivers a great natural landscape and an educational experience. You can follow the route from Sembawang Park through Woodlands Waterfront Park, a scenic and tranquil coastal park with challenging trails. After that, continue the ride to Admiralty Park, the 20-ha nature area with interesting flora and grassland. You can also find a mangrove swamp with mudskippers there. The route is suitable for intermediate riders that are experienced with long routes and winding routes and gives beginner riders a new experience in tackling obstacles and maintaining their stamina through long routes. Those who wished to take a shorter route can try an 11km-route that spans from Lower Seletar Reservoir Park to Woodlands Waterfront.
2. Western Adventure Loop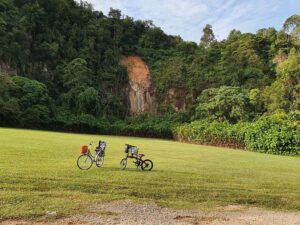 Consisted of various parks and terrain, Western Adventure Loop offers an outdoor adventure with adrenaline-pumped trails. The route starts at Choa Chu Kang Park, a lush green park with uneven and rocky roads to ride in. This route takes you through various parks and greenways where you'll get up close and personal with nature. After that, riders can continue their journey to Dairy Farm Nature Park, with its rugged terrain. Head over to the Jurong Lake Gardens and find the combination of Lakeside Garden, the Japanese Garden, and the Chinese Gardens. Besides Chinese pagodas and Japanese bridges, the beautiful field of tall lalang grass offers a unique exploration experience. This 12km-route also offers a sightseeing landscape with almost 50 bird species along the Bukit Panjang Connector.
3. Rail Corridor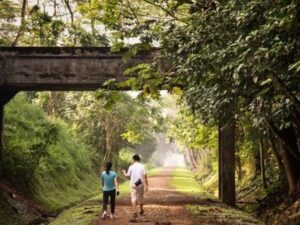 Rail Corridor provides an exceptionally rich heritage with restored landmark bridges and rainforest landscapes. Well-known as the Green Corridor, the railway line has been enhanced to be more friendly to the user. Enjoy the challenging route from the slope of Hindhede Bridge to porous aggregates paths in Bukit Timah Nature Reserve. Please keep your speed at 10km/h to keep other visitors safe as many cyclists and joggers are exploring Rail Corridor's natural phenomena. For a better experience, you can ride across Upper Bukit Timah Truss Bridge, where you can find a rustic environment with rare species of dragonflies and butterflies. Look forward to soaking up nature's beauty and immersing in the rainforest experience.
Challenge your speed and agility to these places while enjoying the natural wonders of Singapore. What's more interesting than breaking a sweat while relishing the green lush along with some sights of pangolins and butterflies in their habitat.