We all know that the characteristics of a road bike are fast on the smooth surface, lightweight because it's often manufactured with carbon fiber or alloy, and having a drop handlebar to allow the rider to crouch down and ride against the wind. But have you ever known that a flat bar road bike existed years ago?
Three primary keywords to define a flat bar road bike are "flat handlebar," "sportier than a hybrid bike," and "is a road bike." To ease your confusion, here is a brief introduction to a flat bar road bike, along with an explanation of its features, recommendations for the best flat bar road bike 2021, and whether or not you should consider purchasing this bike. Read through this article for your needed information.
What is a Flat Bar Road Bike?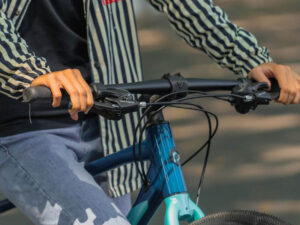 Think of a standard road bike but change the drop handlebars into flat handlebars. That's what the outer look of a flat bars bike looks like. Although a flat-bar bike is not a performance road bike, its wheelset still is similar to a performance road bike. A flat-bar road bike is also known as a fitness bike.
One of the specialties offered by a flat bar is its ability to move at high speed yet still maintain momentum. A flat-bar bike is fully rigid with no suspension allowing the riders to push the bike with less effort.
When talking about a flat bar vs road bar —a drop bar— a drop bar offers an aerodynamic advantage because riders are allowed to crouch down and reduce the drag. Such positions automatically increase the rider's speed efficiency.
Meanwhile, a flat bar allows its rider to steer quickly and accurately. When riding with a flat bar, the rider will have a more upright position, giving a comfortable ride as you don't have to stress your back, arms, and neck muscles.
Flat Bar Road Bike Features
In a glimpse, a flat bar road bike may look like it has similar features as a standard road bike parts. But to help you know a flat-bar road bike better, here are some of its defining features:
Frameset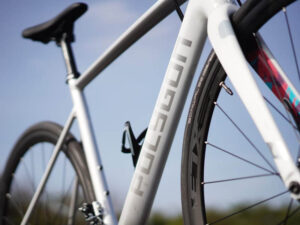 Just like a standard road bike, a flat-bar road bike also has a frame that is made from the lightweight material, usually an aluminum alloy. But there is also a steel flat bar road bike which is generally denser and tougher but not as light as an aluminum frame.
The geometry of a flat-bar road bike also has similarities to its standard counterparts that focus on quick-steering agility.
Wheelset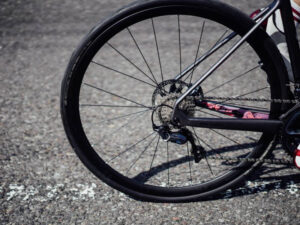 Flat-bar road bike also comes with a 700c slick tire, which is fast and reduces the rolling resistance, helping you go faster without too much effort.
Group set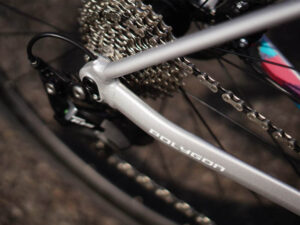 Come with an easy gear ratio with narrower gears that refers from the higher to lower gear. The top gear is higher than the mountain bike, ensuring the rider won't easily spin out when riding at speed. Flat-bar road bikes usually come with double or triple front cranksets making the bike easier for hill climbing activities.
Brake Levers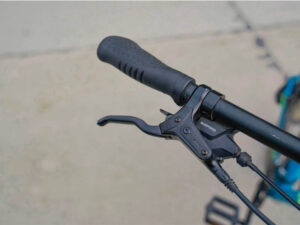 While most road bikes come with caliper brakes, flat bar road bikes usually come with a v-brake. This becomes the root of the most common error with flat-bar road bike conversion that riders often make: using MTB levers using caliper brakes, making riders pull the brake hard to make the bike stop.
It's not recommended to do conversion without checking the warranty or consulting with a professional. If you already have a standard drop handlebar road bike and wish to change it to a flat bar, we recommend you bring your bike to Rodalink's one-stop cycling store to get your consultation and see whether or not you can do the conversion.
Is There Any Reason to Buy a Flat Bar Road Bike?
Are you contemplating whether or not the flat-bar road bike is worth your investment? We have already compiled a few reasons for whether or not his bike is a beneficial investment, which hopefully will help you to select the best bike for your investment:
Riding Position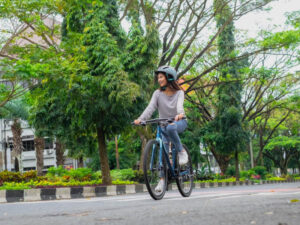 A flat handlebar is designed with a flat handlebar like those found in a mountain bike, allowing riders to have a steady grip that is useful for beginner road cyclists to gain more confidence in riding.
However, if you are only looking for a bike that offers a steady grip, you can look for a city bike as it also allows riders to have a steady grip and boost riders confidence in riding down the road.
Speed and Efficiency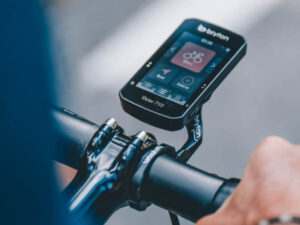 Although the flat-bar road bike is different from the performance road bike, they still have the same wheelset sizing, which allows the bike to roll quickly on the smooth pavement. Although the flat handlebar is less aerodynamic than a drop handlebar, it can still allow riders to run fast with less effort.
But of course, if you are looking for a bike that offers speed and efficiency on the road, there will be no other options better than a performance road bike as they are specially made for it.
Versatility in Function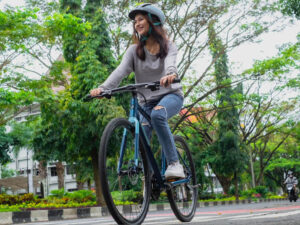 A flat-bar road bike is said to be an excellent choice for touring because this bike is designed to allow you to bring some loads along the right as there are plenty of attaching points available on the bike. It is also said to be for fitness and daily commute. The frame is also robust enough to tackle a rough road with ease.
But a gravel bike could also substitute for this versatility in function. Despite having the drop handlebar, the gravel bike frameset is allowing it to be ridden over singletrack or forest trail, perfect for daily commutes, and will do fine for a short touring.
Conclusion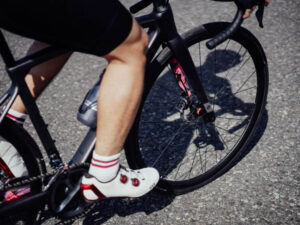 If you are getting back to a few years ago, when someone was looking for a bike that has lower rolling resistance, offers a speed ride, and a steady grip for urban commuting, we might tell them to consider a flat-bar road bike since the flat handlebar also allows riders to control their bike better, which is also easier to ride for beginners.
However, flat bar road bikes were discontinued a long time ago and this type of bike is almost non-existent right now—well unless you go to a second-hand shop. But why invest in a second-hand bike when you can get a new one with better features?
You can visit Rodalink to look out for another type of best road bike Polygon manufactured with high-quality ACX for all of their performance bikes, mix frameset of ACX fork and ALX frame for their all-rounder bike, and mostly ALX frameset for their gravel bike. They also use a high-quality groupset by Shimano while offering an affordable price. Of course, there are also lots of other bikes you can choose from at their store.
Just make sure you already know how to maintain a road bike and find the correct sizing for a road bike before you invest in one to avoid unwanted injuries caused by incorrect bike size.
As a bike store that commits to providing the best services and products to every customer, Rodalink offers a wide range of bike selections, so you are guaranteed to find the most suitable bike that is high in quality and affordable.
For new riders, besides getting assistance in finding the most suitable bike, you will also be able to shop for everything you need to complete the preparation before hitting the road. Starting from bike accessories and parts to apparel, Rodalink has it all.
Shopping through Rodalink is also convenient because they have an online web store where you can shop for your biking needs anytime. You only have to log in and make a purchase; then, you can choose whether you want to have your bike delivered to you in a ready-to-ride form or you want to do a pick up at Rodalink's store located at East Coast and Jurong East. Get the best bike shopping experience only in Rodalink.