A folding bike is an overlooked cycling option nowadays, especially if you live in a loft or a flat with limited storage space. Some commuters who need an MRT or an elevator to get to their office find foldie a better option. As folding bikes nowadays come in various folding systems and wheel sizes, here's a folding bike comparison to help you make better decisions on buying one of them to suit your needs.
How to Choose Folding Bike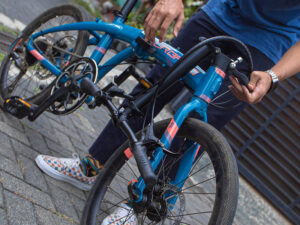 Before you choose to make a purchase decision, it's only wise to do good research on the item on your wishlist and compare it to your needs, the same case with finding the best folding bike that will accompany your journey from place to place.
The main 3 questions you need to ask yourself before making a final decision in getting yourself a folding bike is:
Ask yourself the purpose of getting a folding bike. Some people might be the type who will buy something to join the hype but will regret it right after the purchase. This question is a kick-start to look into yourself. Will you regret it if you spend some cash on a folding bike?;
Project how you are going to use this bicycle. Is it for a nice stroll around the city? To help you commute easily daily? Or do you want to ride it for a long-distance trip for a little runaway from reality? By acknowledging this, you will have a better insight into choosing your folding bike;
Think about whether or not you need a specific sizing of your bike. It's true that not every size of bike suits every rider. This is also the reason why there are a lot of folding bikes that have adjustable parts for a range of their rider heights.
After getting an answer to the questions above, here come other aspects you need to look after before buying a folding bike, such as the size of the bike, weight of the bike, and how to fold the bike. Make sure to highlight the main idea to help you find the best folding bike.
Come in Size, Weight, and Folding Mechanism
As the folding bike market keeps growing, the manufacturer also keeps developing the design of the folded bike, including the size of its wheel, the material used that will affect its weight, also the folding system of the bike. Let's start breaking it down one by one:
Size of The Wheel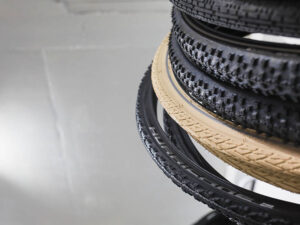 A foldie comes in a wide range of wheel sizes, starting from 10 inches to 26 inches. However, the most common size we have always seen is either a 16-inch folding bike, 20 inch folding bike, or the 24-inch one. Each size of wheel come with advantage as well as disadvantage, such as:
The 16 inches Folding Bike
A 16″ folding bike comes off as the most compact folding bike with no doubt of its mobility. Smaller wheels, of course, make the folded size smaller and the bike lighter so it's easier to manage.
The downside of this 16 inches folding bike is that it might not be convenient if you want to ride it for your long-distance/touring trip. Besides, small bikes with higher quality tend to cost way higher, which most average customers won't even consider.
The 20 inches Folding Bike
The 20″ folding bike is the most common in the market. It's significantly larger than the 16 inches one. However, it delivers a more stable ride and starts with a more reasonable price. A 20″ gives a good balance between folded size and the performance. In comparison with the 16″ one, this 20″ foldie is still considered manageable with the bonus of better riding quality rather than the 16″ one.
The setback from this 20 inches sized wheel is that it's not as portable as the 16″ one. Although you can still travel around with it by putting the folding bike in your car trunk, for multimodal travel, it might cause some hassle for you. For example, Singapore Airlines Economy class flights only allow a maximum of 7kgs and no baggage allowance for flying to and from any destination except Canada and the USA.
By this regulation, you might not be able to carry your 20″ into the cabin baggage and will have to add an extra charge for additional baggage or have it sent to your destination by cargo.
The 24 inches Folding Bike
Lastly, a 24 inch folding bike is also significantly larger than the 20 inches one but is more stable to ride. A 24 inch folding bike can help you deal with more extreme terrain such as hills and bumpy roads as it's smoother and more stable with its larger wheel size.
The only concern with this wheel size is that its dimensions are too large, making it challenging to carry them around. Not every public transportation will allow you to take a large bike inside. For example, Singapore has this regulation where a folded bike must not exceed the dimension of 120cm x 70cm x 40cm to be allowed inside an MRT.
With this regulation, bringing your 24 inches folded bike will be out of the discussion. Although, of course, you can still easily transport them around with a car by putting them inside your car trunk without any necessity to buy an additional rack.
Weight of The Bike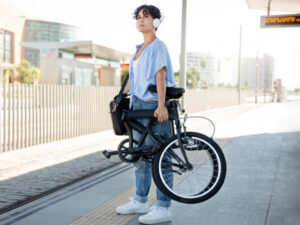 The material used in manufacturing the folding bike affects its weight. A lighter frame material such as carbon fiber and titanium and higher quality parts will automatically make the weight of a folding bike go down but, at the same time, increase the price.
Folding Mechanism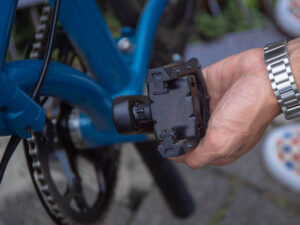 Of course, everyone wishes their foldie to be easily folded and unfolded. Especially if you're the type who almost runs late to catch the MRT or check in to your office nearly every time, you will dislike the hassle caused by folding and unfolding your bike.
Tips to Choose Folding Bike
Now, after having some insight about the advantages and disadvantages of 16 inch vs 20 inches vs 24-inch bike, it's time to note down what's the best tips in choosing the right folding bike you need:
Consider the Storage Space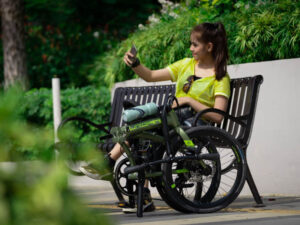 You are also aware that you can't ride your foldie every minute of the day. So make sure you check the folding bike storage option that is allowed to be inside of an MRT.
Choose the Correct Size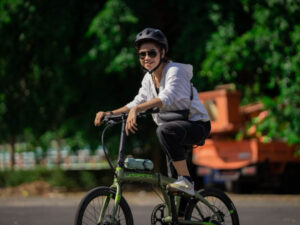 Most folding bike companies offer one adjustable frame size. Usually, a 20″ folding bike size for the height of 150cm up to 170cm riders. You might need some adjustments if you're above 170cm tall.
Think About the Correct Wheel Size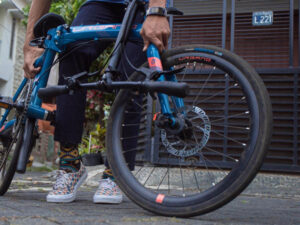 Before you decide to make the purchase, consider the wheel size. If you're intended only to use your bike to ride around the urban area, a 16″ foldie is already enough. But if it's for long-distance trips, then you can opt for 20-inch folding bike wheels. You might as well consider the 24″ one of the options especially if you want to ride for more challenging terrain.
Ask for a Warranty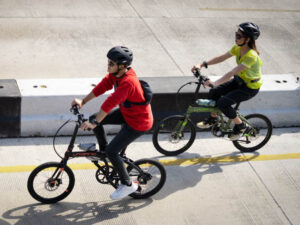 Make sure the warranty options for your folding bike come along with good customer service for claiming the warranty.
After getting some tips, let's discuss which one is the best folding bike? For us, we will like to introduce this brand below!
Polygon Folding Bike Brand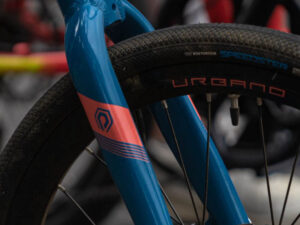 When talking about the best folding bike, you can't skip Polygon Urbano 5! This bike offers anything you need for a day-to-day commuter cycle. The extremely versatile machine with ALX Aluminium frame and Safety Lock & Magnetic make Urbano 5 one of the lightest folding bikes yet incredibly strong.
This bike offers top-notch comfort every rider will appreciate regardless of the height. Say no more to straining your back during a cycling activity, as Urbano 5 encourages upright riding positions to improve both comfort and visibility.
Polygon Urbano 5 is also a smoother riding folding bike size 20 that can reduce the rolling resistance. Get a better experience for a long-distance trip with Urbano 5. They also perform better than 16″ for riding on a bumpy road.
Conclusion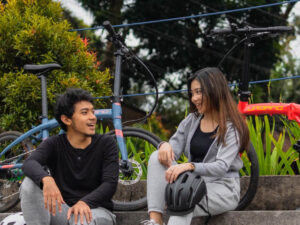 When it comes to comfort, mobility, budget, and steadier ride, it's fair to mention Urbano 5 from Polygon best folding bike brands. The folding bike is designed to be adjustable from the saddle height and handlebar. Also, the lower pedals allow riders to set on and off the pedals with ease which will lessen the struggle for riders, even the petite ones.
With all the benefits of this bike, you can take Urbano 5 home just for SG$749 making this bike the best budget folding bike with quality across the nation! After reading the whole article about folding bike reviews, if you finally make up your mind to get yourself an Urbano 5, you can visit Rodalink to make your purchase.
Rodalink belongs to the group of Insera Sena, one of the biggest bicycle manufacturers in Asia. By choosing to purchase from Rodalink, you will experience the best shopping experience for your bicycle needs as Rodalink provides a wide range of bicycles, parts, and accessories.
Suppose you are new to cycling, no need to worry because Rodalink will still offer you the best service. On top of all this, purchasing Rodalink is extremely easy as you only need to register an account, choose your dream bike, and you can have options to buy now and pay later with ShopBack, a type of payment method providing installment payments with zero interest charges.
Make your purchase from Rodalink now to claim the free shipping promotions for a minimum spend of SG$200 on accessories and parts.
Discover Cycling Needs at Rodalink Now!