Folding Bike – When we're talking about folding bikes, they're turning to one of the popular city bikes to choose from in Singapore right now. Folding bikes and urban mobility are slowly becoming interchangeable. This bike is also suitable for leisure weekend rides for those who are looking for a healthy hobby. Among so many varieties of bikes to choose from, what makes most people fall in love with this bike? Find out more here!
1. Compact with Smaller Wheel Size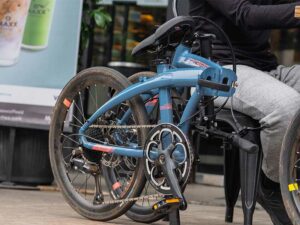 Every bike has a different size of wheels, depending on the intention of the bike. For example, 700C wheels are usually used for city bikes, 650B wheels for gravel bikes, and 27.5"-29" for MTB. Even though each size offers its benefits, the big wheelsets are not always fit with us who only have limited space at home and only use the bike for moving in short-distance.
To answer the need, folding bikes are equipped with 14-22" wheels. This feature sure saves up space. Although it possibly makes us move slower than when we use bikes with bigger wheels, the folding bike wheel size still can accommodate the need for commuting. Choose the wheel size that matches your intended use. The larger wheel size is usually better at maneuvering on uneven surfaces and comfortable to use for longer rides, although they can't fold up any smaller than the wheels.
2. Stylish and Photogenic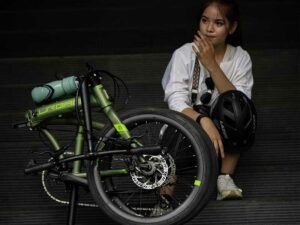 They say there is no limitation for beauty. Though small, this compact bike is usually designed with stylish colors to complete your everyday activity. Polygon Urbano, for instance, has four stylish colors that you could choose: Blue, Green (Urbano 5), and Black, Pink (Urbano 3). Bring your folding bike to scenic places like Rail Corridor and Marina Bay Sand and capture the moment!
3. Light, Easy to Operate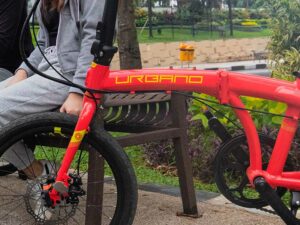 Was created for transporting without hassle, folding bikes are usually constructed with a lightweight frame. Polygon Urbano for instance, was constructed with the durable ALX Alloy Frame. Starting with 6061 triple-butted tubings and heat-treated for strength and durability, ALX frames are built to last the test of time.
There are a lot of options for folding bike mechanisms out there. There are half or mid horizontal folds, or triangle hinge vertical folds. Usually, the more compact folding bikes equal the more complicated folding process. Find the one that suits you best: it can be more compact or simple to unfold. Don't forget to take the space that you have for bike storage into consideration.
Besides, to fold the bike, the mechanism is usually very simple and quick. Here we got the illustration for you:
Set the seat post to the lowest then turn the saddle back.

Open the handlebar quick-release, then bring them down.

Unlock the key on the handle post, then fold.

Release the hinge and fold the frame, making sure the magnetic lock is done properly.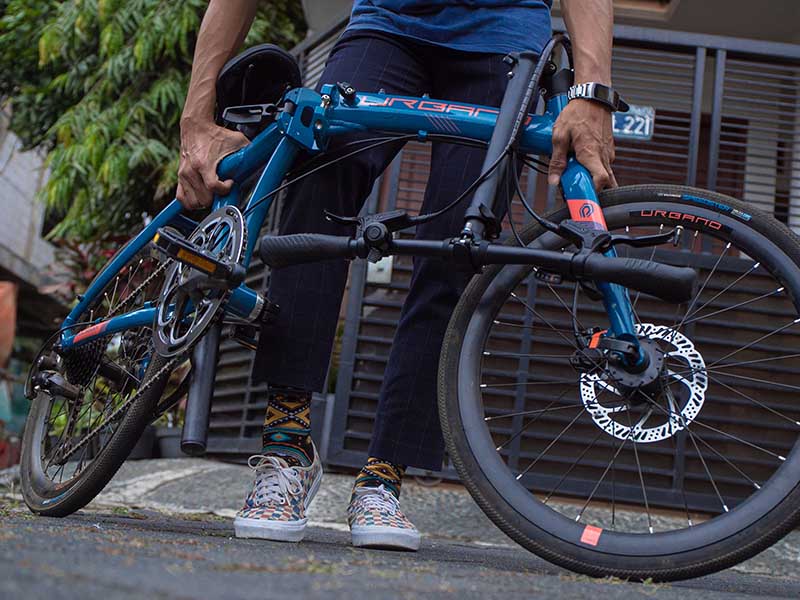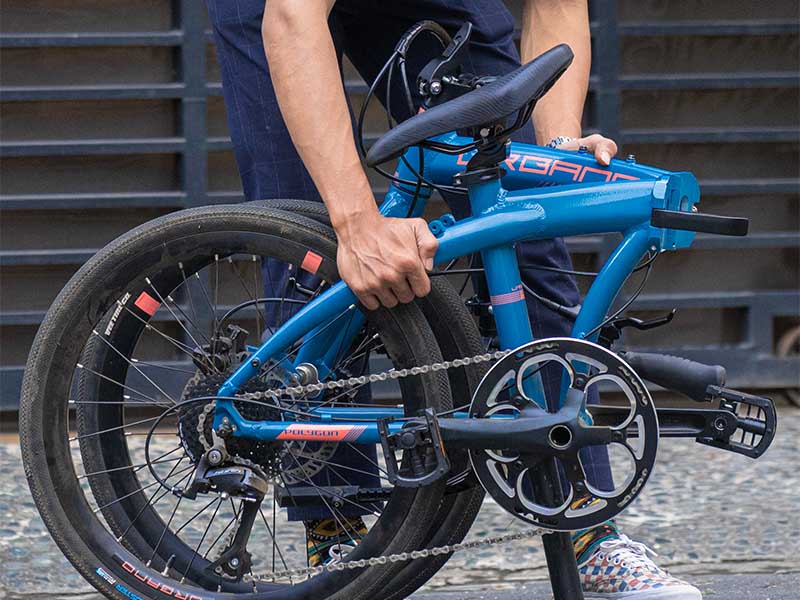 4. Getting Your Folding Bike
A folding bike offers a fun ride and comfort—you are now interested in getting one. Which bike should you choose? Just shortlist the option by considering also these items:
Most folding bike manufacturers are only offering folding bikes in one size. You might want to see the bike in person if you're taller or shorter than average people before buying the bikes. Speaking to someone in the bicycle shop will be helpful in case you need some modifications.
Last but not least, always consider buying a folding bike in a store that provides you good after-sales service. Usually, original bikes are coming with a warranty for certain years, following each manufacturer. In case something happens with your folding bike, you can drop down to the stores and ask for assistance.
Looking for your first folding bike? You might want to consider getting one from Rodalink. Bring home a folding bike for your loved ones!