Every type of bike tends to be mismatched after long-term usage, including a folding bike. Your bike is exposed to dirt, vibration, and probably even a high impact due to pebbles and potholes. Hence, regular folding bike maintenance is mandatory to lengthen the life of your bike.
Here are some tips on maintaining your folding bike that will keep the essential parts of your bike in optimal condition.
How to Maintain Your Folding Bike?
To preserve the life of a bike, you need to perform proper and regular maintenance. The best thing about the folding bike is that, besides its foldable and lightweight, nothing differs it from a regular cycle, including the way to take care of it. Here are some tips on how to take care your folding bike:
Cleaning and Lubrication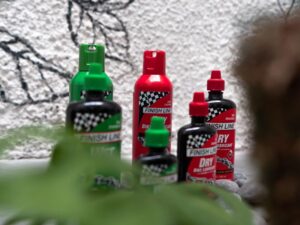 Since the folding bike is compact and can be tucked anywhere, the chance of being exposed to more dirt and road salt is slightly higher than a regular bike. Therefore, a deep manual cleansing is much more effective than a string of raw water at higher pressure.
So, how to clean your foldable bike properly? There are a few things you need to prepare to clean and lubricate your bike properly, such as:
Bike Wash

(you can get it through Rodalink's shop);
Degreaser;
Chain Lubricant;
A Small Hose;
Cloths
Then, to clean your folding bike, you can start with these few steps:
Cleaning and Lubricate The Chain
Back in the old days, you might need to remove the chain from the bike using a quick link and soak it into a solvent mixture, leave it overnight or shake it repeatedly until the water runs clear, and use a small brush to reach the spot between the links to brush off the remaining dirt and debris.
But nowadays, you can use a degreaser to cleanse your chain without going through much hassle of removing it. You can even perform a thorough cleanse of your drivetrain with EcoTech Multi Degreaser.
You need to only spray the degreaser to your drivetrain's parts, such as the chain and sprocket, rear and front derailleur, and the chain wheel, and let it dry on its own. Super simple and time-saving!
After cleansing the chain, don't forget to lubricate it to prevent corrosion and reduce friction from your chain. A good lube chain will help you lower the chance of your drive trains wearing out and extend their lifetime. We highly recommend this Finish Line Wet Lube Lubricant to ensure your drivetrain is well-lubricated and protected.
If your bike is more often being ridden to a moderately wet road, you can also go for this Finish Line Dry Lube Lubricant, which will protect your drivetrain from grit, grime, or dust with its wax-like synthetic film. This dry lube is also suitable for derailleurs, shifters, cables, and brakes pivot points. If you are unsure which type of lubricants suits your bike best, you can come to Rodalink and consult with the professionals.
Clean The Frame
Some people like to use water to wash their bikes. However, water—especially those that come from a high-pressure hose can cause damage to sensitive parts of your bike and wear off the paint of your bike. Moreover, a folding bike needs a deep manual cleaning to ensure no dirt gets into the bike's frame.
It's very recommended to use a Bike Wash cleaner instead. You only need to spray this boke wash to your bike's frame, handlebars, saddles, and rim. You can gently wipe away the foam with a cloth after spraying thoroughly.
Clean The Brake Pads
Brakes are the essential parts you need to make sure to clean from any dirt and debris. The efficient way to wash the brakes is by spraying EcoTech Multi Degreaser over them and letting them dry by themselves.
Have a hard time memorizing what you should get to cleanse your bike or thinking it will be too much of a hassle to shop it one by one? Get this Cleaning & Web Lubricant kit which consists of Multi Degreaser, Wet Lubricant, and Bike Wash all in one package. All the products you need are ready in one box, no more hassle, no more bike's shopping list needed.
Function and Safety Inspection
After cleaning your folding bike, now it's time to check whether or not your bike components are working properly. Doing an inspection is part of foldie servicing any bike owner should do.
Check Wheel and Tires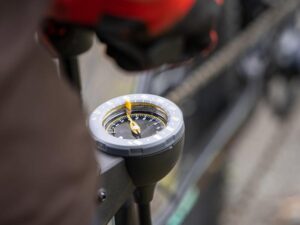 First, you have to check the air pressure of your folding bike's tire. Riding a foldie with low pressure will risk your wheels getting punctured. Secondly, make sure your wheels are straight and spin evenly, as it is essential to determine the wheel's peak performance.
Remember that every tire has a maximum pressure level written on the tire's sidewall. Although lower pressure is not recommended, inflating your bike to the maximum or over the written pressure level is also out of option. Overinflation can cause the tire to explode and is dangerous for the ride.
Check The Brakes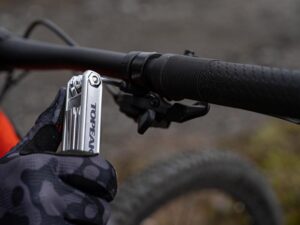 One of the most common parts of bikes that need replacement is the brakes. It is also easy to tell whether or not the brake is already wearing off. If you have heard the screeching and squealing sound whenever you try to engage your brake, then that's the signal given it's time for your brakes to get replaced.
Check The Light and Horn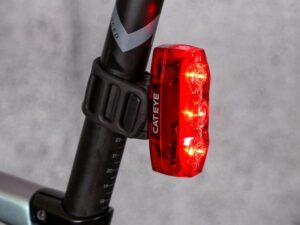 One of the mandatory rules of riding a bike in Singapore is by having a working light attached to your bike. This also will ensure your safety during daily commutes. Clean off any dust that could interfere with light output strength, and make sure your headlight is not shifted due to vibrations.
Repair the Chain
If you sense pedaling over your folding bike becomes more difficult than always, there's a high chance that you need a replacement for your bike's chain. Replacing a folding bike's chain is not a hard task, but if you don't want to go through much hassle, you can always take your bike to Rodalink's one-stop cycling shop to get your chain repaired.
Lubricate the Hinge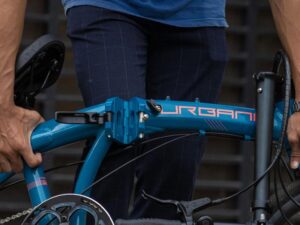 Another tip on how to maintain foldie is to do regular cleaning and lubricating the hinge area to avoid rust and ensure the hinge can remain in its proper working order. After all, you will still need your folding bike to be able to get folded, right?
In case the hinge of your folding bike gets stuck, try to loosen all the screws and apply a few drops of lubricant onto it. If a regular lubricant is not working, try to use synthetic motor oil. If both fail, you might have to bring your folding bike to the workshop if the warranty is due.
Conclusion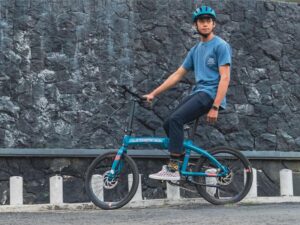 Folding bike Singapore is a common personal mobility option. It doesn't take too much storage space, which is suitable for Singaporeans who mainly live in apartments that are not spacious.
A folding bike is just like any other machine that needs to get regular maintenance to extend its life. Maintaining a folding bike is just like any standard bicycle. You only need to know how to wash foldable bike properly and prevent it from getting packed with too much debris and dirt.
If you don't know how to do the lubricating and regular inspection, you can bring your folding bike to Rodalink since they have a one-stop cycling shop that will help you maintain and repair your bike. You can also shop for original parts such as Polygon folding bike chain and other bike accessories through Rodalink.
To get more benefit offers, you can register to become part of the Rodalink community for free. Members got the special deals and, of course, exceptional service fees. You will get the best Polygon bike maintenance service at a more affordable price, a great deal you shouldn't miss out on.