Singapore has always been the safest place for bikers as long as you follow the regulations. Since the pandemic, the interest in cycling has been rapidly increasing, and now that the country has stepped on phase 2, more of its people can enjoy the long-distance trip / touring, causing most standard bikes to be out of stock. However, don't worry because you can still join the fun with folding bike touring.
You might now have a frown on your face and ask whether a folding bike is a good idea for touring or not. Well, get yourself tense down a bit and read these articles below before you make your own decisions whether this folding bike is a good investment or not.
Folding Bike Trend in Singapore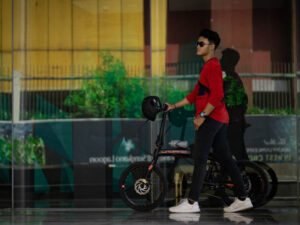 According to the data of Allied Market Research, the global folding bikes market was valued at $790.90 Million in 2019 and is projected to reach $1260.98 Million by 2027, registering a CAGR of 8,7% from 2020 to 2027. In Singapore itself, folding bikes have become a hot commodity for the past years, since the outbreak of Covid-19, to be specific.
We are suddenly being sent back to the 1970s when the "Bike Boom" occurred in The United States. The only difference is, now, we have more bike options to ride. The sudden hype of cycling has not come out of nowhere, though.
As the pandemic attacked, many public areas have been forced to close down, including the gym. However, people still need to maintain adequate exercise to improve the body's immune system. Thus, riding a bike is a better option. Besides, it helps out people's need for daily commute since public transportation restricts the number of passengers in regard to social distancing behavior.
Folding bikes itself has been a trend since the 1980s. However, lately, its popularity has been rapidly increasing around the world, including Singapore. It's being reported that during 2020, the keyword for "folding bike" search in Carousel's Singapore generated the number of 31,586 beatings the search of mountain bikes that only have 14,993 searches and hybrid bikes with a lower number of 14,875 searches.
Mr.Tan, one of the admins and founders of the Facebook folding bike group, estimated that there will be about 100,000 active folding bike cyclists in Singapore in April 2021 and might keep growing.
Foldie is eco-friendly and portable. It's also fun to ride despite its odd-looking frame. This is one of the reasons why bikepacking folding bike is the best option for those who love adventures. You can go for a camp by riding a foldie, fold them down when you start camping and unfold them for a ride back home.
Can Folding Bikes Go Fast?
One of the most arguable things about folding bikes is the speed. Many people get curious whether this strange-looking bike can hit the road at a certain speed or not. And the answer is yes. A folding bike could afford a blazing speed of 12mph on average. Of course, the speed itself depends on the fitness level and pedaling power of its riders.
It can even go as far as 16mph with the note; the rider has the capacity to push the speed to its limit and beyond that. Those who play a big role in determining the speed capability of a folding bike aside from the rider's stamina are the components used to build the bike.
A folding bike that may serve you a higher speed is one manufactured with:
Material Used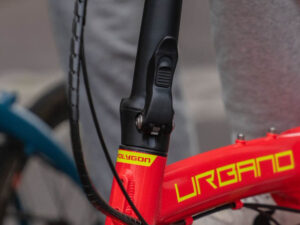 There are two common materials used in manufacturing the frame of a folding bike. Those two materials are aluminum and carbon fiber. Aluminum is relatively light and stiff and is the top choice of entry-level models because it's more affordable.
Carbon fiber, on the other hand, is more costly but said to be lighter and absorbs impact better. However, both of these materials are good choices. Just make sure you don't go for steel because as much as it's cheaper than the two mentioned above, a folding bike manufactured by steel material is heavy and not highly recommended for a foldie.
Wheel Size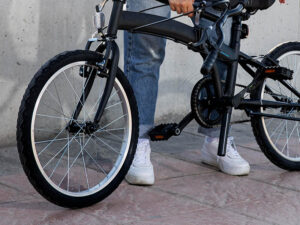 Most of the folding bikes use 20″ wheels that will make them hit the road smoothly. One of them is a Polygon folding bike with the type of Urbano 5. Folding bikes fitted with types of the wheel might do a good job matching the speed of full-sized bikes, with the condition of the rider exerting a little bit more effort.
However, if you are going to find a foldie that suits strolling around the city, this is more than just enough. The 16″ is already doing the best job for a city ride.
Gears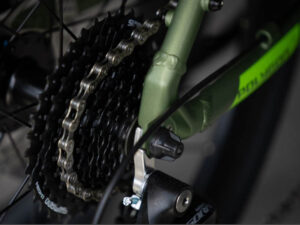 A 10— or 11— speed cassette gives the idea of having more gear options to go faster. By finding the perfect combination of front and rear gear, will result in more efficient and steady power, thus, making your folding bike drive faster.
Can Folding Bike Use for Long Distance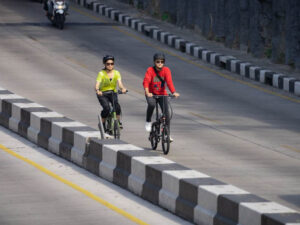 Initially, a folding bike is made for a short ride around the city area with pavements. But as the generation developed, many people used a folding bike not just for a simple commuter ride. They wish to do more with that, such as touring with a foldie.
Nowadays, folding bikes travel long distances just as well as a traditional road bike can offer. Folding bikes have become more popular among commuters and campers, and extreme riders. A folding bike is doing just well when ridden over different terrains.
Folding Bike Tire Size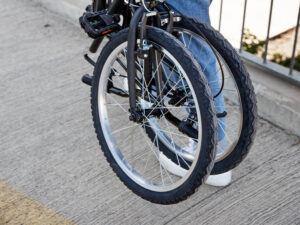 One of the factors that determine whether a foldie is capable of being a long-distance folding bike is the size of its tire. The best folding bike for touring might or might not need an adjustment for its tire.
It said that the ideal tire for touring bikes around ETRTO 32-622 up to ETRTO 38-622 while a folding bike tire size such as found in Polygon Urbano 5 is by far having a tire in size of ETRTO 37-451.
Best Folding Bike in Singapore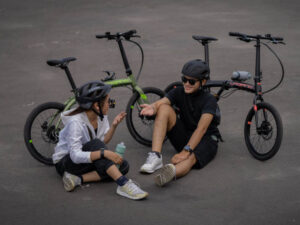 If you're looking for the best folding bike in town, then we will be glad to introduce you to both Polygon Urbano 3 and Urbano 5. If you are looking for a nice foldie that will be great for your daily commuter's needs and a nice paddling around the urban city, then Urbano 3 is enough.
Both come with a 20″ wheel size which will go smoothly in most terrains (although not highly recommended for rocky areas). However, Polygon Urbano 5 comes off half times lighter than Urbano 3, which is more suitable to fulfill the journey of not only city riding but also touring.
2022 Polygon Urbano 5 comes with approximately around 12.4kg in weight. However, it couldn't be the best folding bike for airplane trips as the maximum cabin baggage is only 7kgs (for Singapore Airlines), but it still is the best option for an MRT trip.
Tips for Folding Bike Touring Setup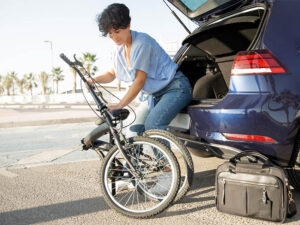 If you wish your folding bike is up for touring, here's some folding bike touring set up you need to know:
Make sure the seat is comfortable for a long-distance trip;
Get a bike with both front and rear suspension;
Make sure it's easy to fold and unfold;
Make sure the height is light enough, so it's easy to be carried;
Check the quality of each component, make sure all of it is a high quality one;
If needed, make some more adjustments for the tire.
Conclusion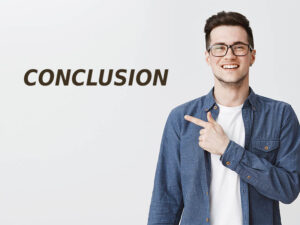 While it can't be compared to a mountain bike when it comes to extreme rocky terrains, a folding bike is doing very well for a long-distance trip. While a mountain bike's average speed is 17mph, a foldie can afford up to 16mph maximum speed if you're pushing through the limit.
By means, as much as foldie is yet the best option for a suitable vehicle for mountain riding, it's doing good enough for a long-distance touring with smoother terrains. Aside from that, foldie is portable, so it's easier for bikers to fold them down and change to other transportation options when the weather becomes unfriendly for a touring trip.
You'll find it easier to carry and store them under your watch in the hotel room in case needed.
Now, if you're wondering where to buy a folding bike, we highly recommend you to visit Rodalink. They are not only selling the best folding bike in town but also have varieties of bicycle needs such as accessories, clothing, and parts to complete all your bicycle needs. With only a minimum of SG$200 spent, you will be able to claim free shipping services.
By purchasing from Rodalink, you will be able to find not only suitable folding bikes for your needs but also other accessories and spare parts needed to modify your bike. Rodalink commits to providing you with the best services and products and giving you the best bicycle shopping experience.
You can also buy your dream bike now and pay later with ShopBack, a payment method that provides installment payments with a 0% interest charge. Visit Rodalink now, register yourself, and wait for your favorite folding bike to be delivered right in front of your doorstep in a ready-to-go form!