With the various types of bikes offered in the market nowadays, picking the right one might be a tricky and confusing task to do. Today we are going to talk about which one you should pick between the folding bike vs hybrid bike. Both are perfect for commuting but offer different perks from one another.
It is always best to understand your riding style and acknowledge what each type of bike has to offer before deciding to invest in a certain type of bike. Here is a little bit of information you might need.
What is a Folding Bike?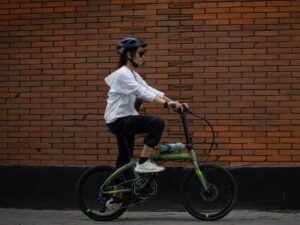 Named after its function, a folding bike is the type of compact bike which you can fold whenever you are not using it. In most places in Asia like Singapore, Japan, Korea, China, and Hong Kong, finding a spacious place to live is not an easy task, hence, portability is always in high demand making folding bikes and mini Velo a high welcomed bike there.
Speaking of mini Velo vs folding bike, both are perfect for urban commuting. If you don't need to connect rides with public transportation or if you don't need your bike to be folded, a mini velo is also can be considered to have.
When you need a vehicle that can support your daily commuting needs yet don't have enough free space to store it, a folding bike happens to be your answer. Just fold it down and tuck it elsewhere in the corner of your room. Even if you have to link your last journey by riding on public transport so you can get into your office on time, that shouldn't be a problem. Tuck your folding bike down and connect your last trip with the public transport at ease.
The braking system of a folding bike—or at least, the Polygon folding bike is also consistent and will perform well even under wet road conditions because the folding bike Polygon is using a powerful hydraulic disc brake on its braking system.
What is a Hybrid Bike?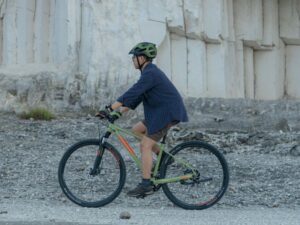 Taking the comfortable riding positions of a mountain bike and combining it with fast-rolling wheels along with the lightweight frame of a road bike, hybrid bikes are highly popular for commuters who want to get fast on-road riding yet still need to look further ahead as you are riding in heavy urban traffic.
When it comes to adopting traits from mountain bikes and road bikes, aside from hybrid bikes, we also get gravel bikes. Differences between gravel bike vs hybrid bikes are, that the gravel bike adapts the road bike handlebars with mountain bike tires while the hybrid bike adapts the mountain bike handlebar with tires more supportive for on-road riding.
Riding in wet weather shouldn't be a problem for a hybrid bike as it is equipped with powerful disc brakes. They also come with plenty of mounts so you can carry some loads with the bike. While some people complained about most of the hybrid bikes being less lightweight, that might seem to not be the case with Polygon hybrid bike.
This is due to the reason that the frame of the Polygon hybrid bike is made of the AL6 alloy technology which offers more lightweight and durable bike frames than all of their competitors in the market.
Although when it comes to carrying loads of weight between touring bike vs hybrid bikes will most likely be won by the touring bike, in terms of commuting where carrying loads doesn't necessarily mean heavy camping gear, the hybrid bike will suffice.
Reason to Choose Folding Bike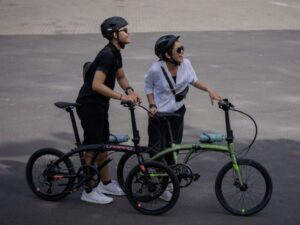 You already know the definition of a folding bike. Now before we get further in comparing both bikes, here is the reason why you should choose a folding bike for your investment in the bike:
A folding bike is ideal for transit and small spaces storage;
You can easily share the bikes among family members when needed as the size of the folding bike will fit most people;
A folding bike that has a smaller wheel with lower rotational mass will make the bike roll faster with less effort.
Speaking of speed and being fast, a folding bike is often underestimated as it is smaller in size. Although the comparison between folding bike vs road bike in terms of speed will be out of discussion since the road bike is specifically built to go fast over smooth surfaces, at least between folding bike vs mountain bike speed, you can rely more on the folding bike because it is less heavy with lower rolling resistance.
But how fast can a folding bike go? In Singapore, the speed limit on footpaths is around 10km/h or 6mph. But most folding bikes with 16″ up to 20″ wheels can go for around 10mph to 12mph depending on riders' fitness and ability to generate speed.
For the best rides, get the ideal tire pressure for your folding bike to have it roll faster on the road. You can also learn tips on how to maintain your folding bike to lengthen the lifespan of your folding bike from another post on our blog.
Reason to Choose Hybrid Bike
The reason why you should have a hybrid bike:
Hybrid bikes offer a smoother and more capable riding;
Hybrid bikes have more space and a more generic frame design so it is easier to accessorize and capable of carrying more loads;
Hybrid bikes are more versatile, they can be ridden on smooth urban pavement and are also good to be ridden on light trail terrain.
Although when speaking of going on rough terrain, you can't compare hybrid vs mountain bike as the mountain bike is specifically made to go for technical singletrack, a hybrid bike will do well if you want a ride at Park Network Connector.
In terms of speed, hybrid vs road bike is also incomparable. Road bike frame geometry is made for an aerodynamic riding style that allows riders to cut through the wind and ride fast. However, a hybrid bike can still run at a fairly quick speed of 12mph to 18mph.
Which One to Buy? Folding Bike or Hybrid Bike?
Both types of bikes are having its pros and cons. The buying decision is returned to riders while considering what you are looking for in a bike. If you live in a squared apartment unit where the storage space is limited, you might want to get a folding bike or perhaps a mini velo.
But if storage is not a problem for you and you enjoy occasional rides on light trail tracks during weekends while using your bike for daily commutes, a hybrid bike should be the best option. No matter which kind of bike you opt to buy, make sure to grab the original piece only at the official distributor: Rodalink.
Rodalink is an official distributor of Polygon, but they also provide a wide range of bicycles—from the basic one to the specialized freestyle bike, all available at Rodalink. You can also find any accessories and parts that you may need to complete your cycling journey.
Rodalink also has pickup store services that enable you to shop your bike online and pick up the bike at Rodalink's offline store for the scheduled time being, a service that Is suitable for those with a hectic schedule who don't get time to queue but still don't want to miss out on the chance of getting your bike. Enjoy hassle-free bike shopping with lots of benefits only at Rodalink.