When purchasing a new mountain bike or upgrading the suspension to support your needs better, one of the crucial decisions you'll face is choosing between a hardtail or a full-suspension model. Each option has advantages and considerations, and selecting the right one depends on weight, terrain, maintenance, and cost. This article delves into the debate between a hardtail and full-suspension mountain bikes, providing definitive insights to help you make an informed decision.
What is Suspension?
Suspension refers to the advanced system equipped on modern mountain bikes, specifically designed to effectively absorb the relentless impacts and unruly vibrations experienced while navigating rugged terrains. This crucial system comprises both front suspension, known as the fork, and rear suspension, commonly referred to as the shock, which collectively forms the backbone of full-suspension mountain bikes.
Why Suspension is Essential in

Mountain Bike

?
The primary purpose of suspension in mountain biking is to enhance rider comfort, control, and traction by minimizing the impact forces transmitted through the bike and rider. Here are the key reasons why suspension matters in mountain biking:
1. Impact Absorption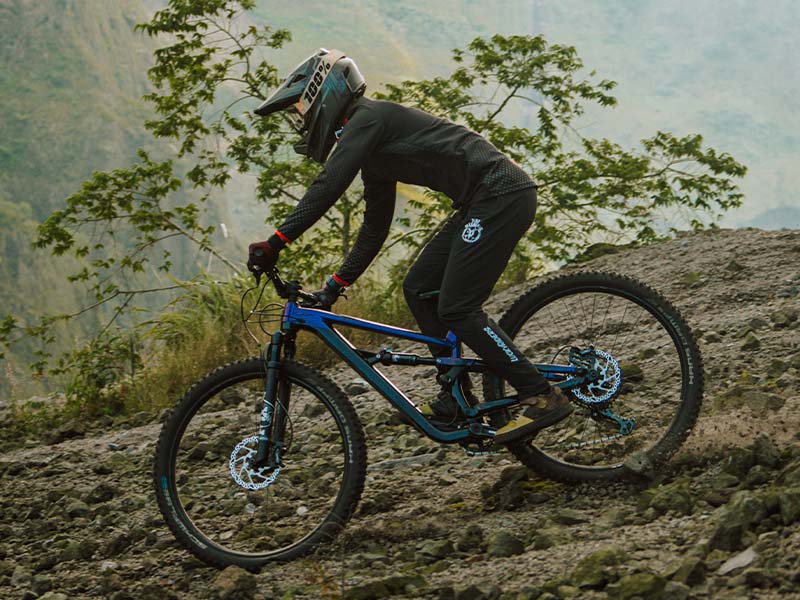 Suspension systems are designed to absorb the impact energy generated when riding over uneven surfaces, such as rocks, roots, and drops. By absorbing these impacts, the suspension helps to reduce the jolts and vibrations transmitted to the rider's body, resulting in a smoother and more comfortable ride.
2. Improved Control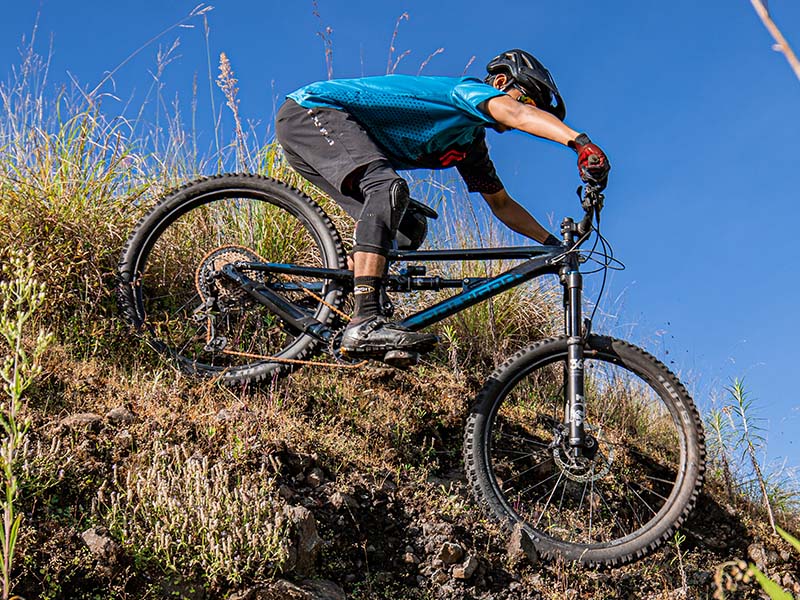 Suspension enhances the bike's ability to maintain traction and control in challenging terrain. It allows the wheels to maintain contact with the ground, improving grip and preventing loss of control. This is particularly important when riding through rough, technical sections, as the suspension helps the bike to navigate obstacles more effectively.
3. Enhanced Stability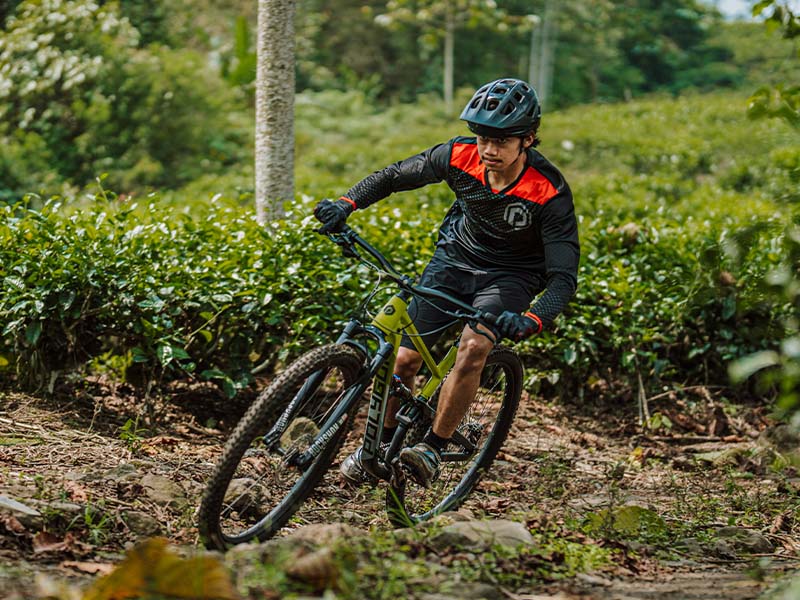 The suspension contributes to the overall stability of the bike. It helps to keep the wheels in contact with the ground, improving balance and reducing the likelihood of being thrown off balance when encountering bumps or obstacles. This stability allows riders to maintain better control and confidence, especially at higher speeds or during aggressive maneuvers.
4. Reduced Fatigue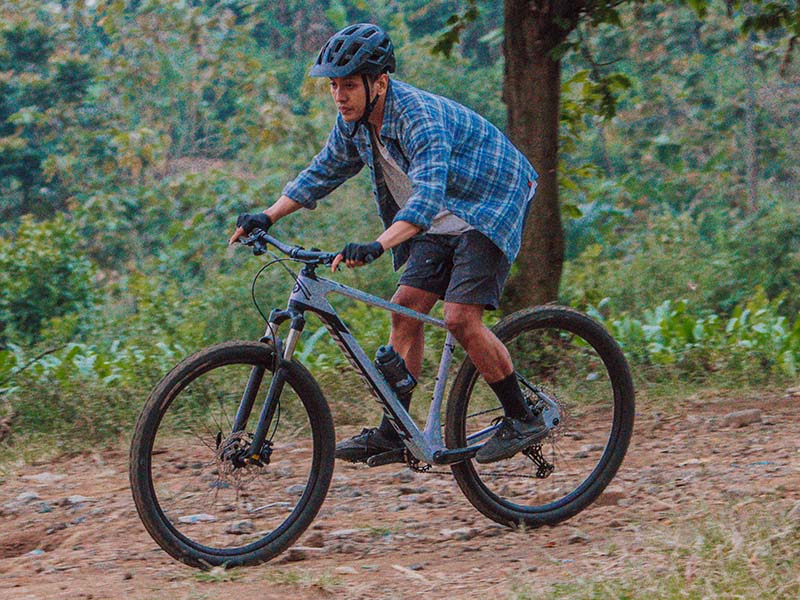 Riding a mountain bike over rough terrain can be physically demanding. Suspension helps to minimize the impact forces that the rider experiences, reducing fatigue and discomfort. By absorbing shocks and vibrations, suspension enables riders to stay fresher for longer rides, enhancing endurance and enjoyment on the trail.
5. Increased Speed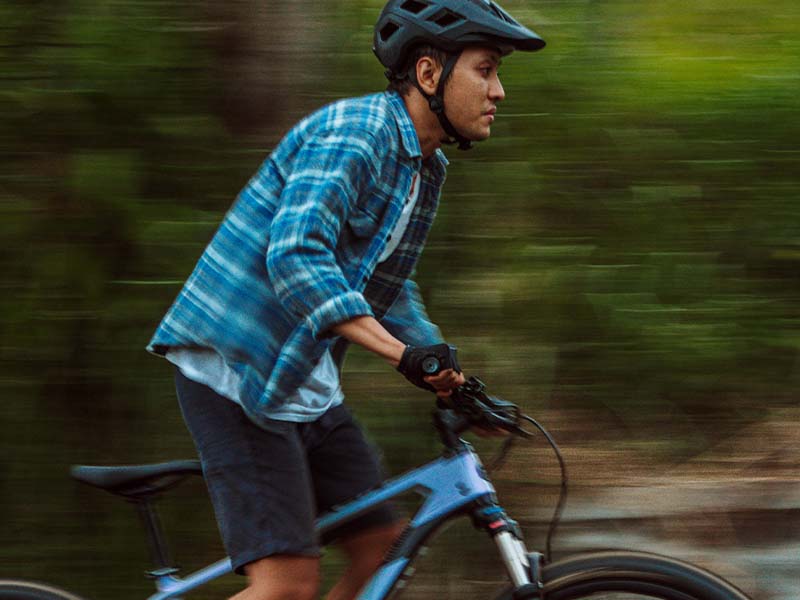 With improved traction and control, suspension can contribute to faster speeds on technical trails. It allows riders to maintain momentum, even over rough surfaces, by smoothing out the ride and reducing the risk of getting slowed down or thrown off course by obstacles.
Overall, the suspension is a critical component in mountain biking as it significantly improves the riding experience by increasing comfort, control, and traction. It enables riders to tackle challenging terrains with confidence, enhancing their overall performance and enjoyment on the trails.
The choice between a hardtail and a full suspension largely depends on your riding style, preferences, and the type of terrain you typically encounter. Let's explore the key characteristics and benefits of each option:
1. Hardtail Suspension in Mountain Bikes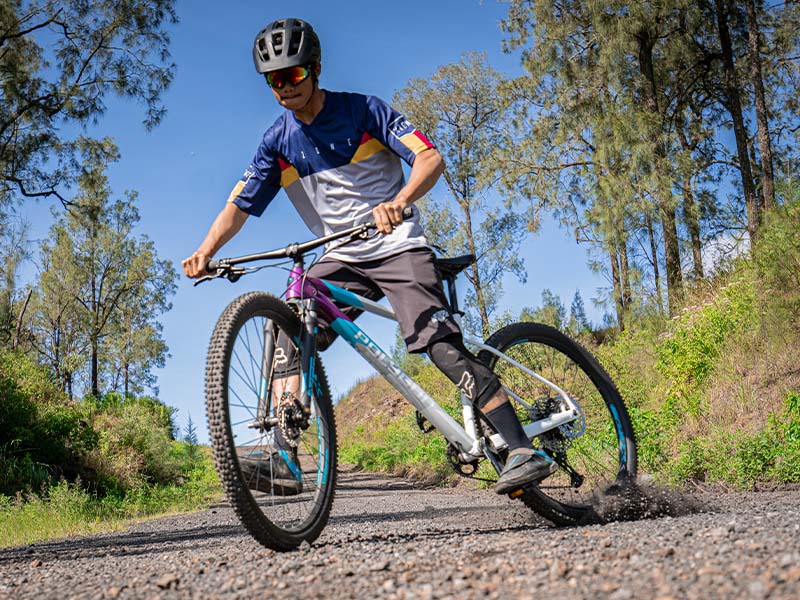 The term "hardtail" is derived from the combination of "hard" and "tail." The "hard" refers to the absence of suspension, while the "tail" refers to the rear end of the bike. This term has become widely accepted and commonly used to describe mountain bikes that lack rear suspension. The features in detail are as follows:
Lower Maintenance and Cost: Hardtails generally require less maintenance since they have fewer moving parts and no rear shock. They are also more budget-friendly compared to full-suspension bikes with similar component ranges.
Direct Power Transfer: Hardtails excel at power transfer, as the absence of rear suspension eliminates energy loss through the frame. This makes them particularly efficient for climbing and sprinting.
Responsive and Agile: The rigid rear end of a hardtail enhances responsiveness, allowing riders to feel more connected to the trail. This responsiveness aids in manoeuvring tight corners and technical sections.
Weight Advantage: Hardtails tend to be lighter than

full-suspension bikes

, which can be advantageous for riders focused on maximizing speed and climbing performance.
Suitable for Smoother Terrain: Hardtails perform exceptionally well on smoother trails that offer ample traction. Their lightweight and direct handling make them a popular choice for cross-country riding and less technical terrains.
Best Seller Hardtail Mountain Bikes
2. Full Suspension in Mountain Bikes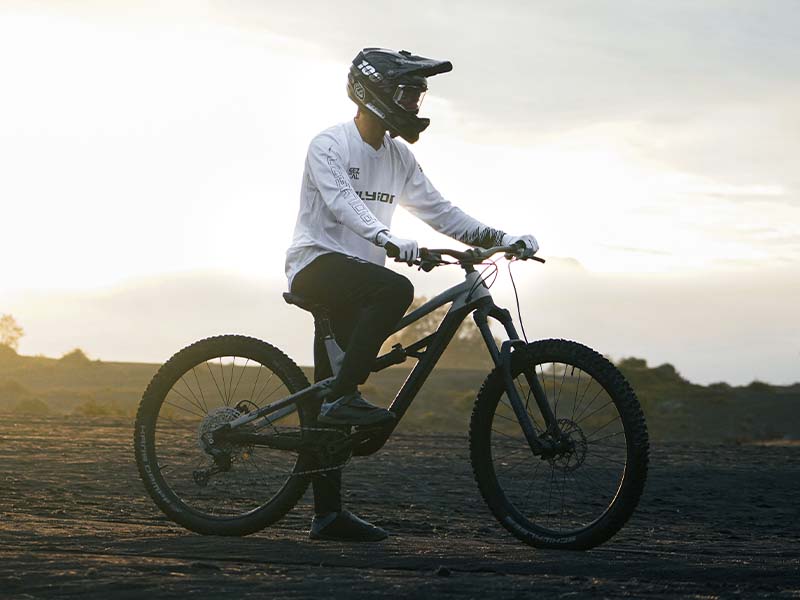 Full-suspension mountain bikes, as the name suggests, feature both front and rear suspension systems. These bikes are designed to provide enhanced comfort, control, and traction when riding on rough and challenging terrains. The rear suspension is the defining feature of full-suspension bikes, and it offers several benefits as follows:
Higher Cost and Maintenance: Full suspension bikes generally come at a higher price point due to the additional

components

and engineering required. Moreover, the presence of suspension systems entails more maintenance and potential servicing needs.
Enhanced Comfort and Control: The presence of both front and rear suspension systems on full-suspension bikes significantly improves rider comfort by absorbing impacts and reducing fatigue during long rides. The suspension helps maintain better traction on rough and bumpy terrains.
Increased Confidence and Stability: Full suspension bikes provide added stability and confidence, particularly when tackling challenging descents and technical sections. The rear suspension ensures the wheels maintain better contact with the ground, improving overall control.
Suitable for Gravity-Focused Disciplines: Full suspension bikes are the go-to choice for gravity-oriented disciplines such as downhill and enduro riding, where enhanced traction, impact absorption, and stability are crucial for optimal performance.
Improved Handling on Rough Terrain: The suspension system on full suspension bikes minimizes the impact forces transferred to the rider, resulting in smoother and more controlled rides over rugged and uneven terrains.
Best Seller Dual Suspension Mountain Bikes
Conclusion
| Aspect | Hardtail | Full Suspension |
| --- | --- | --- |
| Cost and Maintenance | Lower cost and requires less maintenance | Higher cost and requires more maintenance |
| Responsiveness | Excellent maneuverability and agility | Improved handling on rough terrains |
| Comfort and Control | Limited comfort and control on rough terrains | Enhanced comfort and control on all terrains |
| Type of Terrain | Suitable for smoother trails with ample traction | Ideal for rough and challenging terrains |
| Discipline Focus | Well-suited for cross-country riding and less technical terrains | Popular choice for gravity-focused disciplines like downhill and enduro riding |
Remember, the decision between a hardtail and full suspension mtb bike depends on your personal preferences, the type of terrain you ride on, and the discipline focus you prefer. Consider factors such as cost, maintenance, responsiveness, comfort, control, type of terrain, and the discipline you primarily engage in when choosing the right bike for your needs.
Once you have made the decision, go check the ongoing promotion at Rodalink Shop to get the best price while having 0% instalments, free delivery to your home, and even a shop now pay later purchase method.
EXPLORE QUALITY MOUNTAIN BIKES