One of the most prominent wishes every bike lover will make is to find answers on how to carry a bike on every trip they have. While taking a bike during an airplane trip may be a bit pricey, travel with your folding bike will save you from hassle. Here are tips on how to carry folding bike to add some fun to your holiday!
Get to Know A Folding Bike
Riding a folding bike is a common sight in big cities. The reason behind their popularity is because it's convenient for daily commuting. You can count on a folding bike's speed when riding on a flat surface.
And if you ever need to connect your trip with an MRT or bus at a particular stop point, you don't have to worry about whether or not your bike is allowed to get on the ride. Just fold it down and carry it along with you like a suitcase.
Folding Bike Size and Weight
A folding bike comes with 10-inches up to 24-inches wheels. The smaller the wheel, the more compatible a folding bike is. At the same time, the weight might vary depending on what materials the manufacturer uses.
A folding bike made of alloy and carbon fiber is the lightest among all materials. Folding bikes with both materials also tend to be higher in price. The better option for a lightweight and decent price offer is the folding bike with aluminum or alloy material like Polygon Urbano 5.
Folding Bike Parts
Before deciding to purchase a folded bike, there are a few things to consider, such as:
The size of the wheel;
The gear and cassette;
Whether or not the bike is easy to fold and unfold;
How the clamping system works.
Since a folding bike is often being carried around, you need to look for a folding bike with a quick folding and unfolding system. Make sure it's easy to practice because you certainly won't like to search for how to fix the folding bike in the middle of your trip.
Folding the Handlebar
Various folding bikes will have different methods of folding their handlebar. Some types will allow you to fold the handlebar just under the seat post, while the other will have the handlebar folded on the side of the frame. On the other hand, the handlebar for folding bike in Urbano 5 is perfect for helping you easily roll the folding bike.
Tips to Carry Your Folding Bike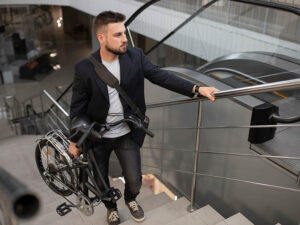 Different types of transportation will have different methods to carry your folding bike. Here are some of the tips:
When Traveling by Car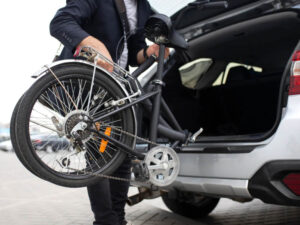 This is the most accessible type of transportation to carry your folding bike to travel. All you need to do is fold your folding bike down and securely put it on your car trunk and unfold it whenever you want.
When Traveling by Trains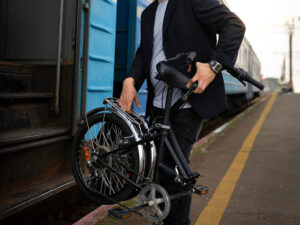 Regulations from LTA are that the allowed device to board MRT and LRT shouldn't exceed the allowable size of 120cm x 70cm x 40cm, and the foldable bikes must be folded at all times in MRT and LRT stations.
You don't need to put your folding bike inside a bag anymore, but if your folding bike's wheel is wet or dirty, it's mandatory to cover it up. The same case with any protruding parts of the folding bike like the handlebar and pedals should also be covered up or folded down on board.
When Traveling by Bus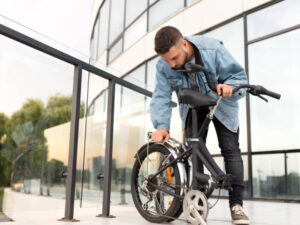 The LTA regulation for boarding a bus with a folding bike is almost the same as when you board by MRT or LRT except, with the bus, only one folding bike is allowed to board at any one time in general.
When Traveling by Plane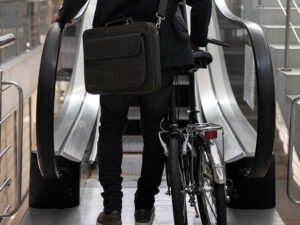 Some airlines might have different regulations, but Singapore Airlines only allow a maximum weight of 7kg of cabin baggage. The only way to board a plane with your folding bike is by packing your folding bike into a hard-shelled regular large-sized suitcase. This, too, only applies if you board with Standard Class Flight of Singapore Airlines with a baggage allowance of 30kgs.
The downside of packing your folding bike in a suitcase, though, is that the weight of the hard shell suitcase and folding bike combined will push you to the upper limit of your baggage allowance.
If you are boarding by plane with no baggage allowance, though, you will need to buy extra baggage or have your folding bike sent to your travel destination by cargo.
Conclusion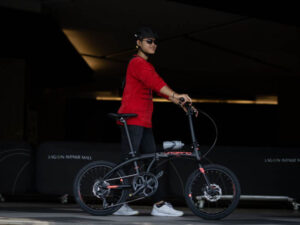 There is everything you need to know about how to carry bikes along when traveling around the world. Getting a folding bike for travel might help your mobility through your trip. You can move around without having to pay for an expensive cab, and in case you need to connect by train, a folding bike will not be your burden.
If you are looking for a perfect folding bike to accompany your journey for commuting and traveling around, we will highly recommend Polygon Urban 5. From commuting in high traffic to running errands to recreational rides, everything is just possible with this bike.
Is Polygon Urbano 5 easy to carry? Absolutely yes! You can choose to lift it or roll it, just which one you think is more convenient to do. And if you are wondering where you can find a trusted dealer of this folding bike? Rodalink is the answer to your question!
Rodalink is a trusted bicycle retailer under the Polygon group, one of the biggest bicycle manufacturers in Asia. We commit to providing every customer with the best service and high-quality products. At Rodalink, you will find not only a wide range of bicycles but also accessories and parts. By registering yourself at Rodalink, you can conveniently purchase any of your favorite bicycles.
Why Rodalink? Because they have an online web store that allows you to make purchases 24/7. You will also be getting free shipping for every non-bike purchase with a minimum spend of SG$200, and there's a pick-up store option where you can pick up your bike on Rodalink's outlet once you've successfully made a purchase online.
Also, if you register for a membership, you will gain 1 point for every SG$1 purchase. The collected points are valid for two years from the date of transactions, every 100 points for SG$2 purchase discounts.
The membership registration is free and comes with more benefits as you upgrade your membership levels, so it will be beneficial to become part of the community now. You can also check out more Rodalink special offers through the online web store for extra savings.