The folding bike was introduced in the United Kingdom in 1962 but only started growing in the 1980s. Nowadays, there are a lot of varieties of folding bikes, causing a lot of people to feel confused about how to choose a folding bike. If you are one of them, you've struck a star by bumping into this article because this article will help you choose the proper folding bike that suits your needs.
Reasons to Choose Folding Bike
If you are the type who likes to travel around the world but still wants to get a chance to cycle around the city during your overseas trip, then a folding bike is the right option for you. But of course, we know one reason won't be enough to convince you to get a folding bike immediately. So, here's some compilation of reasons you should choose a folding bike:
Easy to Store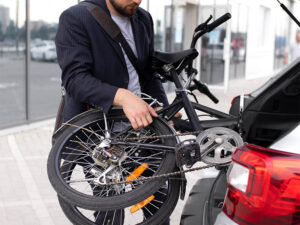 Not everyone is lucky enough to have an oversized garage or shed. One of the advantages of having a folding bike is its ability to be stored in every corner of your place. No matter if you're living in a loft, an apartment, or a house, you will never have to worry about extra space to park your bike. You need to fold it down and tuck it to the corner of your place or squeeze it into any small void left.
Easy Commute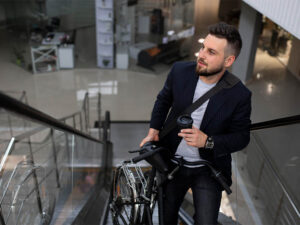 The journey from your living area to your workplace can sometimes meet obstacles such as heavy traffic. To save yourself from getting some written warning letters or punishment from your higher-ups for running late to work, you will need to take another transportation option in the middle of the ride.
The regular conventional bike will cause you a lot of hassle when you need to take an emergency ride to work by MRT or other public transportation. In contrast, folding bike users only need to fold the bike and carry it along with them on the ride with another transport option. And when you arrive at the station, you can quickly unfold your bike and cycle a short way to get to your office just in time.
Ease Your Worry About Theft or Property Damage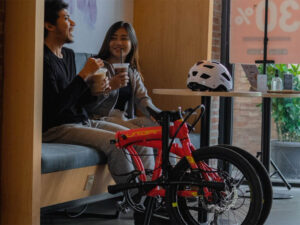 When you leave your bike out of your watch, you probably will get anxious about the bike's well-being as it will get exposed to any possible harm such as theft or getting the bike damaged by reckless people.
By getting yourself a folding bike, you are guaranteed a feeling of ease. You can fold your bike and toss it under your working desk and have them stored safe and sound. Also, you don't have to worry about the sudden change in weather outside of the building because it won't affect your bike at one bit.
In conclusion, no more anxiety about your precious bike's condition because it can be under your watch every single time. Less anxiety, more mental health.
But of course, regardless of the safety this folding bike offers, you still have to keep them locked if you want to leave them outside for extra safety. Besides, cycling regulations in Singapore you have to follow is always to use a helmet, install lights on your bike, and use a lock.
How to Choose a Folding Bike
As mentioned during the intro of this article, folding bikes have a lot of varieties nowadays. It comes with different models and brands, which will confuse you on how to find the best folding bike for your needs exactly.
Here's a simple guide to buying a folding bike that suits you best; make sure to bookmark this article or jot the points down on your notes:
Performance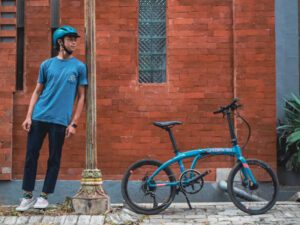 Note that higher-performing folding bikes will make them an absolute pleasure to ride, and the best performing bikes tend to use 20″ wheels or above. But of course, the size of the wheel itself is not the only factor to determine whether a foldie has the best performance or not.
There are still some other factors, such as the frame design, the stiffness in frame/handle posts, and the parts. You might need to have a test drive for each foldie to make the best picture of which one performs better for you.
The Fitting Size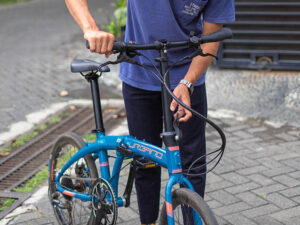 This one point affects your decision about how you plan and use your bike. For those who wish to have a folding bike as a riding option for long-distance touring, you are recommended to seek one that will fit your figures well. However, for users who only need a folding bike to have a pleasant stroll around the city or run a short distance ride, this point might as well get skipped.
When it comes to folding bikes, the size range won't be available for options. But, you still need the right folding bike size for height to choose which one works better for you. If your bike's frame is too big for you, try lowering the handlebars and seat post height to make the bike fit your size. For bike with easier adjustment system, you might want to look for Polygon.
Just a piece of additional information, both Polygon folding bikes— Urbano 3 and Urbano 5 are suitable for riders in 150cm up to 170cm of heights.
The Price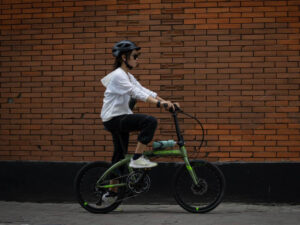 Another point to consider besides any folding bike reviews you get on the internet is the item price you need to pay for a single bike. In many countries of Asia, price is a sensitive and debatable topic. It's always a tough decision to choose a bike or a motorcycle.
A touring bike usually costs higher than a folding bike. And a folding bike that is suitable for a long-distance tour will cost even more than the regular folding bike and any touring bike.
But, you can already have one of the best folding bikes— Polygon Urbano 5 2022, which is geared about the same as similar bikes for riding up hills with only $699! Exactly where to buy a folding bike that offers excellent features and is cheaper than this one?
The Weight
As the purpose of having a folding bike is because of its portability, you need to make sure it's light enough so you can easily carry them around. Polygon Urbano 3 2022 models come with about 12.5kg, while Urbano 5 2022 weighs approximately 11.9kg. Standard sufficient for you to move around without having to worry about straining your back because it won't.
Conclusion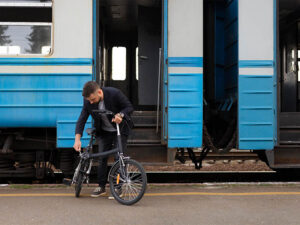 Varieties of folding bikes type nowadays might give you a hard time choosing the best one that suits you best, and that's completely normal. When looking for a folding bike, some checklist you need to make sure fulfilled is:
Make sure the price doesn't cause you a burden;
Make sure it's compact enough;
And make sure it's light enough as you will be carrying them around.
And if you ever wonder about where to buy a folding bike that is suitable either for your daily needs or your touring journey, we highly recommend you to visit Rodalink. Here, you can find any bike that will fit you best. The shopping journey with Rodalink is also as comfy as you ever wish for it to be.
Shopping in Rodalink, you can find everything you need for your cycling necessity starting from a wide range of bicycles, parts, and accessories. No need to worry even if you're new to cycling as Rodalink aims to provide a complete shopping experience.
All you need to do is register yourself and pick your desirable bike, make a purchase, and you will have your bike delivered to you in assembled and ready for a ride form! You can even choose the PayLater option with ShopBack, which provides installment payments with zero interest charges. Pretty simple right? Visit Rodalink and wait for your dream folding bike to be successfully delivered to your doorstep!