Do you enjoy long-distance touring by bike? If you do, maybe it's time to consider investing in a proper touring bike. Although some people do believe that any bike can make a touring bike, a traditional touring bike will boost your long-distance trip experience to the maximum scale. How to choose a touring bike that will be worth the money? Take a look at this article and find your answer.
What is a Touring Bike?
Named after its purpose for riders, a touring bike is specifically designed for touring. Despite looking almost like a road bike at a glance, both touring and road bikes are completely different kinds of bikes. Touring bike is built for comfort, endurance, and long-hauls of luggage.
Considering that touring bikes often have to carry loads, it is non-negotiable for the bike to be stiffer and stronger than a road bike. The most noticeable difference when it comes to touring bike vs road bike aside from the weight is the riding position it puts riders into.
Road bike riders will have a more aerodynamic riding position that allows them to pick up speed efficiently and maintain it for a long time. On the. On the other hand, the touring bike riders will be put into a more upright riding position and trade the aerodynamics with a more comfortable riding position for a long ride.
Touring Bike Types
Touring bikes come in various designs. Generally, they are divided into three categories determined by the types of terrain they built for:
Road Touring Bike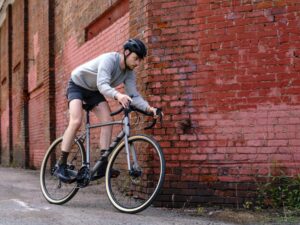 Road touring bikes are often confused with road bikes because of the similarity in their frame shape. Both road bikes and road touring bikes use the drop handlebar, adding the similarity between them.
However, some key points differentiate both bikes, such as:
Touring bike frameset have a geometry that allows the riders to have more upright riding positions and increase stability;
You can mount racks and panniers on the road touring bike;
The tire used by road touring bikes is usually wider than a traditional road bike to allow riders to handle an occasional dirt road when needed.
If you mostly ride on the paved road and occasionally thrive for a long-distance ride during your day off from work, getting a road touring bike is a perfect option.
Off-Road Touring Bike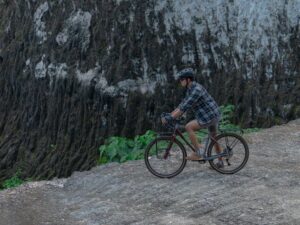 Often known as the bikepacking or adventure bike. Speaking of bikepacking, can you differentiate it from bike touring? Some people may take these both as similar things, but they aren't. Let's look at the definition of both and see what differs between bike touring vs bikepacking.
Bikepacking is a self-supported style of lightly-loaded bicycle touring. Riders who do the bikepacking usually ride on dirt roads in remote places. The glaring difference between both is the number of loads the riders carry on their journey. Bikepacking is dominant with carrying much lighter loads making touring in the mountainous area less demanding. The opposite goes for the bike touring part.
Expedition Touring Bike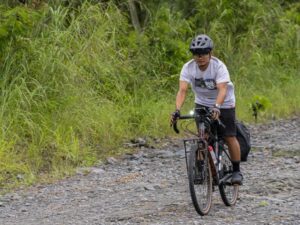 Designed for hardcore and extremely long-distance rides through a remote area. Think about cycling across the country, this type of bike is the typical bike suitable for it. The characteristic of this bike is built with material that allows the bike to be durable, and long-lasting, with standard-sized components.
Steel is the most common material for this type of bike but the strong-built ALX alloy found in Polygon touring bike is also best because it is not only robust but also offers a lightweight bike.
Things to Consider When Choosing a Bike
You have already gotten to know the differences between the three types of touring bikes. Before you get to search touring bike for sale and randomly invested in whatever pop-ups on your search engine, it is best to consider some of the following factors:
Short Tour or Long Tour?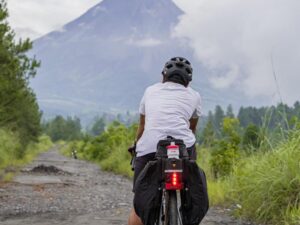 The deal is to determine the durability and reliability of the bike you need to invest in. If you are only going to ride for short tours like a week getaway to the countryside, for example, you can get any bike between road touring, off-road touring, or expedition touring if you like.
But if you are planning to get on your bike and commit to a world-touring ride, you will need a stronger-built bike that will take such long-distance trips. An expedition touring bike going to be your best touring bikes 2022 to invest on.
On-Road Riding or Off-Road Riding? Which is Most Common for You?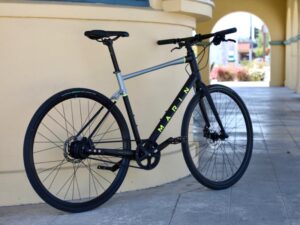 If you prefer to tour around the tarmac and paved roads, any size of tire will do—although most people will prefer a slicker tire for a faster and lesser rolling resistance on such roads. If you will take on the off-road route like the dirt paths or gentle forest, for example, lookout for a wider tire with more tread to have a better grip on the road.
Want to have the best touring bike suitable for on-road and off-road riding? Consider having one of the best Polygon touring bike, Polygon Bend R5. Manufactured with the advanced ALX alloy frame making this bike not only strong-built but also light in weight. The geometry of this bike offers the utmost comfort during the ride. Bend R5 also comes with a carrier and fender ready flat mount to support your tour riding.
How Much Gear Do You Want to Carry?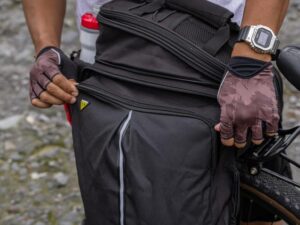 What kind of touring style will you have? Do you prefer an adventurous self-supported tour where you need to carry heavy loads of camping gear and outdoor cooking equipment? If you enjoy this kind of touring, you will need a bike that is capable of carrying a heavy load with lots of fitment to carry your luggage.
If you don't plan for camping in the wild, a light touring bike that prioritizes speed instead of weight-bearing is more suitable for you since it can make pedaling easier and more efficient. Try out the Polygon bike Bend R5 which is perfect for urban sport. Ride on asphalt, gravel road, towpath, and even a bit of singletrack without worry if you are on Bend R5.
The best part is this bike doesn't knock out easily, when the front wheel hits a bump or hole, instead of bouncing you off in an unwanted direction, it keeps you in line perfectly fine. With an SRAM Rival hydraulic disc brake operating in 160mm rotors front and rear, this bike will perform superbly throughout the ride.
On top of all that, with the amazing components and frames, Polygon offers competitive pricing. You won't have to worry about breaking your bank and losing all your savings just to have a well-performing bike.
Interested in having your touring bike right now? Visit Rodalink and find what you need. Aside from bikes from Polygon, you can also get to choose a wide range of bikes from renowned brands. Enjoy the buy now and pay it later by choosing Hoolah as your payment method for a 0% installment interest.
Get anything you need for your cycling journey at Rodalink. Be it bikes, accessories, parts, or even apparels, they've got it all. Just visit their store and tell them what you've wished for.