Following the evolution of mountain bikes is an incredible machine purposely built for extra confidence and fun riding through different types of trails. Since there are many options with various designs and machine technologies, a new rider might be confused about how to choose mountain bike that suits them the best.
Since you have stumbled upon this article, make sure you don't quit the page before bagging some helpful information about mountain bikes.
Mountain Bike Types
Nowadays, the mountain bike is specifically designed for certain riding styles of its owner. Generally, there are four basic mountain bikes you can choose, for example:
Cross Country Bike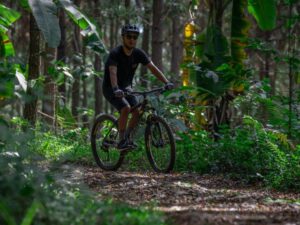 If pedaling performance is your main priority, you should go for a cross-country mountain bike. This type of bike is suitable for riders who are aiming for long-distance rides and prioritize climbing over descending. Special traits of a cross-country Bike is:
Travel fork around 100mm to 120mm;
Flat handlebars;
Hardtail and Full Suspension.
Polygon Xtrada 7 manufactured with ALX XC frame and tapered headtube makes the bike durable, lightweight, and more stable. The 120mm travel fork guarantees a comfortable ride even when you are crossing a tough terrain.
Xtrada 7, built with Shimano 1X12-Speed groupset, advances the shifting performance with decreased tension in the low gear position, giving a fast and precise shifting for modern mountain biking.
Trail Mountain Bike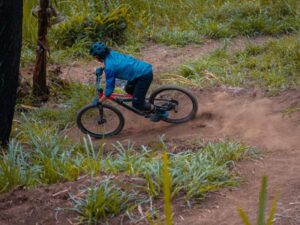 Are you looking for an excellent bike for climbing and capable of descending? If your answer is a yes, you should've gone for a trial bike. With a more comfortable frame geometry than a cross-country bike, a trail bike is a perfect choice for you who love mountain biking uphill just as much as downhill while seeking occasional drop and jump in between.
How do you recognize a trail bike? They are:
Suspension around 130mm to 140mm of travel;
Flat handlebars;
Hardtail and Full Suspension.
If you are looking for a high-quality and dependable trail-ready bike, you might love to check out Polygon Siskiu T8, which is designed with an ALX trail frame with Shimano SLX-M7100 groupset 12-speed; this bike guarantees a confident and secure shifting over aggressive trails along with a balance of high-quality control and playful handling.
Enduro Mountain Bike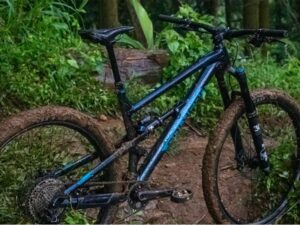 Do you love a couple of laps at a bike park or some other shuttle accessed terrains and wish to find a bike that can nail it? If so, an enduro bike will be your perfect ride. Their specialty is:
Having a geometry that favors descending to climbing;
Hardtail;
Suspension around 150mm to 160mm of travel.
Are you looking for a quality enduro bike? You will love our Polygon Siskiu N9, designed with ALX AM / Enduro aluminium frame with a tapered headset that adopts the new Boost Hub standard combined with Shimano SL-M8100 groupsetl and FAUX BAR rear suspension system making this bike stable to beat any descents topped by precise handling.
Downhill Mountain Bike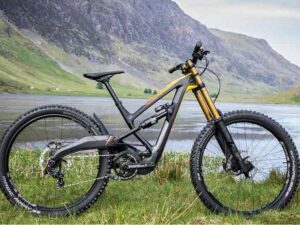 Specially designed for genarly terrain, steep, big drops, and jumps. If you are more into a trail that supports high speed and airtime with a skill level to handle such situations, boldly go for a downhill bike. The traits this bike has is:
Double crown with suspension around 203mm of travel;
Full Suspension;
Flat handlebars.
Mountain Bike Wheel Size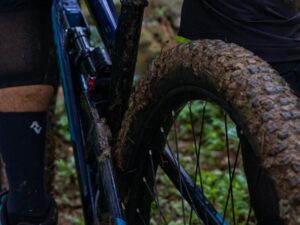 After understanding the types of mountain bikes, now it's time to learn about how to choose mountain bike size. Most Polygon Mountain Bike comes with 27.5″ to 29″, suitable for riders with around 152.5cm to 185cm of height.
Mountain Bike Frame Materials
The material used in manufacturing the mountain bike determines its weight. There are three common materials used for a mountain bike's frame such as steel, carbon fiber, and aluminium/alloy. Out of the three, the alloy material is commonly found in Polygon mountain bikes. They are stiff and durable and 30% more lightweight than steel material.
Mountain Bike Groupset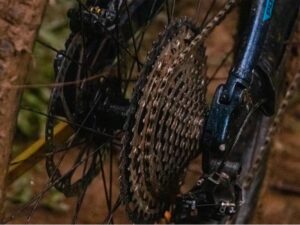 Took in your fitness level and terrains you will be riding to as consideration of finding the suitable mountain bike groupset. If you are more into steep hill rides and feel the climbing challenging, go for more bags. On the contrary, if your fitness level is at its peak or you're riding on flat terrain, lesser equipment will suffice.
8 Tips For Beginner to Buy Mountain Bike
Here are some tips before buying a mountain bike for beginners:
Get The Right Frame Size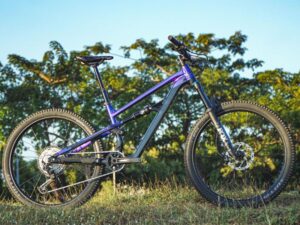 Ensure that the mountain bike you bought perfectly fits your height. Check out the distance from the saddle to the bars and the distance from the center of the crank to the mid-head tube.
Short seat tube tends to offer good standover and great room for maneuvering. A 29″ comes with a taller front, and the riding position can be significantly tweaked with altered seat posts, stems, and bars.
Get The Correct Wheel Size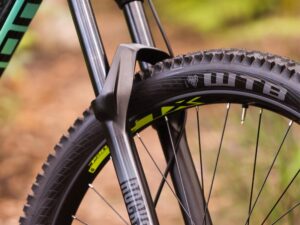 Commonly, polygon mountain bikes come in two sizings, 27.5″ and 29″. You can choose the one that you're more comfortable with.
Hardtail or Full-Suspension Bike? You Choose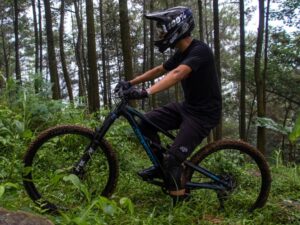 If you are looking for a bike that requires less maintenance, go for a hardtail. The downside is when riding in rougher terrain, a hardtail might not be as forgiving compared to a full-suspension bike.
Consider Strength Above Weight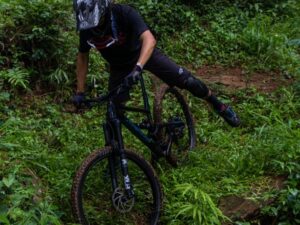 Lightweight is excellent, but an off-road ride requires a durable bike with strength. The best mountain bike needs to be able to handle rocky, root singletrack, or pothole roads.
Don't Get Fooled by Flashy Trinkets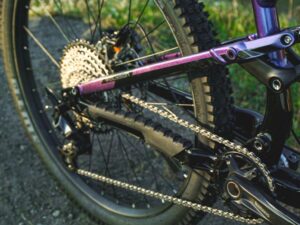 Keep in mind that lower specifications components tend to be heavier. While a quality mech is important, a shifter, crankset, and chainring are essential.
When It Comes to Suspension, Always Pick Quality Above Quantity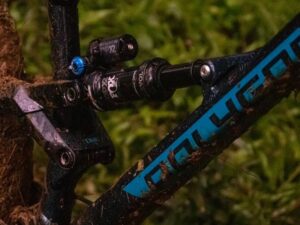 Seek for a quality damping and decent air spring as it will offer more improved control, traction, and comfort than an extra amount of travel can do.
Check The Saddle and Brakes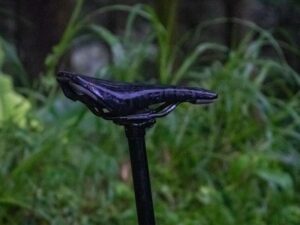 Look out for brakes that will work well even when they are wet. You always have to prefer disc brakes over standard rim brakes, although the latter cost is lesser. And since you are going to spend most time sitting on top of your saddle, make sure it offers comfort. Do prefer a slimmer in better-shaped one over a wider and paddy one. You will be grateful for this advice.
Spend Extra For Additional Comfort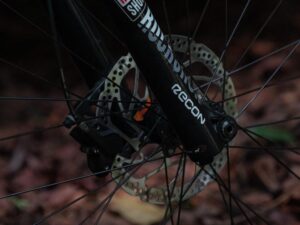 A lightweight bike is manufactured with quality materials that tend to cost more. However, for the exchange of smoother gearing and better quality components, it will be worth it. If you are looking for the best mountain bike for the money without downgrading the quality, choose Polygon.
Conclusion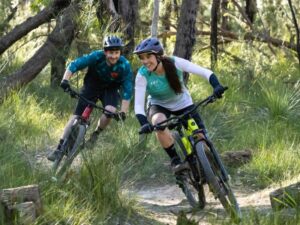 As a beginner, choosing your first mountain bike could be a lot of tasks, but if you already have a perfect picture of what you are going to do with your mountain bike, getting the most suitable one won't be hard.
To find the best quality mountain bike for sale, you can visit the Rodalink offline outlet located on the East Coast or Jurong East. You can also visit their online web store to purchase your first MTB.
Why Rodalink? Because they provide a wide range selection of best-quality mountain bike brands with affordable pricing. Shopping in Rodalink is also easy; you can make a purchase online and choose self-pickup to fetch your bike at the outlet.
There is no other outlet that offers more excellent service than Rodalink. If you love benefits and wish for enjoyable bike shopping, you should visit Rodalink.