This innovation of the folding bike allows easier commutes for its users, which is why everyone feels grateful for this invention. Talking about folding bikes, one most looked-after issue is how to fold and unfold folding bikes. It also becomes one out of a few considerations before someone decides to buy a folded bike.
If you're entirely new to the cycling world and get to know about folding bikes, that's okay. Through this article, you will learn more about the mechanism of a folding bike and how to fold a folding bike. Without further ado, here is some of the information you might find helpful.
Folding Bike Mechanism
One that differentiates the folding bikes from one another is the folding method and the size of its wheel. Initially, there are two types of the wheel size of a folding bike such as:
Small Wheel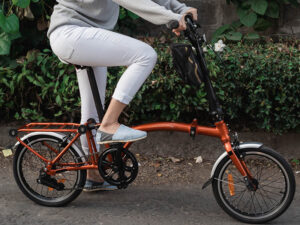 This type of folding bike is the most common type you can find. Small-sized wheels started from 10 inches to 24 inches at max. This kind of bike performs best in an urban area where the terrain is smoother.
The plus point for this folding bike is that it's commuter-friendly and specially designed to be ultra-compact, so you can easily store it in your car trunk and carry it around places where you are not allowed to cycle. The drawback of this type of folding bike is that, due to the size of its wheel, some riders might find this bike is more exhausting when being used for a long-distance trip.
Full-Sized Wheel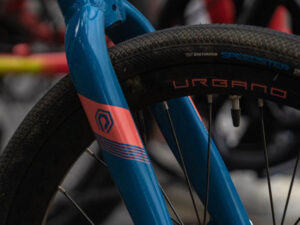 If you are more into a long-distance trip or rocky terrain, then you have to put this as one of your considered folding bikes. As the enthusiasm for a folding bike kept growing, some manufacturers finally decided to give the conventional small-sized folding bike a new look with 26 inches wheels or 700c wheels to offer an even smoother and high-performing folding bike that suits a long-distance traveler's life more.
Regarding the compatibility of this full-size wheeled folding bike still offers the convenience of storage if you compare it with a standard mountain bike.
Folding Bike's Folding Method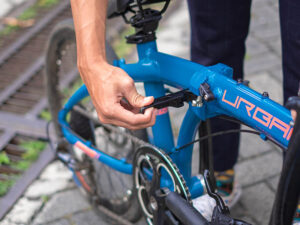 Discussing how to fold a bike, there are 4 most common ways to fold a folding bike. The four common ways are:
The Mid Folding
This type is usually easier to fold and assemble. It comes with a clamp that you can release to fold your folding bike. After removing the clamp, swing it to line up with the wheels. In this model, both seat post and handlebars are also utilized with a quick clamp that efficiently helps you fold the bike.
The Triangle Hinge
Like the name, this bike has a triangle hinge and will be flipped forward under the frame once you fold the wheel. On some triangle hinges, it also folds the front fork along and makes the machine easier to fold and set up.
The Magnet Folding
This bike is a sophisticated folding method that combines a magnet with a rear shock absorber. This model of folding works as the magnet will lock the back wheel of the folding bike to the frame then brings the rear wheel forward to fold the bike vertically.
With this folding bike, you don't need to worry about how to carry a folding bike since you can easily roll the bike on its rear wheel.
Vertical Folding
This bike usually comes with two hinges on the main tube, but you can still fold effectively as the seat will stay. This model is more compact if compared with the mid folding model.
After getting some information about the folding methods of a folding bike, now it's time to learn how to fold a bike. Please do follow the step by steps below.
How to Fold and Unfold Folding Bike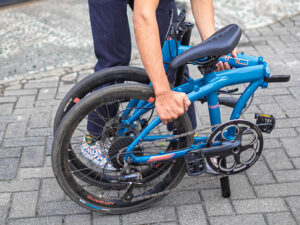 Please note that this is the method to fold Polygon Urbano, and other folding bikes may have different folding techniques. Here is the illustration:
Set the seat post to the lowest, then turn the saddle to the back;
Open the handlebar and quickly release, then bring them down;
Unlock the key on the handle post, then fold;
Release the hinge and fold the frame;
Make sure you properly do the magnetic lock.
Conclusion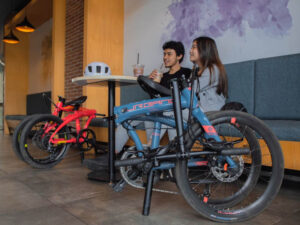 If you want to choose the best folding bike for your commuter's need, here are some factors you need to consider:
A best folding bike should have a gear low enough to allow its rider to ride up to the hills.
A high-performance machine is quite sturdy and comfortable, usually around 20″ to 24″;
Choose the one you can quickly fold and unfold for time-saving purposes;
Find a folding bike with a frame size that suits your height.
Have you decided which bike to buy after the "how to fold bike" session? If you still don't have the perfect option, we recommend Polygon Urbano 3 and Urbano 5 as your ideal folding bike.
Both are lightweight folding bikes equipped with an ALX Foldable Frame with Safety Lock and Magnetic. If you're looking for a folding bike suitable for an urban ride and accompanying you going off to and from work, Polygon Urbano 3 will be enough.
However, if you are seeking a folding bike that will be not only able to accompany your daily routine but also ready for your long-distance escape trip, then Polygon Urbano 5 will be your best choice.
You can get both of these folding bikes at Rodalink. As one of the trustworthy bicycle retailers, Rodalink commits to providing you with the best service. Even when you're new to the cycling world, you don't have to worry because you can find everything you need in Rodalink.
From wide ranges of bicycles to accessories, Rodalink has them all. You only need to register an account to make a purchase. As for the payment, you can also buy your ideal folding bike first and pay them later with ShopBack, a payment method that provides installments with 0% interest.
Check out anytime through Rodalink online web store and claim free shipping for every accessories and parts from Rodalink Singapore. Once you have finished your order, you can pick up the bike at the nearest outlet yourself or have them delivered to you in a ready-to-go form. Visit Rodalink now and get your favorite bike just in a few clicks!