The worst scenario a biker could picture is when his bike's tire popped in the middle of the trip, and the workshop was out of sight. For a regular biker, there's a high chance you will have to push your bike until you can find the nearest bike workshop. However, for a folding bike user, you will only need to learn how to install folding bike tire in the case of an emergency, and you're good to go.
Find anything you need to know about the folding bike and its tire size and how to install a folding bike tire through this article. Needless to the further introduction, here's the guide you need.
Get to Know About Folding Bike Tire
Like the folding bike itself, the folding bikes' tires can also be folded down as long as it's not wired. The purpose of this kind of tire is to assist cyclists on their long touring journey. After all, you can't risk the possibility of being stranded just because of a popped tire, can you?
A folding bike tire doesn't have wire bundles so that you can fold it into a relatively flat shape. We all need to admit that carrying this type of tire around makes life much more convenient and puts your mind at ease during your commutes because you know that you can always change the tire anytime in case this current one suddenly pops.
A folding bike's tire weighs less than other tires and has a good thread per inch (TPI) count, which affects the given feeling during the ride. The drawback of this kind of tire is that although it has great traction, the rubber compound doesn't last as long as the non-folding tires.
The primary difference between folding bike tires vs regular bike tires should be the material used to construct the tire's beads. Folding bike tires use a synthetic fiber that is just as durable as standard bike tires but, at the same time, more flexible than a standard tire.
The Size of Folding Bike's Tire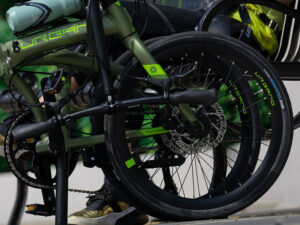 A folding bike tire size and any bike's tire size are measured in millimeters. Many cyclists claim that the 451mm wheels perform faster in speed rather than 406mm wheels. The 451 millimeters and 406 millimeters are actually a measurement for the bike's rim in Sheldon Brown tire sizing system.
In the ETRTO system, both can be measured as 20″ wheel except the tire of 451 will look slightly larger than 406. A 451 sized tire offer faster ride experience. It also won't sink into potholes and is easier to roll over bumps and other obstacles.
How to Install a Folding Bike
Are Folding Bike Tires Easier to Install? If you need an honest answer about how to install a bike tire, especially a folding one on your own, it's hard to tell whether it's easier to install than a regular one. It all depends on the capability of its owner. Here are some tips on how to install a folding bike:
Organize Your Tires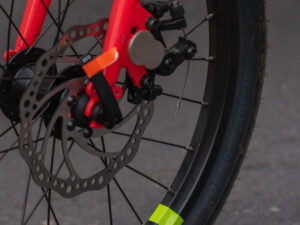 As a starting point, please take out the folding tire that you want to install on your folding bike and flatten it. Ensure nothing gets inside the tires, such as sand, stones, or other small particles that might harm the tube. Also, pay attention to the rotation directions indicated on the tire's sidewall.
Get the Tire Installed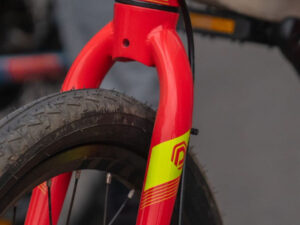 Press the tire until it is wrapped around your folding bike's rim and tube. Since the tube may also age, you will have to mount a new one once in a while. After this step, you can unscrew the valve cap and the lock ring from the valve.
Turn on the valve knot and press onto the tube. Once it's done, place the valve to the valve's hole on the rim before inserting the tube entirely into the tire and make sure the tube doesn't crease.
Press the loose tire side over the flange of the rim while making sure the tube doesn't get pinched between the tire and the rim. Continue to press the tire onto the edge of the rim until it's installed completely. You can use continental tire levers as a helping tool. If the valve is not standing straight, you will need to remove the tire bead from the rim and rearrange the tube.
Wrapping Up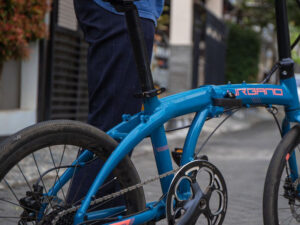 Inflate the tire to the maximum tire inflation pressure shown on the tire's sidewall. Learn how to seat a bike, such as examining the characteristic line above the rim.
Conclusion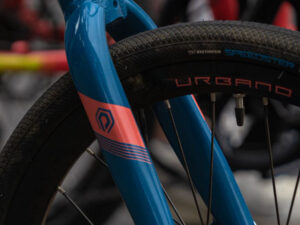 Everything you need to know about how to install bike tire folding bike tire editions. To conclude the whole article, here are some main points or ideas you need to keep in mind:
What is a folding tire? A folding tire is a tire build in a softer rubber compound than a non-folding bike;
Folding tires weigh lower than any of the traditional tires;
Have a higher TPI and road traction than regular road tires;
The folding tire comes with beads made of synthetic fiber, and non-folding tires feature steel-wire construction is one of the differences between folding tires vs non-folding tires.
How to fold bike tires determine how easy of a time you will have to install the folding tire on your bike. When coming straight from the manufacturer package, this folding bike is easier to unfold.
Are you trying to find the best folding bike suitable for your daily commute and a long-distance trip? We will highly recommend you to get a Polygon Urbano 5 at Rodalink. As one of the trusted bicycle retailers, Rodalink commits to giving you the best bicycle shopping experience.
In Rodalink you will find not only a wide range of bicycles but also parts and accessories. All you need is to register an account then enjoy online web shopping 24/7. Shop your ideal bike through Rodalink and claim free shipping for any non-bike purchase with a minimum of SG$200. Enjoy the most hassle-free shopping just in Rodalink!