Although the folding bike comes with a compact design that allows you to carry them everywhere, the chance to leave your folding bike outside a public area can sometimes be inevitable. Here is a guide on how to lock a folding bike for theft prevention.
Lock Your Folding Bike in the Street, Why Not?
Although Singapore's government has taken some actions, such as installing CCTV and acrylic mirrors in 222 housing boards, the case of bicycles getting stolen may still occur from time to time.
Owning a folded bicycle will not assure you to be 100% free from theft. Some places, such as restaurants, might have restrictions about bringing a folding bike inside. So to prepare yourself for such situations, it's just right to learn how to lock your folding bicycle properly.
Pick a Proper Bike Lock
Instead of learning about how to carry folding bike inside a place where it is not allowed, you will be better off learning about how to lock folding bike when they have to be left outside securely.
Here's some different lock of choice:
Cable Lock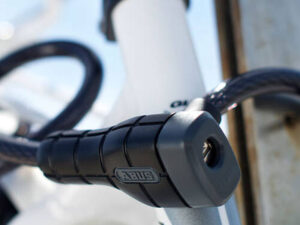 This type of lock is durable and flexible enough around stationary objects, and the cables often come with a quick-release system. The drawback of this type of lock is it can't loop through the bike's frame.
Abus Ugrip Cable 560 is made with ABUS high-quality cables, considered one of the best cable locks in town. This lock is designed to be resistant enough for certain breaking lock tools. The lock has a thick cable that will not only be effective in avoiding stealing attempts but also could protect the cable from extreme weather.
D-Lock or U-Lock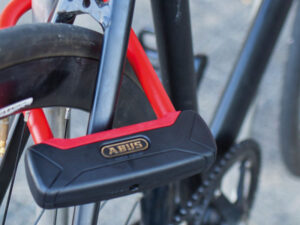 It is usually made of heavy-duty metal. Durable and won't break or rust easily. You can also insert this lock into the bike rack, making it easier to secure the bike with an additional lock. However, the D-lock is difficult to transport because it doesn't fold up nicely. If you plan to travel around on your folding bike, this lock might not be the best option.
The safest way to secure your high-valuable bicycle is by locking it with Abus Granit 460 U-Lock, manufactured using a 12mm parabolic shackle hardened steel combined with ABUS Extra Class cylinder.
Chain Lock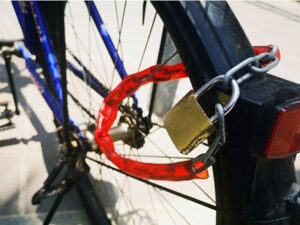 Like a cable lock, a chain lock is durable and flexible enough to loop around stationary objects. But unlike the cable lock that can't loop through the bike's frame, the chain lock is often long enough to perform a looping through the bike's frame, and everywhere you wish to hook it into.
Folding Lock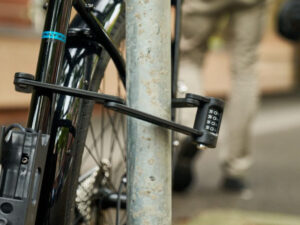 If you wish to look for the perfect lock to take with you, the folding lock may be one of them. You can build this lock's locking mechanism into the bike frame, so you don't have to worry about the possibility of losing or forgetting it.
The only drawback of this type of lock is since the lock is built by the bike's frame, you can't use this lock when you're not traveling on your folding bike.
You can also find another model of lock that will suit your needs through Rodalink's online web store.
How to Fold Your Urbano Folding Bike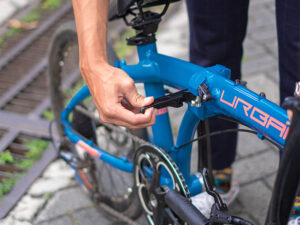 Bagging the information of different locks alone won't be enough. It would be best if you learned how to lock a bike properly. For a folding bike, you can either lock it up folded or unfolded.
Talking about folding a bike, here is the step by steps of how to fold Polygon Urbano 5:
Release the quick-release underneath the seat post to push the seat post down;
Having the pedals facing at the nine o'clock positions by pushing the pedal in using your palm and flip it over;
Open the handlebar quick-release and bring the handlebar down;
Unlock the key on the handle post, then fold;
Release the hinge and fold the frame. Make sure the magnetic lock is appropriately done in the process.
After folding your bike, you can now lock it with either a cable lock or a U-Lock. A folded lock is not highly recommended, except you only left your folding bike locked outside for a quick trip to a coffee shop, or your bike is parked in an area where you can still watch over.
Refrain from locking your bike into a removable post like a signpost, as they can easily get lifted. Locking your bike to a chain-link fence is also considered a bad idea because someone can easily snip it.
You can choose to lock your bike according to the value, starting from the frame, then to the back wheel, and lastly to the front wheel. Also, make sure you have remove the accessories such as GPS or the bike light.
Conclusion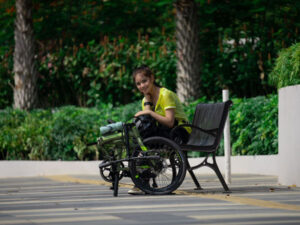 The worst nightmare a biker can have is finding their bike disappeared after a short visit to get a cup of coffee and a slice of cake. As compact as a folding bike can be, some public places may have restrictions where you have no choice but to leave your folding bike locked away outside.
We hope you can get helpful information on how to lock Polygon Urbano after reading this article. For readers who haven't found a folding bike suitable for their daily commutes, we will be glad to recommend the Polygon Urban series as the best folding bike in town!
Coming with two series, Polygon Urbano 3 is the perfect fit for you who use folding bikes for daily commutes in urban areas. If you are a bit adventurous and would like to go on a long-distance trip once in a while, then Polygon Urbano 5 is your best option.
Visit Rodalink's online web store right now to shop your folding bike along with all its necessary parts and accessories in the most convenient way.
Here are some reasons why you should shop through Rodalink instead of another store: Rodalink will provide you with tools and tutorial videos that can easily guide you on how to equip the pedal and adjust the handlebar where you can try to get your bike down in just 5 minutes. You can find anything you need for your cycling experience in Rodalink. Not only a wide range of bicycles but also parts and accessories.
Register to Rodalink now and choose next-day delivery to get your folding bike delivered to you on the next business day. Claim the free shipping for every non-bike purchase with a minimum spend of SG$200. Purchasing at Rodalink is also hassle-free because you will get a benefit that you can only find at Rodalink!