Is your bike starting to produce an ear-piercing squeaking sound and won't shift smoothly? Take a look at your chain, it's time to get it lubricated. If it is your first time lubricating your chain, don't be nervous. You only have to follow this guide on how to lube mountain bike chain and get it done shortly after.
What is a Bike Chain?
A bike chain is a component of the bike in the form of a roller chain that transfers power from the pedal to the driving wheel of a bike and propels it. Being one of the parts that keep the bike running, the chain and drivetrain hold the award of being the dirtiest part of the bike.
This is because bike chains are often exposed to mud, grime, and the worst of the weather. Hence, you will have to give it a little bit more care to extend its life span. Cleaning your chain regularly can be one of the prevention and slowing the chain from wearing off.
But it will be best if you also lubricate your chain regularly to keep it durable. When looking for chain lube, it should be:
Able to minimize the accumulation of dirt;
Make the chain durable since the best bike chain lube will prevent the chain from rusting and wearing off
Tips on Lube Mountain Bike Chain
Since we are already talking about lubricating a chain, it won't be complete if we don't tell you the tips on how to lube bike chain properly. But before we get into the topic, let's learn what kind of oil is suitable for your bike first.
What Kind of Lube for Chain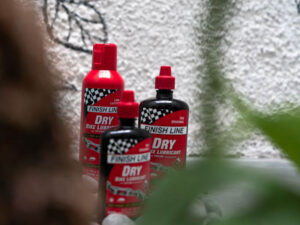 There are a lot of lube options in the market nowadays from the dry chain lube which uses the lower viscosity oils which attract less dirt to the wet chain lube with higher viscosity oil to hang onto the chain length in higher moisture environments.
It will be best to choose an oil that best suits your normal riding conditions and make sure to maintain your chain regularly for the best result. However, very thin oils like the WD 40 are not highly recommended because they can wash away the grease applied by the manufacturer between the chainplates to the roller of your bike.
Looking for good-quality lubricants? From the dry lube and wet lube to the most advanced ceramic wax lube, you can find one that suits you best at Rodalink.
Correctly Lube Your Chain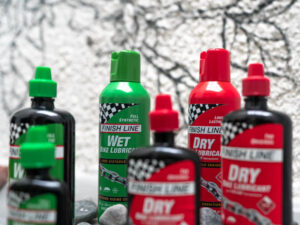 Before adding oil or lubricating your chain, it will be best if you clean your chain since the oil tends to pick up dirt and contamination making the chain ineffective. So before dropping the fresh oil, it is always best to clean the previous one. You can just use an old cloth or rag and thoroughly wipe the chain, cassette, chainring, and jockey wheels until it is clean.
Once the chain is cleaned, you can put a drop on top of each link and slowly backpedal the bike using your hand for a few revolutions to give the lube access inside the chain. This method also answers the question of how to lube bike chain without stand. Once you are done applying the lube, make sure to wipe off the excessive lube so it won't attract more dirt to your chain.
Some riders might question bike chain lube alternatives and whether it is okay to substitute a bike lube with the 3-in-1 oil for bike chain or not. To be fair, the 3-in-1 oil is not intended to act like heavy oil or a lubricant. It is said that the 3-in-1 oil can provide a certain amount of protection from bike corrosion but at different levels as WD 40.
However, if you pay attention to our previous advice about the WD 40 being not highly recommended as it may wash off the important grease applied by the manufacturer, you can conclude that the 3-in-1 oil is even more not on the recommendation list.
So what kind of oil can be used as bike chain lube alternatives? While it is not highly recommended and not necessary if you want to replace the bike lube, you can try using a degreaser.
Although normally, the degreaser is only recommended to be used for some special scenarios like:
Switching the lube from dry to wet or vice versa;
Switching brands of the lube;
Replacing a new chain.
How Often Should I Apply Chain Lube?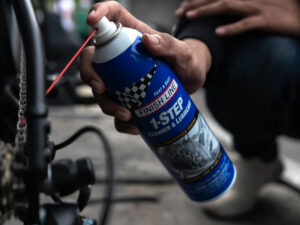 After knowing how to clean and lube bike chain, it comes to concern about how often riders should be applying the chain lube to maintain their bike. The frequency of lubricating the bike chain depends on what kind of conditions you ride your bike. For example, if you spend most of your time riding in muddy areas, you will have to clean and lube your chain more often than those who ride their bike on the clean tarmac.
It also depends on other factors like the amount of salt, dirt, dust, and moisture that might be attached to your chain that you need to look after. So it is going to be excellent to clean your chain after every ride and apply a new film of oil.
But beware of over-lubing your chain since the excessive amount of lube might attract dirt and form a gritty paste that grinds down the chain components and other drivetrain bits. Last but not least appearance, time, and distance are not as reliable as the grinding, creaking, squeaking, and squealing sound when it comes to indicating when is the right time to lubricate your bike chain.
Looking for a high-quality chain lubricant, degreaser, and cleaner that will give your bike component maximum protection from abrasion and heat as well as help you prevent rust even when it comes in contact with salt water? You can get the best bike maintenance supply at an affordable price only at Rodalink.
If you are currently looking for a budget-friendly bike with excellent groupsets and components, consider having a Polygon mountain bike in your collection. Manufactured with the advanced ALX alloy frameset that undergoes strict quality control, combined with top-tier components like the Shimano or SRAM groupset and the FOX or RockShox suspension, the Polygon bike is a perfect choice for you who seek a bike with quality of price.
Polygon bike is considered the most affordable one among any of its competitors considering the quality it has to offer. Grab your original one from Rodalink right now. The plus point of purchasing from Rodalink is you don't have to stress over finding tutorials on how to assemble a bike since they will deliver your bike right in front of your doorstep in ready-to-ride form.
You can also get everything you need to maintain your bike's components from accessories to parts to apparels, Rodalink has it all prepared. Shopping for your cycling starter kit won't be as easy as when you purchase it from Rodalink.