Indoor Training – You're not a morning person. You hate going outside and dealing with Singapore's high humidity as well as abundant rainfall. Most importantly, you're an introvert to the core. No wonder it becomes super challenging for you to wake up from that comfy bed and ride your bike outside. The thing is, you're not a quitter and still want to stay in shape, plus keep your cycling training target achieved.
Now you're scouring the internet to find the win-win solution to stay on track without compromising your comfort. And, yeah, the answer is as expected: indoor cycling. While most cyclists prefer riding outside, indoor training is necessary for serious riders who wish to train without interruption from inclement or seasonal weather.
Indoor cycling is unquestionably more popular today than it has ever been, especially with more individuals working remotely and a growing desire to stay safe at home. It helps you lose weight, strengthens your heart, and increases your muscle endurance. Not only your legs will be put to the test, but you'll also get a major endorphin boost. That's why indoor cycling studios keep popping up in cities across the country in recent years.
If you're new to the indoor cycling world, you may want to know what all the hype is about and what to prepare before giving it a spin. Continue reading for a thorough beginner's guide to indoor cycling!
What is Indoor Cycling?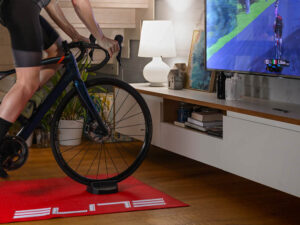 Indoor cycling refers to indoor bike training in which you ride an outdoor bike attached to one of the best turbo trainers. These can range from direct-drive smart trainers to wheel-on trainers, rollers, and even dedicated exercise bikes. Just in case you don't know, you can detach your bike from the trainer and ride it outside—except for the latter.
Since some people love to associate riding with freedom, fresh air, and adventure, the idea of indoor cycling may sound uninspiring and boring. However, with so many turbo trainers, smart bikes, and virtual cycling app options available, indoor cycling is significantly more fun and social than staring at a blank wall. You're basically taking the real-life riding experience into your pain cave and pedaling like you would outside.
How to Get Started?
1. Decide where your cave is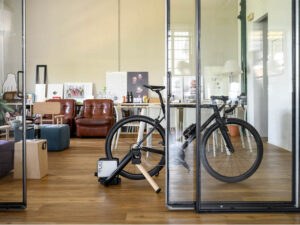 This is the first step you must take. Where will you work out? In your bedroom? Garage? Or do you wish to set up your own studio? An indoor trainer can be placed anywhere, ideally inside or at least sheltered, with a small shelf or table in front. Remember that the equipment is heavy and that you will likely sweat a lot, so a wipe-clean surface is better than a carpeted area. If you just have a carpeted area, put something down first, such as a mat, to protect it. Also, choose a place with adequate ventilation to eliminate moisture and CO2. If you feel the need to chill the air, simply install an air-con or invest in a couple of powerful fans, especially if the outside temperature is significantly higher. Maintaining a good air exchange can prevent overheating.
2. Choose the right trainer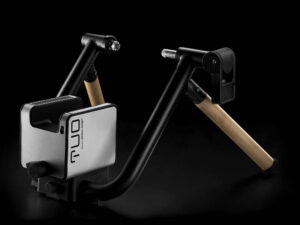 Just like a regular bike, indoor trainer also comes in several types: rollers, turbo trainers, smart trainers, and static bikes. Let's get to know them!
Turbo trainer


Turbo trainer is the most popular model among cyclists with prices, features, and complexity ranging from simple low-cost options to high-end smart trainers. The simple one doesn't use electronics and is wheel-on in operation. This compact, affordable style attaches to the axle of your bike's rear-wheel and uses a roller pressed against the tire to create resistance.

Smart trainer


Smart turbo trainers have electronics built-in, as well as Bluetooth and ANT+ connectivity, allowing them to communicate with your smartphone, tablet, or computer. That means you can get trainers that have a built-in power meter or can integrate with workouts streamed from paid online services. Best of all, they also replicate climbs, descents, or structured interval sessions for a more immersive workout. Getting this technology will cost you twice as much, but it could be worth it for the right person.Smart turbo trainers come in two designs: 'wheel-on' and 'direct drive.' Direct-drive trainers remove the rear wheel and connect your chain directly to a cassette mounted onto the flywheel, resulting in quieter operation, no tire wear, and a significantly enhanced road-like ride feel. Elite trainer offers some of the best models on the market, such as Elite Suito T, Elite Direto XR-T, and Elite Drivo II. However, if you want to take your training to the next level with a less-expensive pick as well as a simpler set-up, a wheel-on trainer like Elite Novo and Elite Tuo is the way to go.

Rollers


A set of rollers is an excellent alternative for improving core stability and leg speed. Bear in mind that you're not bolted in place; your bike just balances on the rollers in the same way it does on the road. To stay upright, you'll need to use more of your stabilizer muscles. Don't worry, with a good amount of practice, you'll be able to put out big power on them. If you're interested in using rollers, you might want to consider Elite Nero as an answer.

Indoor bike


A dedicated exercise bike or smart bike offers an all-in-one solution that eliminates the need for a separate bike to be mounted to a bike trainer. They allow you to monitor your power output, measure your pedal stroke, cadence, and heart rate, control resistance automatically, and much more. They're often quieter and easier to adjust, but they can be big and hefty, making them unsuitable for apartment dwellers with limited space.
3. Add some entertainment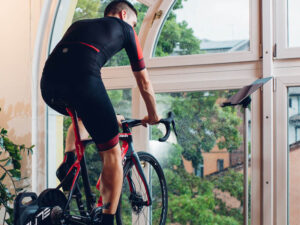 Having some sort of entertainment when you're riding along helps to keep boredom at bay. Your workout can be a blast with beat-based choreography, killer playlists, and celebrity-like trainers. Moreover, an interactive training app can help provide the motivation and structure you need to thrive. Some apps also provide video ride simulations as well as motivational features such as virtual training rides, route sharing, and races. You and a buddy from another state could virtually ride together on a classic route in yet another location. Popular subscription-based apps include Zwift, TrainerRoad, The Sufferfest, Rouvy, and many more. If you already have a favorite app, be sure the trainer you're considering is compatible with it.
4. Pick the right accessories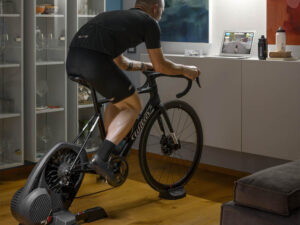 The bright side of indoor cycling is that you'll never have to worry about changing flat tires or following traffic laws. All you need is your regular cycling gear, such as lightweight, breathable jerseys and comfortable shorts. If you're a serious indoor cycling enthusiast, you might want to invest in a pair of durable cycling shoes that can clip into the bike pedals. Psst, you can keep your helmet on shelves! Plus, since you'll be jumping in and out of the saddle and often pedaling fast, a good sports bra is an absolute must. Finally, indoor cycling causes you to sweat a lot more than you think, so a towel can be a life-saver.
5. No empty belly or dry throat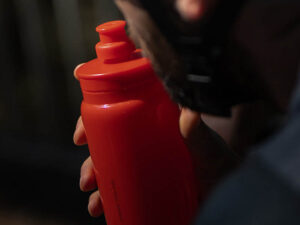 Indoor riding might be much more intense than you imagine. That's why consuming something with protein and carbs, such as peanut butter on toast, is highly recommended. Furthermore, this is a sweaty, sweaty workout, which is OK, but be sure to stay hydrated throughout the day as it is essential to your performance. Thus, you need to pack multiple water bottles. Relax, you will go through them fast, and your future self will thank you. Also, don't get too caught up in the experience that you forget the basics of survival. Take deep breaths since your muscles require oxygen to function.
Indoor cycling has made staying in shape much easier, as it can be done from the comfort of one's own home. Now that you know what to expect from indoor cycling, are you feeling motivated and ready to hop on a bike? It might become your new favorite workout, but you'll never know unless you try! So, what are you waiting for?  It's time to get all in a spin!