There's no way a cyclist can avoid the tire getting flats, even for those who are already using tubeless tires. Since getting a flat tire is inevitable, it will be best if you know how to deal with it instead. While some people prefer to change the inner tube or tire directly, some cyclists look forward to learning how to patch a bike tire.
If you are also interested in how you can patch a bike tire and what essential tools you will need to patch your punctured tire, then you have come to the right article. Here, we will be answering all your curiosity, so keep reading the article, and we hope you are enjoying the reading!
Tools that You Need for Patch a Bike Tire
Flats can happen anytime, even when you are least expecting it. Hence, you will have to make sure to keep these few things available:
Spare Tube or Patch Kit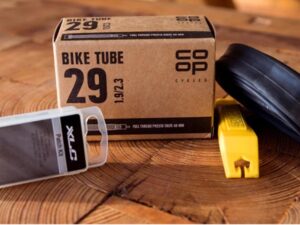 Some people love to change the bike's inner tube and tire directly when a flat happens, but since in this article, we will be talking more about how to patch a bike tire with a patch kit, then you should get the patch kit ready in the storage.
Tire Levers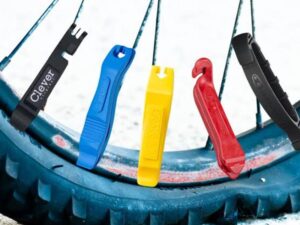 While you can still remove the bike tire with bare hands, having a tire lever around will help you to get the job done faster and easier. When choosing tire levers, remember to pick one with high-quality plastic so it won't easily bend and snap yet won't damage your wheel, especially those made of carbon fiber.
Bike Pump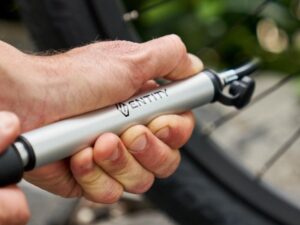 When changing the inner tube or bike tire, you will have to deflate it until there's no more air pressure left, so you can easily remove it off the rim. This means you will need a bike pump to re-inflate your bike tire once you have patched it.
Chalk or Marker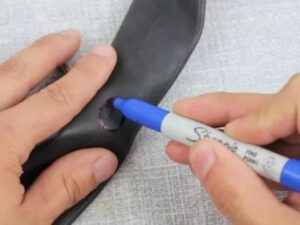 Optionally, you will need this to put a mark once you locate the puncture in your inner tube so you can easily remember where to put the patch on, especially if the hole is just tiny bits.
Step on Patch a Bike Tire
You have got the bike patch kit ready and prepared; now, let's get into the main topic and learn how to patch your bike tire by following these steps:
Remove Your Bike Tire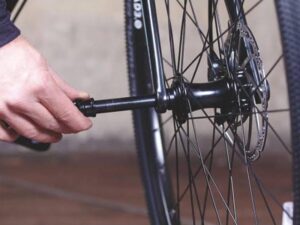 For better access, you might have to remove your wheel off your bike frame by pulling up the quick-release lever and turning 180 degrees to loosen it or using a wrench to loosen the nut on your wheel if it doesn't come with a quick-release lever.
Once you have successfully removed the wheel from the bike frame, you can work on taking off the tire by following these steps:
Take your tire lever and hook it around the tire bead to get it off the rim;
After getting the tire lever under the tire rubber, hook the other side of your tire lever to the wheel spokes to keep it in place;
Use another tire lever to work around the rim so one side of the bead can be removed. Keep going until it has completely come off the edge;
Once you have gotten one side of the bead off, pull the flat inner tube out of the tire.
Locate the Leak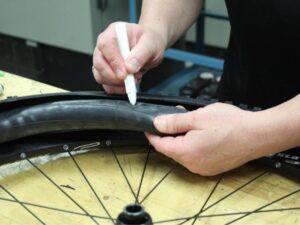 Now that you have gotten the flat tube out, it's time to locate where the puncture is. If it is a big puncture, it will be easy for you to spot them, but sometimes, the flat on your tire can be caused by a very tiny hole(s), making you have to be a little bit patient in looking for them.
Usually, it will be faster and more accurate if you use the water bucket method, where you submerge each end of the tube into a bucket of water while watching the air bubbles escaping from your tire so you can pinpoint where exactly the puncture has been.
However, if you happen to be in a situation where you need to patch your bike in the middle of nowhere, using the water bucket method is nearly impossible. Hence, you can only locate your tire puncture by inflating the tube and carefully listening to the sound of escaping air. You can use chalk to mark the area that is leaking.
Patch the Hole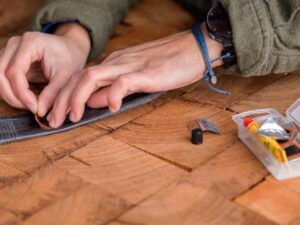 Clean the area around the puncture before patching them to ensure your patch is properly sticking. Use the scuffer from your patch kit to rough up around the area of the puncture, allowing the adhesive to get a better gripping over the bike. If you can't find a scuffer in your patching kit, you can substitute it with sandpaper.
If you use a glueless patch, you can firmly press the patch onto the hole and let it cover the punctured area. For riders with a patch that requires glue, you will need to add a layer of glue and spread it evenly around the punctured area. You will have to wait until the glue becomes a little tacky before pressing your patch on it.
For people who patch their bike tires at home, consider sprinkling some talcum powder on top of the patch to prevent the adhesive stick to the inside of the tire.
Put the Wheel Back Together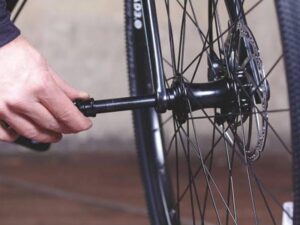 After your patch is set, carefully inspect the area inside of your tire for any protruding objects that may have caused the puncture in the first place. Ensure you have removed it before reinstalling your patched tube to avoid a new puncture.
Next, take your repaired tube and carefully lay it in the valve hole on the rim. Some cyclists prefer to inflate the tube slightly before sliding one side inside, but it is optional. You can skip it if you don't feel the necessity. When you are done, double-check to ensure none of the tubes is hanging out of the tire, and the inflation valve is pointing inward.
Use your thumbs to slide the tire back onto the wheel. Press the outer lips of the tire over the rim to have it securely locked in place. When proceeding with this step, you must be careful not to pinch the tube between tire and rim to prevent a new puncture. You can use tire levers to help you reseat the tire onto the rim.
Once you are sure that the tube is not sticking out between the tire and rim, you can start to inflate the tube to the recommended PSI based on your riding style and body mass. Spin your wheel around one last time to check that everything has been seated correctly before placing the wheel back on the bike frame.
Conclusion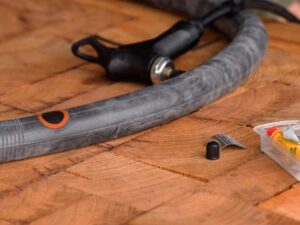 When you go outside to ride your bike, getting a spare tube and patch kit on your backpack is extremely important since you can never predict when an emergency will happen. But what if riders forget to pack a spare tube and patch kit in their backpack? How to patch a bike tire without a patch kit?
In an emergency, you can consider substituting the patch using electrical or duct tape. If you are wondering how to patch a bike tube with duct tape, the process is similar to when you use a patch. You can cut the duct tape in a three-inch size and place it over the hole while ensuring the hole is in the middle of the strip.
If you don't have any of the tools mentioned above—which is a strictly dangerous action to do, and we hope you never get caught in this situation anymore— all you can do is to push your bike along the way to Rodalink's one-stop cycling shop at Jurong East or East Coast and let their professional team handle it for you.
Beware of trying to use the super glue and attempt to produce some homemade inner tube patch because the super glue often gets dry, brittle, and inflexible after prolonged exposure to air.
To avoid being stranded out in the wild and waiting until a miracle happens to help you get back on your wheel and ride home, it will be best to stay prepared before hitting the road. You can bring your bike along and visit Rodalink before you schedule off-road riding.
By doing so, you can get a thorough bike inspection and maintenance from the professional and experienced team at the Rodalink one-stop cycling shop that makes your bike in its prime condition before going for a ride outside. Besides, you can find the best bike tire patch kit to purchase and pack.
Rodalink also offers a wide selection of bike parts, accessories, and apparels from world-renowned brands that will help you complete your biking gear all at once. By purchasing non-bike items from Rodalink for at least SG$200, you will get your purchased product delivered to you without any shipping charge.
You can also consider registering as a Rodalink community member to get a special price offer for bike service at Rodalink's one-stop cycling store, as well as be eligible for exclusive deals and events for members only. So what are you waiting for? Quit looking for the best bike tire patch kit near me on the internet and start visiting Rodalink instead. You will not find other places that offer high-quality items with price offers better than Rodalink.