People have various reasons that make them have no choice but to skip their daily exercise routine, be it the extreme weather outside, loads of work on their hands, or kids you need to babysit at the house. Hence, the indoor bike trainer was invented to solve this problem. But how to use a bike trainer to make the best of your training? Find your answer only by scrolling through this article.
What is a Bike Trainer?
The term bike trainer should have been quite a topic this past year, especially during the regulation to minimize outdoor activities a year ago, and people got no choice but to stay home and do all the supposedly outdoor activities in the comfort of home—including exercising.
When riding your bike outside is not an excellent option for several reasons, an indoor bike trainer should be your savior. What is a bike trainer? It is a device that clamps onto the rear axle of your bike while pressing the resistant roller against the rear tire to allow the rider to spin the bike in place.
Type of Bike Trainer
A bike trainer comes in three categories as follows:
Turbo Trainer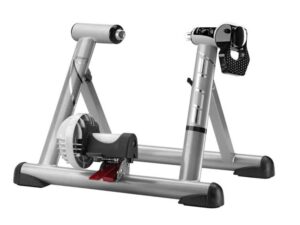 Turbo trainer transforms the bike you usually use for outdoor rides into a static bike—similar to those you typically find in the gym. There are two common types of turbo trainers you can buy from the bike shop, such:
Wheel-On Trainers
Just as the name suggests, the wheel-on trainer is a bike trainer where riders can slot the bike's back wheel into the turbo trainer frame and securely lock their bike with the fixing system from the trainer. This type of trainer is a suitable choice for riders who usually switch between outdoor and indoor rides.
If you are deciding to get the wheel-on trainer for your indoor training equipment, it will be best to invest in a special bike tire for training altogether to avoid excessively wearing out from your tire due to continuous contact with the bike trainer.
Direct-Drive Trainer
This bike trainer requires the riders to remove the bike's rear wheel before attaching the rest of the drivetrains into the trainer through a cassette. A direct-drive trainer usually offers a more realistic riding experience that makes indoor training feel the same sensation as outdoor riding.
Bike Rollers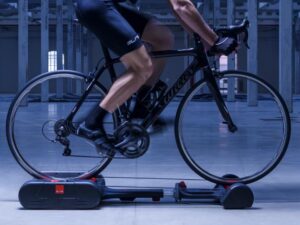 Bike rollers are also the most straightforward indoor trainers one can invest in. With a bike roller, there's no need to change your wheel, and no plug-in needs to be made. Riders only have to put their bike on top of the roller while adjusting the length to fit the bike before getting on to have a ride.
Bike rollers are often used by athletes to warm up before races and are the perfect equipment to help any level of riders to work on their balance and bike control.
Smart Trainer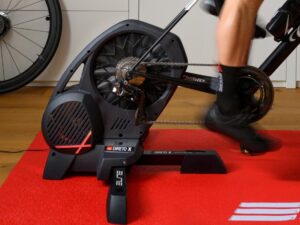 A smart bike trainer can be any of the types mentioned above except it can connect and communicate with external software and system applications. There are different features of a smart trainer, such as:
Connectivity: most smart trainer features the ANT+ and Bluetooth connection allowing the bike to connect with external software and wireless data transfer like speed, cadence, power, heart rate, and many more;
Maximum Power: some modern smart trainers can handle about 2,000 watts. The power accuracy is usually measured in a plus or minus, written as +/-5% sometimes it is measured via sensors or estimated from an algorithm;
Slope: also known as the riders stimulate a gradient, the maximum power is about 20% while the 10% of the gradient is considered a good figure as it is enough to accommodate the majority of third-party application routes you might encounter.
How to Use a Bike Trainer?
If this is your first time getting to know about bike trainers, here are some tips to start indoor bike trainer workouts for beginners so they can work effectively:
Get a Correct Setup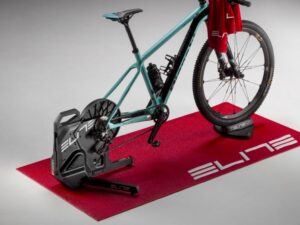 Different types of bike trainers will have different setups. For the direct-drive type of trainer, you will have to remove the rear wheel and mount the chain onto the trainer's cassette. Meanwhile, the bike roller is the type that only needs a little indoor bike trainer manual setup. However, the riders need to find a balance when riding on the roller.
You can refer to the manufacturer's instructions about how to install bike trainer and make sure to follow the step-by-step thoroughly to have your bike trainer set up correctly.
Get the Right Accessories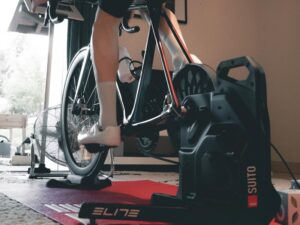 To get the best out of your training, getting the right accessories is equally important. You can consider buying a mat to keep your bike trainer setup stable, prevent it from moving on the slippery floor, stop it from getting soaked, and reduce the vibration as well as the noise.
How Often and When You Want to Train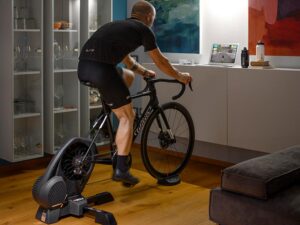 To get the bike trainer working effectively, it will be best if you determine what fits your lifestyle and your training preferences. By establishing a routine session of training, you will not only work on your consistency but also keep your motivation up. However, some people might get a packed schedule and only be able to exercise during the evening or night, hence, fitting it in the most flexible session you are capable of is also enough.
Conclusion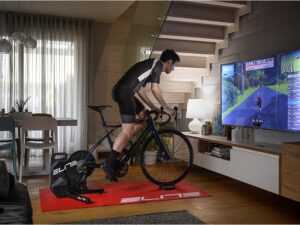 When buying a cycling trainer, you will have to follow a few of these rules:
Ensure yourself riding with great posture. Avoid tense shoulders, locked elbows, and hips that rotate back on your seat;
Apply smooth fluid pedaling. Feel and see the bouncing chain and take it as an opportunity to refine and become a more fluid rider;
Always keep in mind "how would this apply for outside riding" despite you are doing indoor training;
Embrace your bike trainer, utilize the benefits of the trainer, and apply the habits and intervals for your outdoor riding to optimize your performance.
Are you looking for an affordable bike trainer with high performance and durability? You might want to take a look at Polygon bike trainers and bike rollers. You can visit their official distributor: Rodalink which is located in Jurong East and East Coast.
Although Rodalink is the official distributor of Polygon bikes, they also offer a wide range of bike, accessories, parts, and apparel selections from the world's renowned brands. If you are new to the cycling world and don't know which type of indoor bike will suit you best, you can consult and ask the assistance from the professional team of Rodalink.
Rodalink also has a one-stop cycling shop that allows you to easily maintain your bike anytime you need. The best part of buying through Rodalink is for every non-bike item purchased above SG$200, the buyer will be getting free shipping and have their items delivered to them without any additional fee. Keep up with your healthy lifestyle starting today.