Nowadays, the weather is kind of unpredictable. One of the most annoying things ever to happen to a biker is being caught by heavy rain in the middle of riding, getting your helmet soaked wet and smelly. If this happens, you got no choice other than to wash it clean. But how to wash a bike helmet properly?
If by any chance you are having a problem cleaning your bike helmet so it can feel fresh and comfortable to wear again, this article will be worth your time. Here is how to wash a helmet without breaking or changing its shape. Have an enjoyable reading!
Why You Must Clean Helmet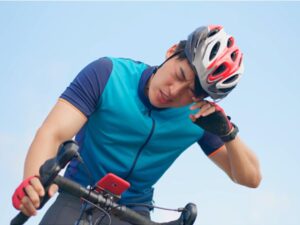 When talking about cycling, it is widely known that you will need to clean your bike and its components as part of maintenance to ensure the bike stays on its best performance and increases its lifespan. The same logic also applies to bike accessories such as helmets.
The excessive amount of dirt, dust, and probably chemicals exposed to your bike helmet every time you go for a ride may lead to corrosion that will damage the EPS liner of the helmet itself.
By washing your helmet regularly, you are not only keeping the bike helmet hygiene but also increasing the lifespan of the helmet, ensuring it can still offer protection for your head for a longer time being.
How to Wash a Bike Helmet
First of all, usually, you will get the helmet cleaning instructions from the manufacturer as guidelines. So of course, it will be best if you just follow the instructions by the helmet manufacturers about how to clean a bike helmet if there are any. But if you can no longer find it, here are the steps that you can follow to wash your helmet:
Washing the Helmet Pad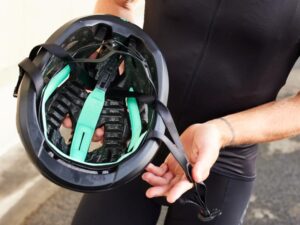 The best way how to clean bike helmet inside—the pads part— is by hand using a mild soap and cold water, rinsing it thoroughly, and the most important part is to let it dry by air. Always remember to never put your helmet pad inside a dryer as it might disintegrate and you will have to replace it with the new one.
Refrain from using a solvent or harsh cleaning materials to clean your helmet because some of them might cause damage to the foam or the shell and decrease its durability. Also, remember to not let the helmet be immersed inside the water for long periods to avoid the materials absorbing water and affecting the adhesives.
Washing the Helmet Strap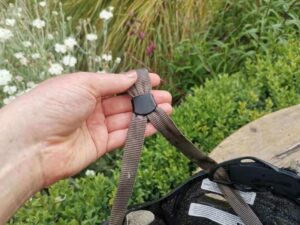 Just like the method of washing the pads, you can use a mild soap and cold water. If you have light-colored straps, you might want to scrub harder on them so the dirt and sweat trace can be rubbed off. But if your helmet strap is a dark-colored one, you can just lightly rub the straps. That's the proper way on boa to clean bike helmet straps.
It is better if you wash your helmet using your hands instead of using the dishwasher. Despite the convenience, wash bike helmet in dishwasher is not highly recommended as it might damage the helmet by disintegrating the foam, degrading the surface, washing off the label while leaving a sticky adhesive, or worse, it could cause the helmet to catch fire due to the exposed heating coils.
How to Store Bike Helmet
After knowing how to clean a used bike helmet, it will be great if you also know the proper way to store your bike helmet so you can extend the lifespan of your bike helmet. Remember that sunlight, chemicals, and extra weight on the top of your helmet will decrease the lifespan of your helmet.
Therefore, it will be best if you store your bike helmet away from direct sunlight, not close to any chemicals, as well as avoid adding extra weight on top of your bike helmet. You can consider just hanging your bike helmet on the handlebars of your bike. Or if you have the extra cash, you can consider buying a storage box to store your helmet to keep it away from fast degradation.
Conclusion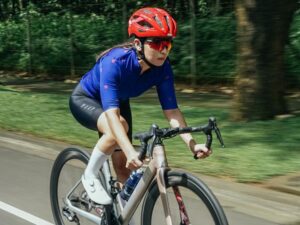 It is easier to do things that will let you understand how to wear bicycle helmet than to maintain it. If you are going to clean your bike helmet, remember that petroleum-based solvent cleaners will react with the EPS foam and cause damage to your bike helmet. It will be best if you are using water-based cleaners such as shampoo or dishwasher and rinse it with cold water.
Aside from wet cleaning using water-based cleaners and cold water rinsing, you can also consider using spray products where you only need to wipe off the foam after a few minutes of contact with your helmet.
You can also follow the manual or instructions from your helmet manufacturer to get the correct way to clean your bike helmet. Different brands of helmets might have different ways to be clean and maintained. For example, instructions on how to clean your Abus helmet might differ from instructions to clean helmets from other brands.
The most important thing to remember is that cleaning your bike helmet is only helping you to maintain the hygiene of the bike and expanding the lifespan to an extent. However, if your bike helmet is damaged beyond what a thorough cleansing can fix, you still have to consider getting your helmet replaced.
Looking for a high-quality helmet manufactured with MIPS technology that is budget-friendly? You might want to visit Rodalink, located on the East Coast and Jurong East. Rodalink is committed to providing services and products from world-renowned brands. There will be a wide range selection of bikes, accessories, parts, and even apparels to complete your cycling gear.
The benefit of buying from Rodalink is not only that you are guaranteed to get an original piece but you can also get the free delivery service if you are purchasing non-bike products for around SG$200. Whether you are a beginner that just got into cycling or a professional that is looking for a new collection of bikes, accessories, parts, or apparels, Rodalink has everything you might be looking for.