Unlike the apparent difference between a road bike vs mountain bike, the difference between a hybrid bike and a road bike is more interesting to discuss because both share the same aerodynamic specifications but are quite different in other aspects. Let's see the comparison of hybrid bicycle vs road bike to understand both bikes better and make it easier to decide if you ever wish to invest in either one.
What are Road Bike and Hybrid Bike?
Understanding different types of bikes and your riding style are essential because they help you decide which bike is worth your long-term investment. You might often hear about road bikes and hybrid bikes and probably wonder what the difference makes between these two types of bikes. Here are brief descriptions of both:
Road Bike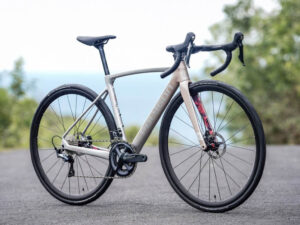 Just as the name suggests, road bikes are made for road riding. This bike is everything about speed and performance to be as fast as possible on smooth terrain. The characteristic of a road bike is the drop handlebar which allows its rider to crouch down and reduce drag, thus increasing speed and efficiency.
Road bike itself is divided into three main categories, such as:
Performance road bike: suitable for racing and climbing, frameset mostly manufactured with carbon fiber for lightweight purpose;
All-rounder road bike: ideal for climbing, frameset can be full carbon fiber or mixed with alloy;
Gravel Bike: having the characteristic of a road bike's drop handlebar but could also be considered a touring bike.
Hybrid Bike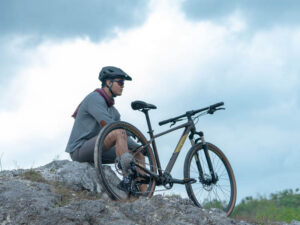 A hybrid bike combines a road bike and a mountain bike. Hybrid bike benefits riders who wish to have a bike that can be ridden on both smooth and moderately rough surfaces. Hybrid bikes benefit from a road bike in terms of speed but adopt the comfort of a mountain bike with a flat handlebar that offers more upright riding positions.
Typical of a hybrid bike is that it has a thinner frame and wider seat that makes it more aerodynamic on roads than a regular mountain bike and has a wider tire than a standard road bike. Although it might not be as fast as a performance road bike or as hardy as a mountain bike, it will suffice for riders who seek a comfortable ride for a long distance.
Although it resembles a mountain bike by lot, when talking about a hybrid bike vs mountain bike, there are still some huge differences. Although a hybrid bike is designed to be relatively stable compared to a road bike, a hybrid bike can't take rough off-road riding like a mountain bike. A hybrid bike is riding faster than a mountain bike with shorter travel suspension and slick tires at the forks.
Purpose of Road Bike and Hybrid Bike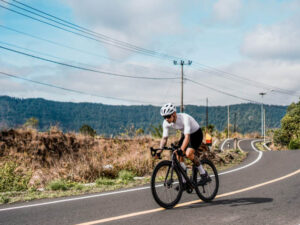 A road bike is designated for speed with a riding position that allows riders to cut through the wind. Road bike benefits users who care more about the speed of a bike and its ease of pedaling on the pavement.
The best hybrid bike designed for mixed terrain includes tarmac and cycle paths, soft gravel, and light dirt. This bike is commonly used by riders who primarily use their bike for commuting, occasional workout, or even touring.
Speaking of touring, besides a hybrid bike, there's also a multi-categories road bike suitable for touring, known as a gravel bike. While both bikes shared the similar desire to blend attributes of a road bike and mountain bike, both focused outcomes are different.
Hybrid bikes focused more on paved roads and off-road surfaces such as gravel, canal towpaths, and bridleways. Gravel bike specifically designed to perform on the road while continuing beyond where the tarmac ends.
Difference Between Road Bike and Hybrid Bike
To understand more the difference between a road bike and a hybrid bike, there are a few elements used to compare both, which are:
Frame Geometry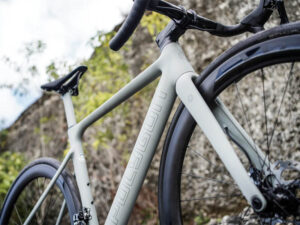 As we've been stressed multiple times, a road bike is designed specifically to perform speed, which benefits from the low and narrow aerodynamic positioning. Compared to a hybrid bike, a road bike frame has a longer top tube and reach from the saddle that causes a longer and lower riding position.
A hybrid bike, on the other hand, is designed for casual and comfortable upright riding positions making the frame comes off more rigid and less lightweight than a standard road bike. They also have a shorter top tube and reach from the saddle while keeping most of the rider's weight on the saddle.
Group set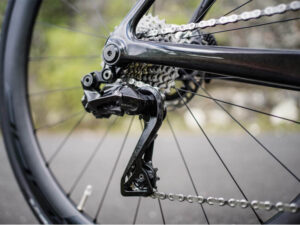 A road bike's parts differ from a hybrid bike. Road bike like Polygon Strattos S5 uses a Shimano 105 R7000, while hybrid bike like Polygon Heist 7 is manufactured with a groupset of Shimano Deore M5100. R7000 offers a supportive groupset that helps beginner road bikers to train and ride into a more serious race. Deore M5100 1X11-speed provides smooth control and reliable shifting.
Brakes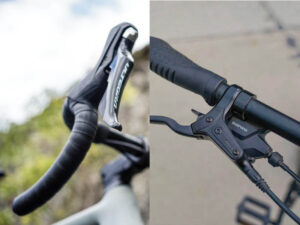 Most hybrid bike come with a hydraulic disc brake and a rotor which means more stopping power without having to put too much force, while a road bike sometimes comes with v-brakes, although the latest models are mostly manufactured with a disc brake too.
Wheelset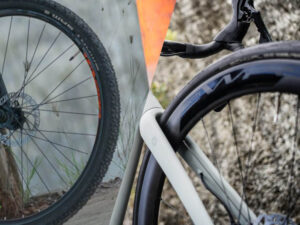 Although both bikes use the 700c standard wheel size, a road bike usually comes slicker and lighter, while a hybrid bike is usually wider and has less light than a road bike. A road bike tire pressure is around 80 psi to 130 psi, while the hybrid bike tire pressure is recommended to keep between 50 psi to 70 psi.
Handlebar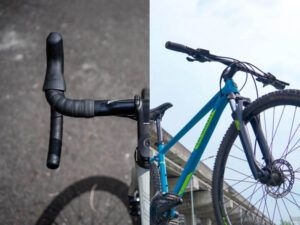 Road bike serves the purpose of being aerodynamic and fast, therefore designed with drop handlebars that allow the rider to cut through the air. The hybrid bike is designed for comfortable commuting, thus, having a flat handlebar that gives riders more upright riding positions, allowing riders to have a more relaxed riding experience if speed and being fast isn't a concern.
Conclusion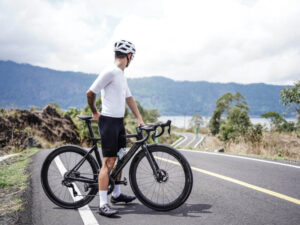 In terms of hybrid bike vs road bike speed, the road bike has a more aerodynamic design with a drop handlebar that allows riders to crouch down and reduces drag, resulting in a faster speed than the upright and comfortable flat handlebar found in the hybrid bike.
Talking about hybrid vs road bike for long distance, it might seem less comfortable as the crouching down positions of a road bike allows riders to go fast on the smooth surface but might probably strain the back for a long run. Meanwhile the hybrid bike can be more comfortable for a long-distance journey but can't go as fast and as aerodynamic as a road bike could.
Both bikes are great, but for choosing which is best to buy, you should consider your personal riding preferences. If you care more about being as fast as possible over a paved terrain, you will have to look for a road bike. If you want a more comfortable ride with a better grip on a little rougher terrain but still maintaining the fast speed, you can go for a hybrid bike.
If you are looking for the best road bikes high in quality, you can refer to the Polygon road bike that you can buy from Rodalink. Aside from road bikes, Rodalink also comes with a wide range of bicycles selections. You can consult with them to find the best bike that suits your riding style. Not only that, but you can also get the best equipment to maintain your bike through Rodalink.
If you purchase accessories, parts, and apparel from Rodalink with a value of SG$200, you will also get free shipping offers. You can also register to be part of the Rodalink community and get special deals reserved only for members.
By being a member of the Rodalink community, the more you purchase, the higher your tier and the more benefit you will gain. On top of that, every SG$1 of purchase are valued as 1 point that will last for two years starting from the purchase date. Every 100 points can be redeemed for an SG$2 purchase discount. Claim your benefit and purchase your dream bike at Rodalink immediately.