Have a hybrid bike and think about modifying some of its parts to enhance the performance? You probably want to start by understanding the different types of hybrid bike pedals. Despite every bike coming with built-in pedals, getting a more personalized pair that works best on you will change your riding experience to a different extent. Have an enjoyable read!
Type of Hybrid Bike Pedals
When we are talking about pedals, some people might shrug this topic off thinking any pedal will do as long as it can help to move the crank and get the bike going. But in all honesty, you might want to get your bike pedals replaced to one that is suitable for your riding style to get the bike to perform at its best.
For example, getting a clipless model for road bike pedals will maximize the rider's pedaling power and efficiency while mountain bikers will prefer the durable and flexible type of pedals found on the flat platform.
Then which type of the best hybrid bike pedals should a hybrid bike owner purchase and install on their bike? Here are some hybrid bike pedal options and models you might love to know:
Basic Hybrid Pedals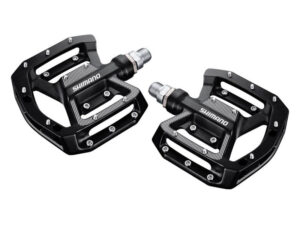 Also known as the entry-level hybrid pedals road bike based on its simple look. Designed with a serrated edge cage providing a good grip for both sides of the bike with the clipping bracket being put at the flipping side, enchanting grip by the bosses that positioned around the platform.
Get a sturdy grip with the replaceable pins which prevent your foot from slipping sideways when riding. It is also easy to engage the clip, just flip it around and you're done. Despite looking more suitable for road biking, this bike is also good for mid-level mountain bikes and hybrid bikes.
Pop-Up Hybrid Pedals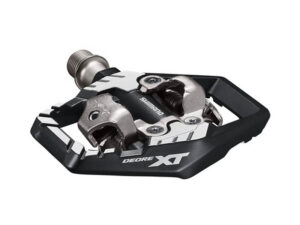 Consider this model as the most versatile hybrid bike pedals ever made. Using this type of pedal, riders are set free from continuously searching for a correct surface be it in bracket or non-bracket platform.
There's a slot that will cleat the shoe into the bracket and the bracket itself can rotate through 15 degrees—the normal rotation among hybrid pedals of this type is 12 degrees. The downside of this type of hybrid bike is you still need to pay attention when clicking into the bracket. However, some cyclists found this extra measure of convenience.
Popular Retail Pedals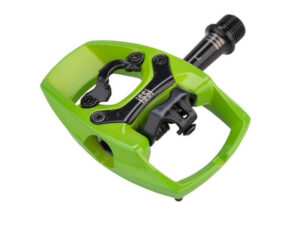 The performance-oriented hybrid bike pedals superficially resemble the clip-in body section of the standard clipless road bike pedals. The upper surface is designed to accept clipless shoe cleats, this model is having the rider's shoe sit on a platform while the traction is coming from four pins of the pedals.
The Advantage of Hybrid Bikes Pedals
Inspired by the definition of hybrid which means combining two elements and creating one new unit, hybrid pedals combine two opposed function models of a bike pedal and make it a brand new model. In general, a hybrid bike pedal has a flat surface on one side with a bracket to accept a clipless pedal cleat on the other side.
By having hybrid pedals, riders have the flexibility to access multiple functions in a pair of pedals. You can save some space on your budget to purchase two or more different pairs of pedals by purchasing one hybrid pedal. Pretty convenient for you who don't have enough time to keep changing pedals from time to time so it can support your different riding style.
To put it simply, having a hybrid pedal allow you to:
Choose what type of shoe you want to wear during your ride;
Use your hybrid bike in its full potential;
Ease tension to avoid injuries and avoid accidental falls out when in traffic.
What Are the Best Pedals for Hybrid Bikes?
Looking for recommendations to get the best flat pedals for hybrid bike or need a list of which platform hybrid bike pedals are more suitable for you in terms of usage and budgeting? You might want to have look at the lists below:
Shimano PD-EF202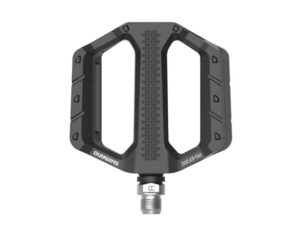 Everyone in the cycling world would agree that Shimano is on the top tier when it comes to quality. The PD-EF202 model is one of the most suitable hybrid bike pedals Shimano launched. This pedal features a wide aluminum body with a textured surface for a stable pedaling platform, specifically designed to be ideal for sporty leisure rides and commutes.
Despite being built-in stainless steel and aluminum, the Shimano hybrid pedal still offers a little less weight compared to other brands. Although the price tag for this pedal is slightly higher than some other brands, it is worth the price with the durable Chromoly steel pedal axle that requires lower maintenance and a broad platform for stability.
Entity MTB CT15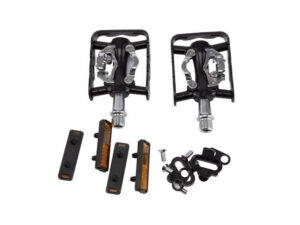 Looking for the pedals that will suit both flat and clipless shoes? This model of Entity pedals is your perfect option. Labeled as the best hybrid bike pedals, Entity MTB CT15 allows riders to adjust the clip tension so they can ease the pressure on their knees or avoid an unintentional fall.
Built with diecast aluminum, cartridge sealed bearings, an adjustable retention system, and a machine Chromoly axle, made it become a well-performing pedal for both mountain biking and daily commutes.
Conclusion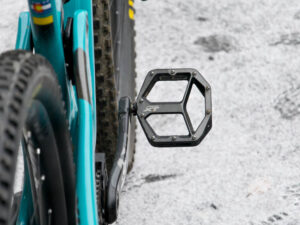 Hybrid pedals allow you to use both flats and clipless shoes and are a perfect choice for you who take a short commute with your bike yet still take a long trip ride once in a while. So if you are a commuter, bike packer, or simply someone who enjoys bike trips and kicking, you should consider investing in hybrid bike pedals.
Looking for a best-performing hybrid bike to invest in? You might want to take a look at Polygon hybrid bike, for example, the Path series if you are more into the road performing hybrid that can have a better grip on gravel paths, or the Heist series if you want a city bike with a soul of a mountain bike.
Most Polygon hybrid bike pedals are designed with a cage that will provide a unique anti-collision that will protect your feet from any kind of injury and a reflector which will ensure you are visible even when riding at night or in foggy conditions.
Get the original Polygon bike and bikes from other renowned brands from Rodalink. You will not only find hybrid bikes but also a wide range of bike selections. Besides bikes, they also provide accessories, parts, and apparels to complete your cycling journey.
Enjoy the free shipping from purchasing the accessories, parts, and apparels for SG$200. Buying it now and paying it later is also possible by using ShopBack as your payment method with 0% of installment interest. Hit the road as fast as you want by getting all of your cycling supplies at Rodalink.