Talking about bikes, no matter what type of bike you are going to buy, it is always best to find one with the correct sizing. If you are purchasing a bike from an official bike distributor, usually they will help you in finding the right hybrid bike size for height and weight along with arm, legs, and torso length.
But anyways, understanding how to get the measurement right will come in handy if one day you need to make an upgrade or replacement on some parts of the bikes. So get ready and enjoy your reading.
What is a Hybrid Bike?
A hybrid bike is a perfect combination of a road bike and a mountain bike. It has a lightweight and slick tire like a road bike except for the tire of a hybrid bike is threaded for a better grip over a gravel road or towpath. It also adapts to the durability and ruggedness of a mountain bike despite not being able to tackle rough terrain and extreme weather conditions as a mountain bike.
As a Singaporean, storage space often becomes an issue. While it will be best to get both road bikes and mountain bikes to ride for their specific terrain, it might be a nuisance if you are not having enough spacious places to store both bikes. Hence, this hybrid bike is a perfect option for commuter riders who still wish to enjoy a ride over light trail tracks during weekends or holidays.
How to Measure a Hybrid Bike?
Do you know the culprit behind the shooting pain in your neck, shoulders, and back post-riding? That's most likely because you don't get a fitting size for your bike. You have to understand that the bicycle is not one-size-fits-all. By means, different people will need different sizes of bikes to fit in.
Even people of the same height might fit different sizes of bikes because they don't have the same length of arms, legs, and torso. Getting the right-size bike will help you prevent numbness and injuries as well as reduce fatigue during the ride hence, increasing the comfort and making your ride more productive.
Determining a hybrid bike size is most likely similar to any other bike fitting. You measure the distance in inches from the center of the crank to the top of the frame where the seat tube is. Despite having the same lightweight and road-performing ability, sizing in hybrid bikes will be different from determining the fitting road bike according to the road bike size chart.
The sizing of the hybrid bike will run a couple of inches smaller in comparison to a road bike making it a little bit more similar to determining a fitting size of a mountain bike according to the mountain bike size chart. You need to know your height and inseam measurements to get the proper frame size fit for your hybrid bike.
Hybrid Bike Size
Choosing a bike size is kind of similar to picking clothes. The different manufacturers will have different sizing charts for their bikes. For you to understand it better, we will be using the Polygon hybrid bike size which you can see from the image below: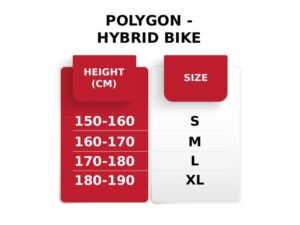 This Polygon hybrid size chart cm is to help riders, especially riders from Asia to measure their fitting size accurately. From there, you can see that riders with heights around 150cm to 160cm are recommended to get the S-sized bike frame while riders with 160cm to 170cm are recommended to get the M-sized frame.
Now comes a question, if the rider's height falls perfectly at 160cm no more or less, which size of bike should the rider be riding? If you refer to the hybrid bike size chart Polygon, you can either get the S-sized one or M-sized one, so how do you determine?
This is why you will need an inseam instrument for more accuracy. Although many people say that the rules of thumb are to get a smaller size as it is easier to adjust hybrid bike frames and make them bigger by raising the saddle or fitting a longer stem.
But again, either getting a smaller one or a larger one, should be up to your preferences. If you don't feel the reach of a bigger frame is exhausting and takes too much energy, getting a bigger-sized frame shouldn't be a problem if you wanted to.
The same things go for choosing a smaller size of bike frame. If you don't feel the distance of reach is too short and you feel comfortable during the ride, getting a smaller-sized frame will be fine.
Easy Method to Choose the Right Bike Size
Here is the easiest way to get your fitting bike size for a best hybrid bike size calculator:
Measure Your Height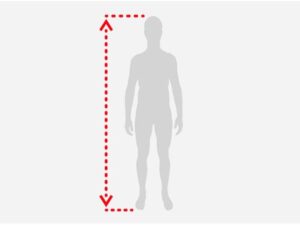 First, take off your shoe and get yourself to stand on a flat surface, upright against a wall with your legs together and shoulders back. Then, place a pencil on top of your head and hold it parallel to the floor to make a little mark on the wall.
Measure Your Inseam Length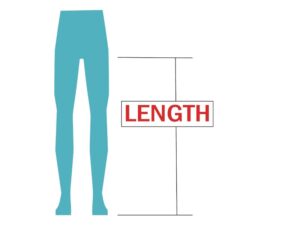 Take off your shoe and stand with your back against a wall then place a book or ruler between your legs at your crotch. Get someone to help you measure from the floor to the top of the book/ruler, making sure it is level.
Typically, a hybrid bike for men will be slightly different from a hybrid bike for women due to the tendency of women to have a shorter upper body frame in comparison to men. Nevertheless, they are usually sized in the same way.
The Polygon hybrid bike size chart, however, works for unisex sizing. But to get a better measurement, you can directly go to their official distributor store at Rodalink. There, you will be assisted by a professional team at Rodalink's one-stop cycling shop and get the perfect sizing that fits you best.
Despite being the official distributor of Polygon bikes, Rodalink also provides a wide range of bike selections from renowned brands as well as accessories, parts, and apparels. You can easily find everything you need to complete your cycling necessities at Rodalink.
The price offered by Rodalink for all of their products is also within an affordable price range despite having a bike built in high-quality material and components. Make the most out of your cash by purchasing at Rodalink, it will be worth it.