Can you differentiate between hybrid bikes and mountain bikes? Despite looking quite similar, both bikes serve different purposes on roads. If you need guidance on which to choose between a hybrid bike vs mountain bike, you have come across the right article because we will be explaining what differs between those two so you can determine which one suits you best. Enjoy the reading.
What are a Mountain Bike and a Hybrid Bike?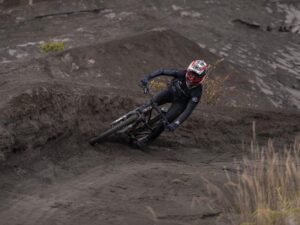 If you are asked to differentiate between road bike vs mountain bike, it shouldn't be a hard task for you because both have different looks. A road bike is using the drop bar handlebar while a mountain bike is using a flat bar handlebar. But what if you are asked to tell the difference between a hybrid bike and a mountain bike? Can you tell the difference?
Both mountain bikes and hybrid bikes share the same similarity in looks from the flat bar handlebars, wide tires, and the usage of disc brakes. On top of that, some types of hybrid bikes, for example, the Polygon hybrid bike Heist series, come with front fork suspension which is very similar to the hardtail mountain bike.
Although it is normal for both to be confused by commoners, both serve different purposes. A mountain bike is designed to tackle technical climbs and steep descents while the hybrid bike is designed to give a comfortable and efficient ride along the light trails and broken roads.
A hybrid bike has a design for a comfortable and efficient ride for town riding, commuting, and light touring with their stiff, strong-built, and comfortable on roads and relatively smooth trails like towpaths or forest trails.
A mountain bike has a design for more stretched-out riding positions for better handling position with their suspension and much bigger tire to grip and great handling on rougher off-road surfaces.
If you are thinking about a hybrid or mountain bike for child a hybrid bike is more versatile and helps the kids to grow their love of biking and experience a nice ride on both smooth surfaces and towpaths.
Mountain Bike and Hybrid Bike Components
To get a better understanding of the hybrid MTB differences, here is the breakdown of its components:
Frame Design and Riding Style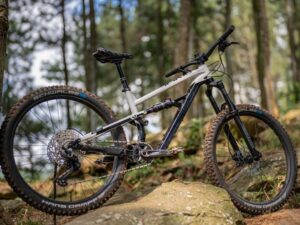 For mountain bikes, the frames are typically designed to offer great stability for technical trains hence it is a bit long and slack. It can soak up the rough conditions from roots to long sections with big rocks.
On the other hand, the hybrid bike is designed to be relatively stable in comparison to road bikes and has a nicer feeling of control with their flat handlebars yet is not perfect for off-road riding over rough terrain in comparison to mountain bikes.
Although arguably, the upright body positions are more comfortable compared to mountain bike, it doesn't distribute the weight to have good handling over unpredictable terrain like a mountain bike does.
For material, both Polygon mountain bike and hybrid bikes are made in the lightweight alloy material of advanced technology under strict quality control (AL6 for hybrid bikes and ALX for mountain bikes) which is guaranteed to be lightweight and more durable than any other alloy materials in the market.
Tires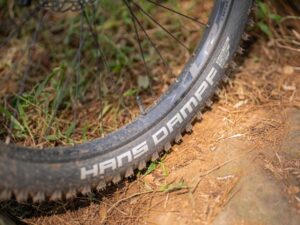 One of the easiest things to differentiate between the hybrid bike vs road bike aside from the handlebar is the tires. A hybrid bike comes with lightly treaded tires between around 32mm to 38mm in width that offer a more comfortable grip on the road compared to the 28mm road bike tire. While for the mountain bike, typically the tire is much grippier despite being typically slower with around 58mm of width.
Mountain bikes are specced with heavily lugged tires which is great for off-road riding although it might be slower and a little bit noisy on the tarmac. However, if the need for strong gripping of the ground type of tire is not your main concern, you can consider having the cross-country mountain bike as it is usually more light in weight and can roll faster.
A standard hybrid bike will balance speed on the road, comfort, and grip in dry off-road tire conditions while the cyclocross bike tire is more focused on rolling through muddy terrain. To optimize the performance of your bike and get the riding feel you desire, a rider can consider adjusting the bike tire pressure according to the weight and type of terrain you want to ride on.
Gears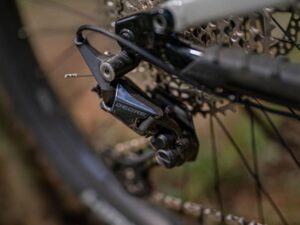 Most mountain bikes come with one chainring on the front and around 11 or 12 cogs at the back of it. Typically, it gives better chain retention, making the gear change more intuitive, and allowing the frame designer to be more innovative for the bottom bracket area because space isn't needed for a front derailleur and a bunch of sprockets.
Meanwhile, the hybrid bike tends to use double or triple cranksets but the gaps between the gears are not large. Although nowadays, it is easy for us to find a single chainring on a hybrid bike as such gearing offers easier usage and maintenance.
Suspension and Brakes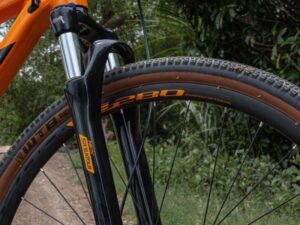 Most mountain bikes come with dual suspension except for the hardtail mountain bike which is pretty similar to some hybrid bikes with front suspension. The suspension in mountain bikes allows it to improve control while the suspension in hybrid bikes helps it to smooth out bumps and produce a more comfortable ride for the riders.
Both the Polygon mountain bike and the hybrid bike is equipped with hydraulic disc brakes which gives the bike a more powerful braking system and perform well in every road condition.
Difference Between Mountain Bike and Hybrid Bike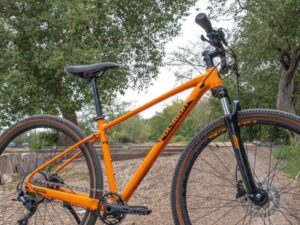 After reading the comparison of both bike components above, we can conclude that a hybrid bike is more lightweight and aerodynamic with slicker tires. It is fair to say when it comes to hybrid vs mountain bike speed over smooth terrain, the hybrid bike is on the winning side.
This is because the mountain bike comes with dual suspension and wider tires to allow the bike to have a better grip over rough terrain but at the same time, adding some ounce of weight to the bike.
When it comes to its usage for exercise, between the hybrid or mountain bike for fitness, all types of bike give different goal and result in term of keeping your body working out. For example, road bike encourages performance, designed for moving faster at higher speed while covering more distance hence, it is good to work on riders' cardiovascular endurance and overall fitness.
As for mountain bikes, they're keener to extreme kinds of sports which work more in riding technique and boost adrenaline. While hybrid bike can be good for cardiovascular workouts and can also be used for muscle work out. So depends on which type of sport you want to do, there are different types of bikes to support it.
Conclusion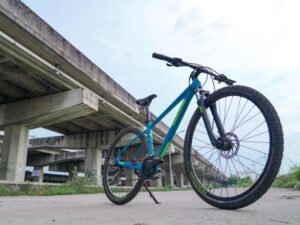 After reading our comparison between hybrid bikes and mountain bikes, instead of keep searching about hybrid vs mountain bike Reddit reviews, we hope you can already get a better visualization of what kind of bike you need according to your riding style.
A hybrid bike in general is good for daily commuting and can be used for a short escape to the trail track during weekends. To make it more understandable, a hybrid bike is a choice for casual riders who aren't going to be serious about either racing on-road or tackling the rough mountain track yet still enjoy doing both once in a while.
If you mainly use your bike for daily commutes yet want to try riding on Park Network Connector sometimes, consider getting yourself a hybrid bike. If you enjoy the ride on technical terrains more, think of investing in a mountain bike.
No matter which decision you make in choosing between a hybrid bike vs mountain bike vs road bike, it must be perfect if you can find your dream bike with high-quality components and affordable enough so you won't have to break your bank account.
We highly recommend you to visit Rodalink located at Jurong East and East Coast as the official distributor of Polygon Singapore because they have a wide range of bike selections from renowned brands with quality prices. Rodalink is the only official distributor that offers to deliver your bike in front of your doorstep in ready-to-ride form.
In other words, you don't have to struggle and find a tutorial on how to assemble your bike part by part since Rodalink's team will assemble them for you. You can also find other necessities for biking at their store, from accessories, parts, and even apparel. If you purchase non-bike products for around SG$200, you can get the items delivered to you without any additional shipping free. Happy cycling only with Rodalink.