A folding bike is designed to serve as a solution for places where space is limited; thus, it is very favorable among Singaporeans. We have seen many commuters going to work and places using their folding bikes, but are there kids folding bike for use? We will find out the answer through this article, so make sure you read it.
Introduction to Folding Bike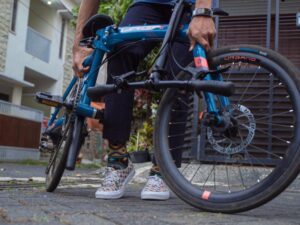 Folding bikes were first introduced in the United Kingdom in 1962 but were not growing until the 1980s. Throughout the years, the folding bike gained popularity, especially in Europe and some places of Asia, such as Japan, South Korea, and Singapore, where most people live in apartments with limited storage space.
Riding a folding bike for daily commutes is lifestyle changing since this vehicle is allowed to be carried on board when you have to connect your last trip using an MRT or bus. Besides, riding a bike to work does compensate for daily workout needs, offering a healthier lifestyle in high-speed-paced city life.
Is Folding Bike Suitable For Kids?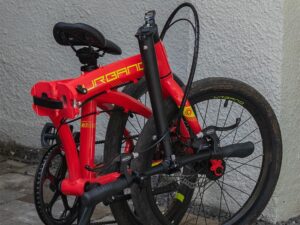 Generally speaking, a folding bike is suitable for any age. However, to be sure whether or not a folding bike is a kids bike, parents should have brought their kid to the Rodalink's outlet so you can get a valid answer.
The thing with folding bikes is, the most common size in the market is one of the 20-inches. Thus, you can't determine which one is a folding bike for 8 years old and which is a folding bike for 10 years old.
This is because you measure a folding bike's compatibility by the height of the riders, not the age. But even if there's a size of folding bike for kids, perhaps you might need to purchase a folding bike with training wheels as a package.
Usually, though, a folding bike like Polygon Urbano 5 is suitable for a rider at around 150cm to 170cm. The plus point, though, is that Polygon has an adjustable stem and seat post. You can lower the handlebars and seat post to make the bike fit your kid's size, so you might want to try Polygon Urbano 5 for your kid.
Advantage of Folding Bike
There are lots of advantages a folding bike can offer, such as:
Ideal for Commuter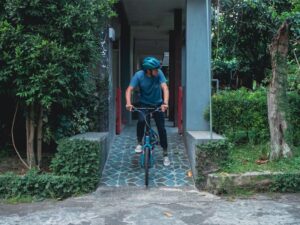 If you need to travel a certain distance to go to work regularly, a folding bike will be your lifesaver. By riding a folding bike, you can get to the MRT or bus station faster, and when you are about to switch to public transport, you can fold your bike down and bring it along with you on the board.
Space Saving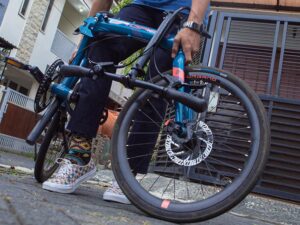 You also don't have to worry about where to park your bike since you can always fold your bike down and tuck it underneath your working desk. The same thing goes for solving the storage issue in your small apartment.
And if you ever have to travel around by car, you can save money from buying an additional bike rack since you can put your folding bike on the car's backseat or inside the trunks.
Light in Weight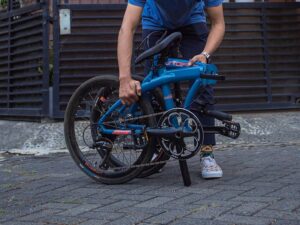 The folded bike is developed to be compact and easy to carry. Some of them are manufactured with carbon fiber, and others with aluminum/alloy. Both materials offer a lightweight; thus, you can carry your folding bike around without worrying it might strain your back.
High-Quality / Durable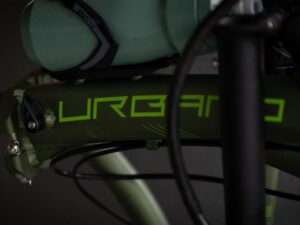 A folding bike is structurally strong and specially crafted to be more durable. For example, Polygon Urbano 5 is manufactured with an ALX aluminum frame which is light but incredibly strong. So, although it is easier to carry, it still is tough enough and can't break easily.
Ease Your Worry of Theft or Property Damage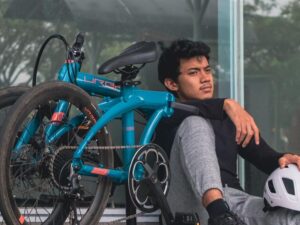 Although the cycling regulations in Singapore require you to lock your bike, a bike's lock can't offer much protection. By having a folding bike, you don't have to worry about theft because aside from being protected by a lock, your bike is also under your supervision most of the time.
No more anxiety about having your bike being stolen or getting damaged by a random, reckless person. This is also good for your mental health to know your property is always safe under your watch.
Polygon Folding Bike For Kids
It has been mentioned above that one couldn't determine whether or not a folding bike is suitable for someone over the age but instead by the height. Polygon Urbano 5 comes with adjustable stems and seat post and fits riders with a height of 150cm to 170cm.
It can be adjustable until it becomes a folding bike for teenagers or kids. But, you might need to visit Rodalink's dealer with your kid to have a consultation with professionals and get the best result.
Conclusion
As this article is written, there is yet a foldable toddler bike, but well, perhaps it will be available in the near future. Usually, a folding bike comes in 20-inches, although some manufacturers have a folded bike range in 16-inches and 24-inches.
Both Polygon Urbano 3 and Urbano 5 are suitable for riders between 150cm to 170cm. But it comes with adjustable stems and a seat post; the bike might be perfect for your kid. Rodalink directly asks for assistance and shopping for the right bicycle for you and your kid.
Rodalink provides a wide range of bicycles, so there might be a perfect bike for your kid. Or perhaps, the professional team can make a slight adjustment so the folding bike can be suitable for your kid.
Aside from a wide range selection of high-quality bicycles, you can also find various bike accessories and parts at Rodalink. You will also get free shipping if you purchase the non-bike items for SG$200. Frequently check Rodalink's online web store for a limited special promo or become part of the Rodalink community to get exclusive deals.
Visit Rodalink and get an excellent shopping experience with lots of beneficial offers and quality services.