Popular in most countries of Asia, especially Japan and South Korea, Mini Velo is the solution for the necessity of storing personal mobility devices in a compact apartment. Do you know that "Velo" is the French word for "Bicycle"? Like its name, Mini Velo is a bike with a mini wheel. So how is the mini Velo frame size estimated? Find out your answer throughout this article.
Mini Velo Overview
So what's a Mini Velo? As told during the introduction, Mini Velo is a full-size bike with a small wheel, usually coming with a 20-inches wheel. This Mini Velo is popular among most Asians, especially those who live in a country where free space for storing a vehicle is limited. This bike can easily fit in a closet or under the stairs.
For the portability reason, the frame of the Mini Velo is usually composed of lightweight material like Alloy Aluminum, Carbon Fiber, or some manufacturers may have used Titanium.
A typical Mini Velo usually comes with a 20-inches wheel and usually has a shorter wheelbase than any full-size bike. Technically, Mini Velo is quite similar to a folding bike, except there are no hinges and clamps found installed at Mini Velo's bike frame.
Mini Velo Size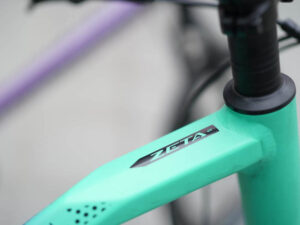 Talking about the size of Mini Velo, as mentioned before, the most common type we have ever seen is one with a 20-inches wheel. As for the frame, it usually is manufactured just like any full-sized bike's frame except with a lower wheelbase to match its wheel size.
Different manufacturers might have various Mini Velo size charts. Polygon's Zeta 2 version of Mini Velo comes in all sizes that suit riders with a minimum height of 150cm and a maximum height of 170+cm.
Typically, a one-size for all model will be built with an extra stem, handlebar, and seat post adjustment to accommodate the adult user.
Mini Velo Best Frame Size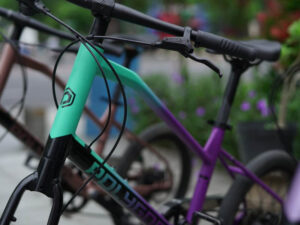 Once again, different manufacturers may offer different frame sizes, but they usually come with a more petite frame to enable users to store them easily. They are rarely more significant than 51cm.
Mini Velo Polygon itself comes with a 20-inches frame. If converted into centimeters, then it has 50.8c centimeters ≈ 51 centimeters.
Mini Velo Weight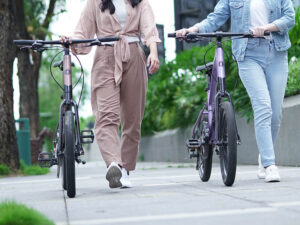 Since the material used to manufacture the Mini Velo Bike is either Aluminum, Carbon Fiber, or Titanium, it tends to be lightweight. It just perfectly fits the concept of Mini Velo itself, which is compact. Polygon Zeta 2 is manufactured with AL6 Alloy with a weight of about 12 kilograms making its user easier to carry them around.
Mini Velo, Folding Bike, and Road Bike. Which is Better?
Now it comes to discussing the best option between Mini Velo, Folding Bike, and Road Bike, which one is better? All three types of bikes have their specialty as well as the downside. Here's some insight about those three in comparison of need:
Mini Velo or Folding Bike?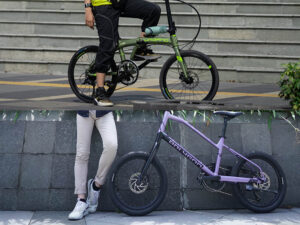 First, we will start with what to choose between Folding Bike vs Mini Velo. Initially, both are the best option for most Singaporeans who prefer a mobility device that won't take up too much space in the room.
In terms of portability, a Folding Bike is more convenient to store since the user can fold the bike down and tuck it under the desk or just anywhere. However, the foldability of a folding bike also adds a few ounces of weight to the bicycle. So, if you don't need to have your bike folded, then a Mini Velo is a better option. Besides, Mini Velo usually has more component options and better riding quality than the folding bike.
Mini Velo or Road Bike?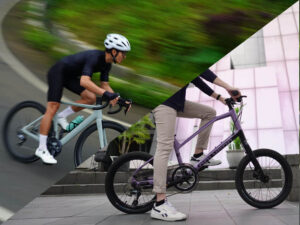 In terms of speed for a ride in urban areas, both Mini Velo and Road Bike can be the best option. But in terms of size, most road bikes come with a 700c or 29-inches wheel. This makes Mini Velo more compact to store and easier to carry around. For the pricing also, you need to add an extra few hundred dollars. So for Mini Velo vs Road Bike, a Mini Velo will be a better choice for urban riding.
Conclusion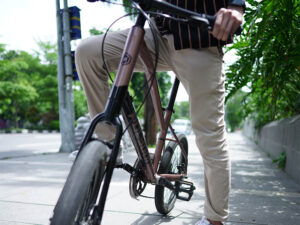 Mini Velo is one of the compact personal mobility options aside from folding bikes. Usually, they come with a 20-inches wheel, and the frame sizing is one-for-all-size that is suitable for a rider with a minimum height of 150cm and a maximum of 170+cm (users with a height of 180cm or above may need some adjustment for a better riding experience).
Are you looking for a great Mini Velo Bike brand? Let's look at Polygon Zeta 2, one of the fastest Mini Velo with a stylish frame and ergonomic design. This bike is equipped with fender-ready mounting, which ensures you will have a splash-free ride during the rainy season, and a carrier-ready mounting that may come in handy when running an errand.
If you think a standard Mini Velo is not fast enough, then Polygon also has another type of mini Velo e-bike called Gili. No matter which one you prefer, you can get the original Mini Velo bike at Rodalink. Aside from the wide range of bicycles, you can also find any accessories and parts that you may need to complete your cycling journey.
All you have to do is register on Rodalink's online web store and make a purchase. You will have your ideal Mini Velo delivered to you in a ready-to-go form. You can also claim free shipping for every accessory and parts purchase that exceeds SG$200. There won't be any better offer than to purchase your cycling needs through Rodalink!