Mountain biking is fun and intimidating at the same time. To perform mountain biking, you must have more skill than performing road cycling. Here are some mountain bike beginner tips that will help you choose the right bike for your mount biking journey.
Mountain Bike Set Up
Before setting up your bike, there are lots of things you need to take into consideration, such as your body dimension and personal preferences. The few factors you need to think through are:
Setting Saddle Height and Positioning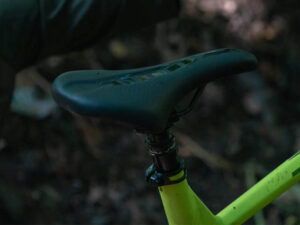 This one crucial part determines how comfortable your ride is going to be. By having the correct saddle height setting, you can get the proper seating position that will help you in climbing and descending.
Riding positions is one of the "things I wish I knew when I started mountain biking." You have to note it. During the climb, position your seat for maximum efficiency while pedaling. To pedal efficiently and use your major leg muscles in full power, you have to reach about 80% to 90% of full leg extensions.
When you are going to descend, make sure to lower your seat from the climbing position by two to three inches, as it helps you reduce the center of your gravity and give you better control and confidence riding through a steep descent.
Tire Pressure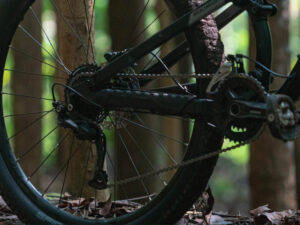 Each biker will require different tire pressure on their bike. This is why you need to calculate the best tire pressure suitable for you based on your weight and the condition of the trail you plan to ride on.
You need to understand that your tire should be able to grip on the ground and absorb impacts and couldn't fold under pressure. If you are still confused about setting your tire pressure, you can follow the mountain bike tire pressure chart prepared by the manufacturer as your guide.
Suspension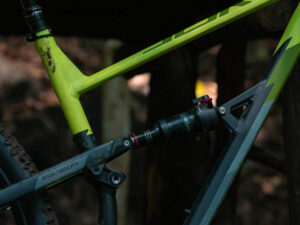 Another thing determined by bikers' weight is pressure and sag. Each manufacturer usually has a guide for setting the rebound and compression that you can follow.
Maintenance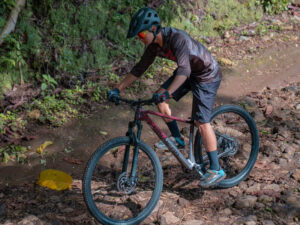 Always take your bike to regular maintenance services, frequently wash them up, especially after riding it on muddy terrain or under a rainy day, and make sure the chain is well lubricated after every wash. Except for keeping your bike clean, a regular wash will make you able to examine your bike better.
Braking
To avoid skidding, please prevent a sudden fast squeeze on your bike's brake. Make sure you pull the brake before hitting the turn to let the momentum carry you through. Please note that a controlled momentum can help you get through tricky terrains. This is one of the mountain bike skills every beginner should understand.
Mountain Bike Gear Set Up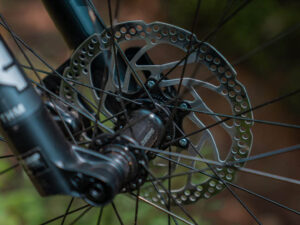 Don't forget your helmet! A helmet is the most critical mountain biking beginners gear you can't forget to wear—to be fair, even a pro biker should never hit the road without wearing their helmet.
Following a helmet, you will need a knee pad to ensure you don't break your knee cap if you fall. A pair of padded gloves will save your knuckles when you accidentally "punch" the tree, and you will thank your body armor for saving your money from exorbitant hospital charges.
You can get a quality gear setup through Rodalink. For the essential protection gear, you can try Bell 4Forty Mountain Bike Helmet, which manufactures with MIPS standards that will ensure to reduce rotational forces; it is a minimalist and lightweight helmet with an easy-to-tun rubber over-molded dial along with an adaptable visor system. This helmet is worth having.
Tips for Beginners to Mountain Biking
After setting up the bike and preparing for mount biking gear, it's time to learn how to go mountain biking:
Learn How To Let Your Body Stay Loose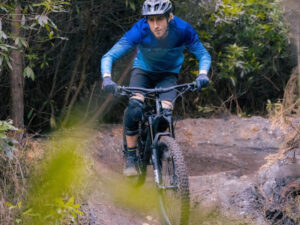 If you want to have easy control over your bike and have smooth riding, there are only two things you need to do: lower your chest to the handlebars to keep your elbow and shoulder loose and let your body move independently by keeping your knee spring and wide.
Shift Early and Often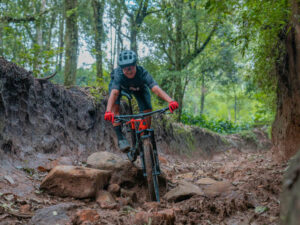 Mountain biking beginner mistakes that often happen is gearing too hard to boost power for climbing. Seriously, don't try this. You do the shifting before the incline starts, not during the climb, because it might crunch your drivetrain, cause a chain drop, or even worse, break your derailleur.
The same thing goes for descending; shift into harder gear to make sure your leg isn't spinning when you get to the bottom of the hill.
Tag A Better Rider Along With You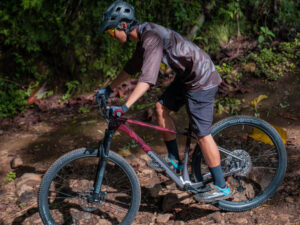 Riding in a group is fun, and you will get a bonus if you ride with a group of better riders because that pushes you to be better, too. You will get the chance to watch how skilled riders move their body and bikes; you can't miss out on this learning opportunity.
Aside from that, riding the right bike over a specific terrain can boost your mountain biking experience. If you enjoy riding on singletrack or over a bike park with more technical paths, it consists of some incline and descent. You should try our Polygon Siskiu T8 that comes with Shimano FC-MT510-1 BOOST 32T crankset, delivering a precise and reliable shifting for 1 12-speed that will provide riders a smoother riding even through rough terrain.
Mountain Bike Technique for Beginners
Once you have already gotten used to the basic skill, you can go for more technical training. Instead of searching for beginner mountain bike Reddit answers, here are some tips from the skill coach of USA Cycling and the Olympic mountain-bike team; Marc Gullickson and Shaums March:
Building Base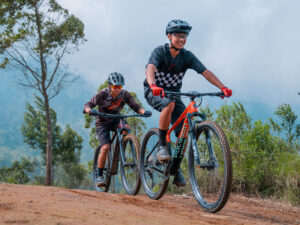 Before leveling up for mountain biking tips for intermediate, such as working on speed and intensity, you will have to develop an essential skill of fitness and endurance level. The purpose is to build your body so it can handle higher-intensity workouts.
You need to ride three to four times a week for one to two hours and make sure you consume high-quality food and electrolyte drink during this training.
Add Intervals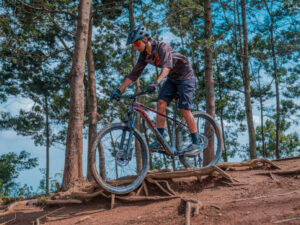 Passing the four weeks of base building, you will have to add intervals of 30 minutes warm-ups, added by 5 seconds intervals of intense efforts, followed by 10 to 20 seconds of rest. Repeat for two weeks.
Master the Basic Front Wheel-Lift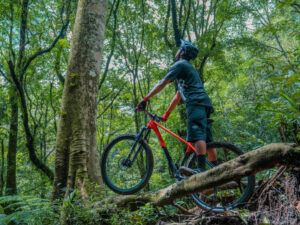 To overcome midsize obstacles, there are three basic steps you have to master, such as:
Loads: load the handlebars with your upper body and bend down your elbow aggressively;
Explode: straighten your arms explosively once the shock rebounds;
Lift: bend your arms and lift the handlebars while raising the wheel even higher once your front wheel leaves the ground.
Conclusion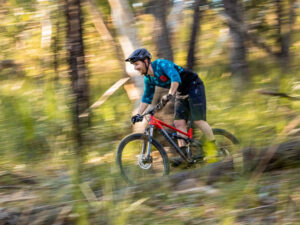 There are some mountain bike tips and techniques we hope you can take the time to learn to feel the fun in mountain biking real soon. How to ride on mountain biking terrain is different from riding a mountain bike on the road. The road terrain is smoother, unlike the trail of mount biking full of rocky, rooty singletrack that requires technique to conquer.
Ready to start your mountain biking journey? Don't forget to bring your bike for regular maintenance and prepare the mount biking gear. You can visit Rodalink for both purposes as Rodalink has a one-stop cycling shop that will help you maintain your mountain bike and provide a wide range of cycling accessories and parts.
You can also claim free shipping for every non-bike with minimum spending of SG$200. Such benefits are only available on Rodalink, so don't miss out on this great deal!