Aside from the bike frame, a brake is one of the most important components of a bike. Considering that mountain biking is an activity that is done in more challenging terrain, riders are required to be more crucial when picking their mountain bike brakes.
As the community of cyclists keeps growing and bike riding has been one of the most popular activities in recent years, there are plenty of brake options that each of its manufacturers claims to be the best mountain bike brakes. Varieties of options often put people in a dilemma and don't know which is best to be purchased.
But worry not because here we will be writing a little bit of information about mountain bike brakes in the hope it will help you easily think over your buying decision. Without any more introduction, here is the information you needed.
What is a Mountain Bike?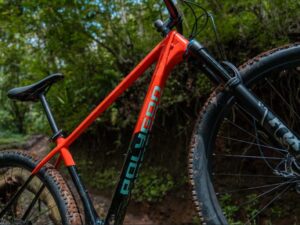 Generally, a mountain bike shares similarities with other bicycles except it incorporates features designed to enhance the durability and performance in rough terrain, making them a little bit heavier, more complex, and a little less convenient to be ridden on smooth surfaces. This is not surprising though, because we all know that a mountain bike is supposedly being ridden off-road.
There are four types of the mountain bike, known as:
Cross-country mountain bike;
Trail mountain bike;
Enduro mountain bike, and;
Downhill mountain bike.
What Mountain Bike Brakes Are?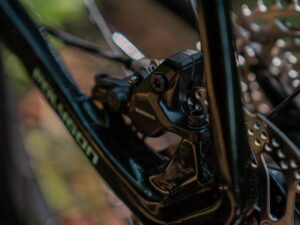 Talking about mountain bike brakes, three types of brakes are commonly seen on mountain bikes despite only one being the most considered by majorities of riders which is the mountain bike disc brakes. Nonetheless, it is still necessary to introduce all the three of them to you, so here they are:
Coaster brakes: also known as backpedal brakes were once being used by the manufacturer when building the very first mountain bike;
Rim Brakes: rim brakes having a few varieties being V-Brake, U-Brake, or Y-Brake that use two pads on either side of the wheel to grab the rim before slowing down the bike;
Disc brakes: come in two categories: the hydraulic and mechanical braking systems.
Talking about rim brakes, it is not quite popular among mountain riders as their consistency is challenged during the rainy season or when being ridden in quite muddy areas. A rim bike is more suitable for a road bike user.
Mountain Bike Brakes Type
We have talked briefly about the few types of brakes in the paragraph above. But to make it easier for you to decide which is the best MTB brakes 2022, we will be listing down the pros and cons of each type of mountain bike below:
Disc Brake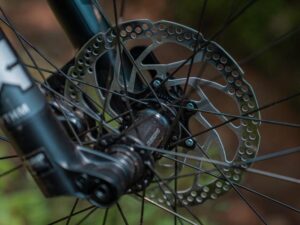 A mountain bike often uses a disc brake as its braking system. The pros and cons of the disc brake can be seen in the following table:
| | |
| --- | --- |
| Disc Brakes Pros | Disc Brakes Cons |
| Consistent performance, doing well in adverse weather and conditions | Heavier than any other type of brakes |
| Powerful braking | More expensive |
| The most efficient brake compared with other types | Need a technical knowledge for maintenance |
| Long-lasting brake pads | Reducing aerodynamic performance |
As for the disc brake itself, typically being divided into two variants, such as:
Hydraulic Disc Brake
This type of brake utilizes the piston-cylinder system which is filled with fluid, similar to the brake used by cars or motorbikes. Hydraulic disc brakes in general offer a more powerful braking system and are said to be the improved modulation over mechanical brakes.
The hydraulic disc brake is one of the most expensive mountain bike brakes but at the same time offers a top-tier braking system. Examples of the best mountain bike hydraulic brakes are those from renowned brands like Shimano Deore, Shimano Saint, and Shimano XT.
Mechanical Disc Brakes
Mechanical disc brakes use a steel cable to process a pull on the brake lever into a pull on the caliper at the disc. Speaking of price, a mechanical disc brake will cost less than a hydraulic disc brake with a minimal weight difference between both.
Rim Brakes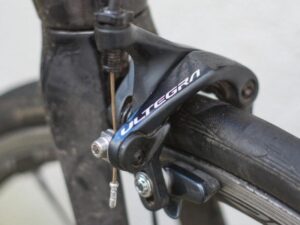 In the earlier days before the use of mountain bike hydraulic brakes—or disc brakes for a mountain bike in general—, bike manufacturers were using rim brakes as the braking system for a mountain bike. However, after the discovery of a disc brake, the popularity of rim brakes for mountain bikes started to dim. The pros and cons of rim brakes are explained in the table below:
| | |
| --- | --- |
| Rim Brakes Pros | Rim Brakes Cons |
| Rim brakes cost cheaper compared to disc brakes | Stopping power isn't as powerful compared to a disc brake |
| Require a simple maintenance | Not very ideal for wet weather and conditions |
| Easier to find it's replacement parts | Built-up heat faster |
| Less strain on the bike wheel | Require regular replacement |
Coaster Brakes
The coaster brake is one of the unique types of a brake. To stop the bike from moving, riders with coaster brakes installed on their bike need to pedal backward. Pros and cons of using coaster brakes are:
| | |
| --- | --- |
| Coaster Brakes Pros | Coaster Brakes Cons |
| Simple to use | Less powerful compared to disc brakes |
| Less strain on the bike wheel | Easily gets overheat |
| Narrow design | Tend to skid |
| Backward coasting capabilities | Greater learning curve |
Brake Components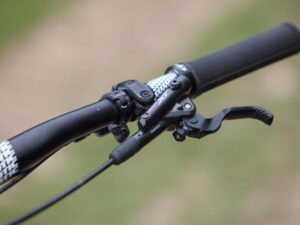 After knowing about different types of bike brakes, now it's time to get to know what four components build the MTB brake set, they are:
Brake lever

;
Brake unit;
Rotor (in disc brake).
Conclusion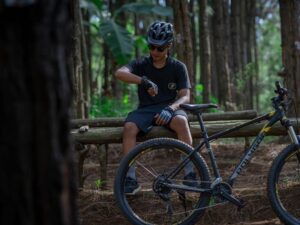 A brake is one of the most important components of a bike aside from the frame as it allows the riders to slow down and even put the bike to a complete stop. The most common brake type found in mountain bikes is the disc brake like Shimano hydraulic brakes for example.
The reason is that a disc brake has a more powerful braking system and performs well regardless of the weather or road conditions which are perfect for mountain bikers who often ride their bike for off-road activities in more challenging terrain.
Are you looking for a well-performed mountain bike hydraulic brake? We will love to recommend the Polygon mountain bike to you. Polygon is a well-known brand which had been in the industry for 33 years that offers an extensive range of high-quality bikes with leading-edge technology that will help riders to take their riding to the next level.
Most Polygon mountain bike brakes systems are built with Shimano braking system—even the groupset. Their design is also neat and stylish and their pricing is considered pretty affordable with the system it offers.
If you want to know more about Polygon bike, you can visit their official distributor at Rodalink. Aside from the Polygon bike, Rodalink also has a wide range of bike selections from renowned brands, bike parts, accessories, and apparels.
You also don't have to worry about how to assemble your bike because by purchasing from Rodalink, you will have your bike delivered in front of your doorstep in ready-to-ride form. Rodalink also has a partnership with ShopBack, a payment system that allows you to buy now and pay later with a 0% of installment fee. Ease your worry, get your cycling necessity only at Rodalink.