Mountain biking has been not only part of sports activities but also a hobby for many bikers. For some, there's nothing more healing than hitting the road with their group of mountain biking friends during the weekends. If you are also up to this activity, make sure you have all the mountain bike equipment packed before starting the ride.
What is the must-have equipment you need to bring along during mountain biking that will boost your mount biking experience to the maximum levels? When is the best time to use this equipment, and why are they essential for mountain biking activities? Find your needed answer through the reading of this article!
Mountain Biking Must-Have Equipment
There is no other feeling better than getting a short escape by biking to a mountain track along with your best friend as a way of vacation. Are you new to mountain biking? Even if your answer is "yes," don't worry because, after this, you will understand which mountain biking equipment for beginners that are essential to bringing along during the rides. Here is the list:
Mountain Bike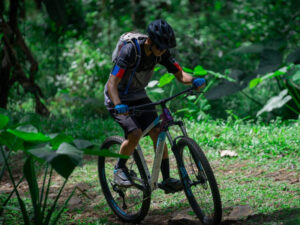 It's a mountain biking activity; of course, there is no other thing more important than the mountain bike itself. You have to make sure you have the right mountain bike suitable for the terrain you're riding on. Choosing the wrong type of bike will reduce the excitement of your mountain biking activities and make things harder for yourself. Generally, there are five types of mountain bikes, and their intended usage, such as:
Cross Country Bike
If you are more into a flat and long-distance trails ride, then you will only have to bring your cross country bike for a better riding experience as it is more lightweight than a full-suspension bike
Trail Bike
If you love a long-distance trail with an enjoyable downhill track, then instead of a cross country, a trail bike will do a better job.
Enduro Bike
This type is suitable for you who enjoy a mainly downhill ride but still wish to be able to pedal uphill.
Downhill Bikes
If your riding includes a gondola ride uphill then riding down along the way with a bike, then this type of bike is more suitable to bring along.
The most crucial part is no matter which terrains you go for and which kind of bike you bring, make sure that the bike already gets its regular maintenance service to avoid the bicycle being broken in the middle of the ride and having you carry it away back home.
Type of Helmet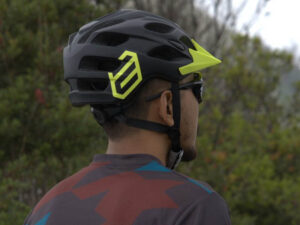 For safety assurance, every biker is warned to wear a helmet during their ride. There are plenty of helmet options that are suitable for various disciplines of mountain biking. By choosing the fitting helmet, you will be fully protected without getting overheated or feeling uncomfortable. There are three types of helmets you can choose such as:
XC helmet: an open-faced helmet designed to be lightweight and offer maximum ventilation. A perfect choice for riders who like to ride long distances without too many obstacles on the terrain;
Trail/Enduro helmet: an open-faced helmet that offers more protection around the back of the head area. This type of helmet usually come in less ventilation than a standard XC helmet;
Downhill helmet: a full-face helmet that offers maximum protection and looks like a motocross helmet, except this helmet is lighter than a regular motocross helmet—a perfect choice for downhill riding but not the right choice for cross country or trail riding.
Before pedaling, make sure that your helmet has already been fastened correctly to avoid any unwanted injury because you don't attach your helmet the right way.
Mountain Bike Gear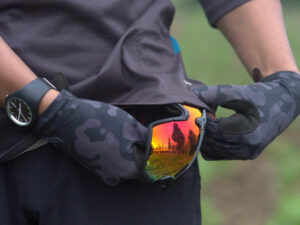 After talking about the two essential pieces of equipment to prepare before mountain biking, now it's time to talk about the mountain bike gear set you have to prepare. Initially, there are four core gears that you can't skip, such as:
Hydration pack: one of the best mountain bike gear you have to bring during a long-distance ride. The insulated bag is excellent for keeping your liquid to stay chilled. Pretty much easy to store, but make sure you only fill it with pure water;

Gloves

: essential to help you firmly grip on the handlebars and protect your hands. Make sure you choose the gloves that suit your track in the correct size;

Eyewear

: a crucial thing that will keep your eyes safe from UV rays, rain, mud, and any other particles that might make your eyes irritated. Considered as one of the mountain bike protective gear you can't miss to wear;
First Aid Kit: the most recommended item to bring during the ride in case you need some antiseptic wipes or your friend suddenly needs to use plasters.
Tips Best Equipment for Mountain Biking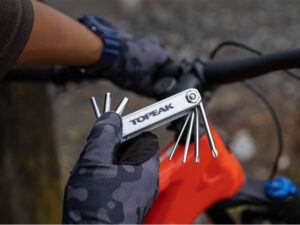 Now that you already get the list of both essential equipment for mountain biking and the must-prepared mountain bike gear setup, it's time to wrap up your preparation by adding some other stuff you might also need during the ride, such as:
A simple bicycle repair kit that includes the basis of an extra tube, tire levers, a mini pump, a patch kit, multi-tool for bicycle, and some extra cash just in case you need to bring your bike to a workshop for extensive services;
Comfortable mountain biking

shoes and clipless

pedal to power the bike and ensure a secure pedaling;

Knee/elbow pads

and comfy

mountain biking clothes

will protect you and minimize injuries like scratches, bruises, or cuts.
Conclusion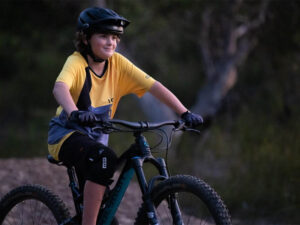 Rather than a professional sport, mountain biking has now become a refreshing activity that many bikers love to do during their free time. To boost your mountain biking experience, it is just right to make sure you're fully prepared and have all the essential equipment packed before starting the ride.
Make sure your bike is in the best condition before riding it. Check the tire pressure, lubricate the chain, and make sure the mountain bike gear shifter is working well to prevent unwanted conditions such as being forced to walk miles back home.
Get all your mountain biking equipment through a trusted mountain bike gear shop like Rodalink. Aside from choosing a suitable mountain bike for your journey, as Rodalink comes with a wide selection of high-quality bikes, you will also get to select all needed equipment for mountain biking preparation.
You can also become part of Rodalink communities with a free membership registration to get their special deals and offers, as well as a special service fee. If this offer is not beneficial enough, Rodalink also offers free shipping if you've purchased bike accessories and parts for SG$200. You can never find any other outlet with so many special offers aside from Rodalink. So, make sure to check out Rodalink right now.