Having a comfortable ride is a wish of every cyclist, especially those who spend a long amount of time on top of their bike, like a mountain biker, for example. With various options being exposed to you on the market, finding the perfect mountain bike saddle that is tailored to suit your riding style might be a little bit confusing.
However, you can say goodbye to your dilemma the moment you came across this article because we will be giving you brief information regarding a bike saddle as well as tips on how to find the best mountain bike saddle that you will fall in love with. So make sure you don't miss a single point from this article and enjoy your read.
What is a Mountain Bike?
Mountain biking is a kind of sport that happens to be an extreme activity throughout the late 1900s and early 2000s. A mountain bike is a vehicle specially designed to allow its rider to go for off-road riding with enhanced durability and a maximized performance on rough terrains.
The first-ever mountain bike was manufactured like any ordinary road bike with differences in broader frame and fork so it can have a wider tire. As time passed, mountain bikes in modern days have been purposely built using the developed new tech with the hope that they can deliver incredible fun rides and boost riders' confidence in every different type of trail.
Bike Saddle Anatomy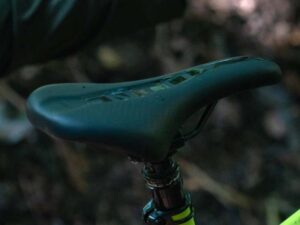 We think that every rider should agree that having the right saddle offers so many benefits especially when you have to go for a long-distance ride. But before talking about how to find the most comfortable mountain bike saddle, you will need to know what makes a saddle.
Generally, a saddle is divided into four parts such as the shell, the padding, the cover, and the rails. A saddle's shell is usually made from hard plastic or carbon fiber depending on the budget you are willing to spend.
The padding of a saddle is the most squishy part between the shell and the cover. Myth has said, a paddy saddle is the best MTB saddle for long rides. Well, a myth should stay as a myth, we guess.
The saddle covers are either made of leather, synthetic materials, or a combination of leather with reinforced Kevlar corners. As for the rail, it is usually made of alloy materials.
Various Saddle Type
Let's get to know the various types of a bike saddle, they are:
Road Bike Saddle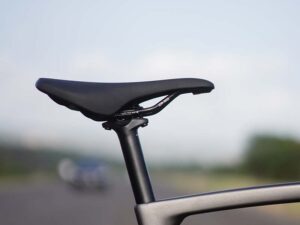 For a road bike, the saddle usually has a narrower and streamlined design. The purpose of this type of design is to aid the most efficient transfer of power. Considering the characteristic of a road bike is being fast and aerodynamic, it is not surprising if a road bike saddle is usually made of lightweight materials like carbon fiber.
Road saddles can shift your body weight forward into more aggressive positions so your weight will be distributed more into your hands and feet rather than the saddle itself. The trait of a road bike saddle is thinner, harder, lightweight, and stiff.
Mountain Bike Saddle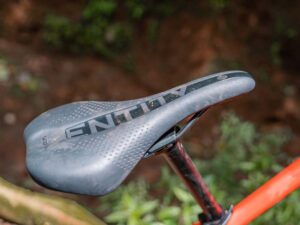 The design of a mountain bike saddle is small with a decent amount of cushioning to aid maneuverability and provide comfort for the sit bone on bumpy terrain. Usually, a mountain bike saddle is flat across the top and built with reinforced sticking and panels that will protect the saddle from wear or tear from falling and extreme conditions. Some might flare out at the rear tail for specific sitting positions.
Briefly about mountain bike saddle reviews, it usually comes with pressure-relieving channels for longer rides while saddles with flexible edges help to prevent soreness as well as reduce pressure. To prevent damage in a crash, it usually has tougher material at the edges although using a classic leather or faux finish as the cover is also common.
Now back to the padding as we have slightly mentioned above, more padding does not make a more comfortable saddle. Although you will unlikely find a mountain bike saddle without any padding at all, it is also uncommon to find professional saddles having more than a couple of millimeters of padding.
But of course, additional padding means an additional weight making the comfort saddle come in more weight compared to any performance, road, and mountain bike saddle. For the additional padding, it comes in two types: gel padding and foam padding.
Tips on Choosing Perfect Saddle
Women Specialized Saddle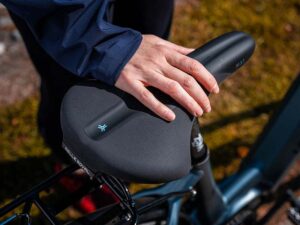 Considering female anatomy where the pelvic bones are usually a few millimeters wider compared to the male pelvic bones, using a male saddle for females might lead to soft tissue compression issues. Hence, the best women's mountain bike saddle is built with a gap between the saddle to protect the female's perineum and provide airflow during a long ride.
Tips on Choosing the Perfect Saddle
Here comes the main topic of this article. Some people recommend the WTB mountain bike seat as the better fit, but you have to remember that different people will have different needs so make sure you have read the following tips before deciding to make any investment.
Find Saddle with the Right Shape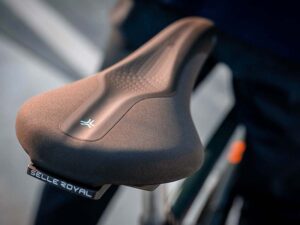 One of the reasons why there are so many types of saddles available on the market is because each rider will have different needs when it comes to a comfortable saddle. For example, a female rider will usually find it more comfortable to have a women's specialized saddle that is wider and specifically designed to suit the anatomy of a female.
A downhill rider will have another kind of saddle than a specialized MTB saddle that is made for the rider who seeks lightweight in a saddle or a road bike saddle that is made for riders who have to sit for hours in a row.
Consider Your Riding Positions and Flexibility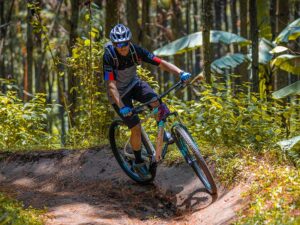 To do this, you will have to try sitting on the ground and see how far you can reach with your hands. If you feel you are struggling to reach forwards, it means you are less flexible. People who are less flexible in general tend to shift around on their saddle during the ride hence, a rounded shape saddle is more suitable for this kind of rider.
If you can reach your toes in that ground sitting position, it indicates that you are very flexible therefore, you will find more benefits if you are choosing a slightly curved saddle. Last but not least, those who manage to come around halfway reach are considered flexible which has a more stable position on the bike and most find it more comfortable on a flat saddle that provides more freedom of movement.
Set the Saddle to the Right Height and Positions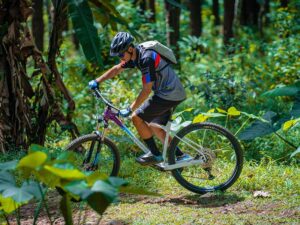 Having a perfect saddle alone is not enough. You will have to ensure it is settled on the perfect height to gain the ultimate comfort. Consider buying in a bike store that offers professional assistance to help you get the fitting bike saddle. You will also have to ensure that your saddle is in a horizontal position and the nose is not pointing too far up or down so you can avoid discomfort in certain undesirable areas of your body.
For example, you can go to the official dealer of Polygon bike: Rodalink. They got a professional team that will gladly assist you not only to get a perfect fitting on the bike but also assist you to find the best bike and saddle.
Conclusion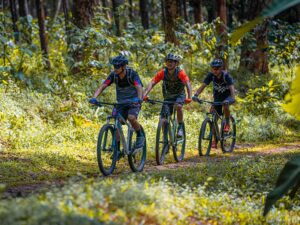 Before the adaptation of the dropper post, the bike saddle was a relatively static component. However, bike manufacturers in recent years have built a bike that allows the saddle to move up and down numerous times every ride depending on the movement made during your ride. A little TMI for riders, this dropper post features also adapted to the manufacturing of Polygon mountain bike.
Anyways, we have mentioned women's specialized saddles which are specifically designed considering the anatomy of women's pelvic. Before male riders start to feel unfair, we would like to inform them that there's also a saddle that is specifically designed to prevent male riders from feeling discomfort.
The saddle is designed with a hole in the center of the seat, leaving that area pressure-free so that the prostate area is relaxed. Whether you are looking for the best mountain bike saddle for prostate, the best Polygon mountain bike, or just both the best saddle and well-performing mountain bike, you can directly visit Rodalink.
Rodalink as an official distributor has provided a wide range selection of bikes, accessories, parts, and apparels for which the originality is guaranteed, and all from the renowned brands with high-quality and reasonable prices.
Besides, there are a lot of beneficial offers given from their shop to their beloved customers such as free delivery for customers that purchase non-bike items for SG$200, helping you to deliver your bike in a ready-to-ride form so you don't have to assemble them part by parts, and come with a one-stop cycling shop which will gladly help you to maintain and repair your bike when needed.
Consult your biking needs with Rodalink's professional team now and find the best bike, accessories, and apparels you need to enhance your cycling experience to the fullest. Getting a perfect bike is no longer a dream if you are shopping at Rodalink.