Biking has been famous in Singapore, especially after the boosts of the C-19 pandemic. While commuters will be satisfied with folding bikes, those who love adventure will still seek mountain biking. Despite not having lots of mountain bike trails Singapore, the ones that are currently open for the public have all been attributed with their own unique identity. Let's take a look at them all!
What are Mountain Bike Trails?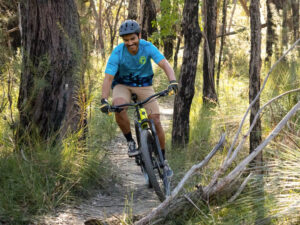 Generally, there is a wide variety of mountain biking trails. The range spread from family-friendly forestry routes with smaller lumps, bumps, and gradients to the challenging singletrack with lots of twists and natural and manufactured obstacles, jumps, and technical climbs along with descents.
Some people, especially tourists, may have questions like, "can I go mountain biking in Singapore?" and for this, the answer is a big yes. Trails around Singapore have different characteristics and feelings. They may all be tropical forest trails, but the feeling riders get when riding through each track won't be similar.
The trails in Singapore are rated following the International Mountain Biking Association (IMBA) trail difficulty rating system, which can:
Help trail users make an informed decision;
Encourage visitors to use trails that match their skill level;
Manage risk and minimize injuries;
Improve the outdoor experience for a wide variety of visitors;
Aid in the planning of routes and trail systems.
So, where are the best mountain bike trails in Singapore located? Let's discover every best MTB trail of Singapore together!
Best Mountain Biking Trails in Singapore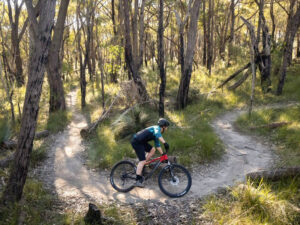 Amidst being filled up by hi-tech buildings, Singapore still has some nice spots for its civilians to appreciate the tropical terrain. There are the seven best MTB trails in Singapore in the lists, such as:
Mandai Track 15
Bukit Timah mountain bike trail
Rifle Range Link
Kent Ridge mountain bike trail
Chestnut Nature Park
Ketam Trail Loop
Western Adventure Loop
Location Review
We will start the review starting from the easy mountain biking trails to the advanced level one, so here it is:
Mandai Track 15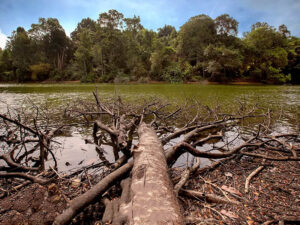 The Mandai Track 15 consists of rail trails and forestry tracks, is a beginner mountain bike trail Singapore suitable for novice cyclists or families. This 12km track features gentle uphill climbs and downhill runs. You can ride your mountain bike, hybrid bike, gravel bike, or cyclocross bike through this track.
This track is located not too far away from the forbidden Mac Ritchie mountain bike trails. Since the MacRitchie is not legally available and we believe you don't want to break the laws to fulfill your mountain biking adventure, Mandai Track 15 will be a good substitute.
Are you looking for a perfect mountain bike for this track? You can check out Polygon's Xtrada 7, manufactured with an ALX XC frame with a tapered headtube; it's one of the most lightweight and stable mountain bikes. Not only that, one of Xtrada 7's most essential components is Shimano Deore SL-M6100 1×12 speed which makes riders easily shift the gear.
Chestnut Nature Park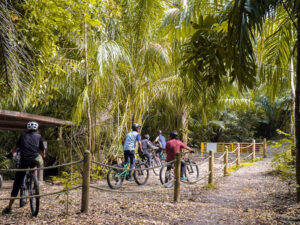 Intermediate mountain bike trails near me with unsurfaced and unclassified roads. Suitable for occasional cyclists with some experience. This trail is considered one of the largest MTB trails in Singapore categorized in north and south loops. The Southern loop is natural terrains with smooth and gentle rolls or climbs, while the other side is a more aggressive and rocky landscape.
Bukit Timah Mountain Bike Trail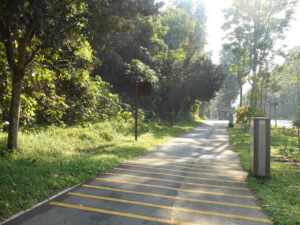 An intermediate to advanced mountain bike trail with technical terrain and uphill climb and descents. Suitable for seasonal cyclists with trail riding experience. One of the secret mountain bike trails near me is quietly situated in the nature reserve.
If you are looking for a trail that features a variety of technical courses, such as sharp descent or rocky terrain, this is the best choice. Additionally, this trail will be a good test for your endurance and stamina.
Kent Ridge Mountain Bike Trail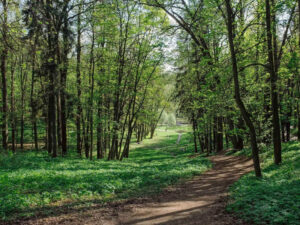 Perfect terrain for bikers who love a more challenging ride. With a curved spine, this trail is made to testify to your gripping and balancing capabilities. There are sharp climbs before speeding down drop-offs with tight corners and slopes. If you don't have any experience in trail riding, this track is a no-try.
Ketam Mountain Bike Park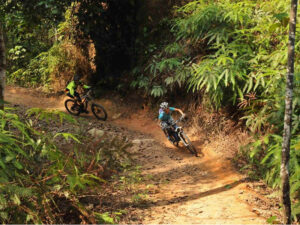 This trail lay in the Southwest part of Pulau Ubin and was developed by IMBA's trail difficulty system. Unless you are an advanced cyclist with depth knowledge of the mountain bike trails directory, else, this trail is not highly recommended.
This trail consists of technical climbs, boulders, and rocky descents, making it a challenge even for advanced mountain bikers.
Western Adventure Loop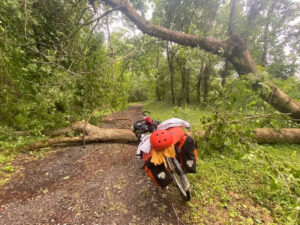 You can ride along the wild side of Singapore via one of the best mountain bike trails near me—20km West Adventure Loop. You can choose to take the rugged terrain of Zhenghua Park with the addition of the park's rural charm. You can ride up to 75-hectare Dairy Farm Nature Park, located in a rustic environment, and hiking and biking trails.
Conclusion
There are some Singapore mountain bike trail blueprints. Aside from the flat and smooth urban pavement, Singapore indeed has another trail option suitable for mountain bikers who seek more challenging and rough terrains that require technique.
Aside from the few reviewed mountain biking terrain above, there are lots of other exciting mountain biking terrain that are suitable for wide ranges of mountain bikers from beginner to more advanced level.
A friendly reminder, though, always choose the terrain within your riding capability to avoid unwanted injury as the challenging terrain can be dangerous to those who don't have enough experience. Besides, always wear your protective gear set during your mountain biking ride to save yourself from a broken bone and expensive hospital treatment fees.
If you are looking for a perfect mountain bike along with protective gear accessories, we highly recommend you to visit Rodalink since you can find a wide selection of high-quality bicycles and accessories through the store.
For more benefits, you can join their membership program for free by registering an account. There will be special deals and events especially given for Rodalink's community members. You can also collect points for every purchase, and this point could later be redeemed as a discount voucher. Shop with Rodalink is not only easy but also full of benefits; make your purchase now.