Usually, during unfriendly weather, like the rainy season, for example, most of the local trails will not allow riders to ride for safety purposes. But as a mountain cyclist, you might want to stay in shape and always be ready for a race. Luckily, the invention of the mountain bike trainer makes it possible for you to get the same feeling of mountain biking without leaving your home.
Curious about what a mountain bike trainer is and how it helps you in your workout? How to choose the best bike trainer for your daily workout? Find out the answers by reading through this article.
What is a Mountain Bike Trainer?
Some riders, especially those who love the feeling of riding their bike outside, might be skeptical about having an indoor bike trainer at first until some special occasions happen and indoor bike training becomes one of the best choices to make.
First and foremost, we know that mountain biking requires endurance and cardio strength. You can only achieve this by constant training. However, your daily routine might not always allow you to squeeze some time for a ride outside, and so does the weather which can be uncooperative at times.
Therefore, mountain bike trainer workouts become the best option. It allows you to constantly improve your endurance and cardiovascular strength while multi-tasking to do your unfinished reports or babysit the child in your house. You can still get the feeling of mountain bike riding except you don't have to go outside your home.
Types of Bike Trainer
In general, there are a few types of bike trainers, such as:
Wheel-On Trainer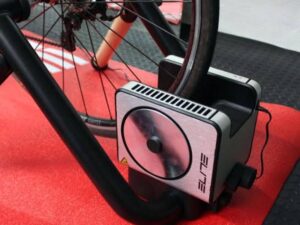 This type of bike trainer is attached to the rear wheel of your bike while the tire sits flush on the trainer's roller and is ideal for riders who ride their bike indoors and outdoors back and forth.
Wheel-on bike trainers like Elite Tuo and many others feature a fast fixing system to help riders securely lock their bikes onto the trainer. Elite Tuo features a foldable frame and legs to help riders get an easier setup. It is designed to be compact with excellent stability. The wheel rests of this bike trainer are made of Elastogel material to limit the friction noise by 50% and decrease the tire wear by 20%.
The frame can accommodate bigger chainstays and simplify the installation of your mountain bike on the home trainer. The Elite Tuo is suitable for 26″ to 29″ wheel size bikes, making it one of the best mountain bike trainers. Both wheel-on and direct-drive bike trainers are often known as turbo trainers.
Direct-drive Trainer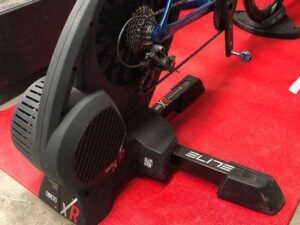 For the direct drive trainer, you will have to remove the rear wheel of your bike and attach your bike's chain to a cassette of the bike trainer. The direct drive trainer will help riders to eliminate slippage even at the maximum effort of pedaling. A direct drive trainer is also more accurate and quiet than other trainers. As mentioned, wheel-on and direct-drive trainers are part of the turbo trainer category.
Roller Trainer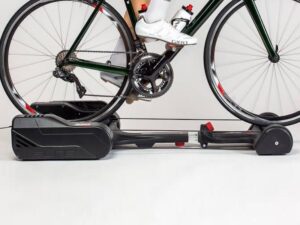 If you are looking for a more essential stripped-down indoor bike trainer, you might be looking for a roller trainer. This type of indoor bike trainer doesn't require you to assemble as it usually doesn't have setup connections. Roller trainer is super compact to the point you can put it in your car trunk and carry it anywhere you go.
Roller trainer is often used by pro riders to warm up before the race starts. For personal use, roller trainers can help riders to improve their pedaling skills and find balance while riding on the bike. The perfect compatibility between bikes and rollers is the frame size should be ranging between 37″ to a maximum distance of about 45″.
Tips Using Mountain Bike on Trainer
To get your mountain bike trainer stand to work to its fullest, here are some tips you might want to follow these following tips:
Mountain Bike on Wheel-On Bike Trainer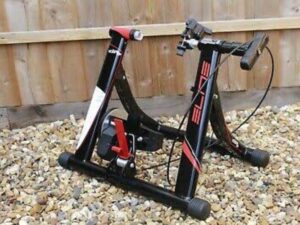 Follow the instructions to adjust your bike wheel tire to your bike trainer and make sure everything is set up correctly before you jump onto your bike for a ride. Since your tire will directly have contact with the bike trainer, you might consider investing in the rear wheel, training tire, and cassette to prevent excessive wear on your bike wheel.
When looking for a training tire, make sure you pick a tire with a durable compound. To lessen the noise, it will be best to get the 27.5 mountain bike trainer tire and 29 mountain bike trainer tire that has a smooth tread. If you have the means, get the smart bike trainer so you can connect to system apps like Zwift for a more interactive and realistic riding experience.
Mountain Bike on Direct-drive Bike Trainer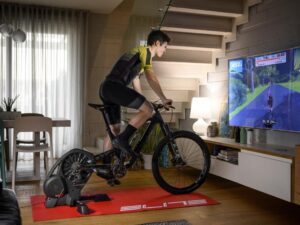 Most direct-drive bike trainers are compatible with mountain bikes. All you need to do is ensure the cassette of the mountain bike trainer is compatible with your mountain bike's groupset. You can consider having an investment in an extra cassette so you won't have to remove and re-installing your bike's cassette whenever you switch between outdoor and indoor training.
In addition, you will have to ensure having the correct free hub for your cassette. For example, consider getting an HG driver body for your Shimano groupset of 8-speed to 11-speed. As for rear-axle setup, you can get a look at the followings:
Quick Release is around 135mm without boost and 142mm with boost;
The thru-axle is about 12mm x 135mm or 12mm x 142mm without boost;
The thru-axle is about 12mm x 148mm with a boost.
If you are unsure about the size of your hub spacing, try to carefully flip your bike upside down and measure the distance between two dropouts. However, if you are looking for an easier way to find the correct size of your hub spacing, you can bring your bike to Rodalink's one-stop cycling shop and ask for professional assistance.
To comfortably remove your bike's rear wheel from the direct-drive bike trainer, you can follow these steps:
For a starter, shift your gear to the smallest cog;
Once done, you can unscrew and pull out the thru-axle or loosen the quick-release skewers;
Loosen the chain by pushing on the bottom pulley and pulling the body of the derailleur out of the way so you can remove the wheel. If your bike is using a Shimano groupset, there might be a clutch lock on a derailleur so you will need to ensure it is in the "off" position before removing the wheel;
After you successfully remove the wheel, carefully put your bike onto the trainer with adapters and line up the rear drop-outs with the holes to ensure the chain is attached to the smallest cog of the trainer's cassette;
Lastly, tighten the rear thru-axle or quick release skewer and testify it.
Conclusion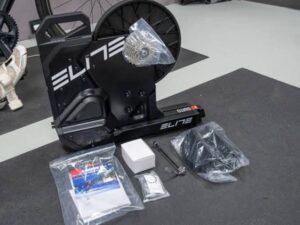 Now you no longer need to frequently check on the weather news report to see whether or not today is a good day to go mountain biking because now, you can get the same mountain biking feel without leaving the comfort of your home.
A bike trainer is a solution for people who are unable to go outdoors for a ride due to various reasons. In general, bike trainers will fit various types of bikes in a wide range of sizing but if you want to make sure, you can get assistance from the professional in the bike shop to help you find the perfect bike trainer according to your need and your bike sizing.
Considering investing in a bike trainer? Instead of looking around the internet for a second bike trainer, you can directly visit Rodalink at Jurong East or East Coast. At Rodalink, you will not have to worry about breaking your bank account to experience the comfort of indoor training because Rodalink offers a product with high-quality components at competitive pricing.
You are ensured to find the best Polygon bike trainer that not only suited your training style and need but also your budget. In addition, if you buy non-bike items from Rodalink for SG$200 or above, you will get free shipping offers. For more beneficial purchases, you can register and become part of Rodalink community members to get special deals and offers.
Don't wait any longer. Keep up with your training during the bad weather season so you will always be ready for outdoor mountain biking starting with purchasing a bike trainer from Rodalink.