Getting a new bike is always an exciting experience. Seeing more and more people cycling around with their bicycles escalates the fun – now you can't wait to join and start pedaling! Although cycling around Singapore is a safe activity, it is important to keep everyone's safety and take precautions while cycling.
Some rules for Safety Cycling from Singapore Land Transport Authority (LTA) include wearing a helmet when cycling on roads, obeying all traffic signals, not using mobile communication devices while riding, then not cycling on expressways, road tunnels, and selected viaducts.
Now, your safety. Check out the essential gears that you should have in this guide of standard safety riding gear!
Bike Helmet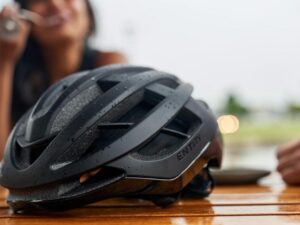 Besides it's mandatory when cycling on roads, wearing a helmet has the benefit of keeping your head from bumps and crashes, despite any speed you're riding. However, choosing a proper bike helmet could be confusing at first, since there are many types of helmets to choose from, from road bike helmets, and mountain bike helmets to urban/city bike helmets.
Road bike helmets are good for road bike users due to the lightweight material used with more ventilation design. They are designed to be aerodynamic, supporting the speed chaser.
For more extreme riding such as mountain biking which involves freeride and dirt jumping, you can consider a mountain bike helmet. In general, mountain bike helmets are designed to have more coverage and offer more protection than road bike helmets.
The urban/city bike helmets are suitable for those with day-to-day or recreational rides around the park because it's light, stylish, and easy to carry.
Lock
You sure don't want to leave your bike unlocked when grabbing a coffee for some minutes and opening a chance for theft. Decrease the risk by stepping ahead in investing in the right bicycle lock for the situation.
There are several types of bicycle locks available in the market: cable lock, u-lock, chain lock, and folding lock. The cable lock has a bendy circular shape that handles the bike at its parking spot. The cables often come with a quick-release system.
The U-lock type is another common type of lock that is made from heavy-duty metal. This type of lock is durable and won't break easily. Due to the material used, the U-lock type tends to be heavier and more expensive than other varieties.
Meanwhile, chain locks are made up of a series of hardened steel links inside a protective nylon sleeve and a lock. They have relative length and flexibility so you can secure your bike to more objects. The next advantage is they can be carried relatively easily around your seat post and are more resistant to some common methods of attack used on other bicycle locks.
Lastly, the folding lock is considered to be a popular alternative to chain and cable locks. They have a more simple design that is suitable for commuters. With a folding lock, there are more locking opportunities than U-lock due to its shaping capability.
Light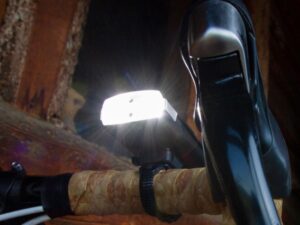 Having a bicycle light supports you to stay aware of your surroundings, especially when riding at night. The front and rear blinker set will become a must-have item if you typically commute in daylight or dusk when the light is low. Bright front lights are also important for trail riders to avoid any accidents or becoming lost.
So, where should you mount your cycling light? Most of the lights are mounted to the handlebar – more secure and steady. If you're looking forward to having a mountain bike night ride, you should choose to mount the light on your helmet instead, to bring light following your gaze.
To choose the right bicycle lights, look for sturdy attachments, an easily removable light body for charging, a battery indicator to recharge the system, and an IPX water-resistance rating of five or higher. Also, don't forget to check the lumens according to your need. According to Bike Radar, generally speaking, a minimum of 200 lumens for urban commuting and 400 lumens for riding on unlit roads is recommended.
Elbow & Knee Guards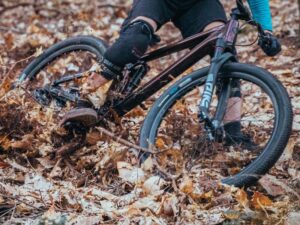 It's always best when you are well-equipped before riding along and exploring the lane, especially when you're into mountain biking and downhill biking specifically. There may occur some mishaps when you're trying to tackle the obstacles. Similar to helmets, wearing elbow and knee guards is important to protect your body from serious injuries and increase confidence in your riding skills.
Elbow and knee pads vary wildly. Things to look for when choosing elbow and knee pads include comfort, weights, from lightweight to heavy-duty pads, and flexibility. Make sure you're choosing a pad that is fit to your knee and elbow. Because if it's baggy, the condition could lead to the pad moving in a crash, decreasing the protection it offers.
When you're equipped with the proper gears, not only it will keep you and other road users safe when riding, but also enhance your comfort and riding performance. Get your gear for safety cycling only at Rodalink. Happy cycling!