Cycling has been one of the most favorable activities nowadays and has become a part of a new lifestyle. If you also think of cycling as part of your lifestyle, investing in a bike will be more beneficial than renting one. As new cyclists, you might enjoy riding around footpaths or park connectors. Hence, you should get to know the Polygon hybrid bike.
What is a hybrid bike and why should you consider investing in Polygon bikes? Get a thorough review of a hybrid bike including its variety of types and find out which hybrid bike suits you best by reading through this article. Enjoy your reading!
What is a Polygon Hybrid Bike?
Polygon has already bagged the experience of manufacturing bikes for over 33 years and still counting. The brand has already gained multiple worldwide recognition awards, for example, the Innovation of The Year award by PinkBike in 2017. Polygon has also been reviewed by many professionals like the Loam Wolf, Bike Rumor, Pink Bike, and many more.
Being a bike manufacturer that cares a lot about research and innovation, Polygon has classified its bikes into six categories based on the terrain the bike can take. The hybrid bike is classified as category 3 which means made to be ridden on asphalt, gravel path, hiking, and non-hiking paving.
Hybrid bike design in general is a combination of mountain, road, and touring bikes creating a "can do it all" bike for a wide range of usage. Polygon's hybrid bike offers the quality of speed, is strong-built, comfortable, and ideal for taking the urban pavement as well as a little bit of singletrack.
Polygon Hybrid Bike Type
Polygon hybrid bikes come in two different types, the Polygon Path series and the Polygon Heist series. Let's see the following explanation to differentiate both:
Polygon Path Series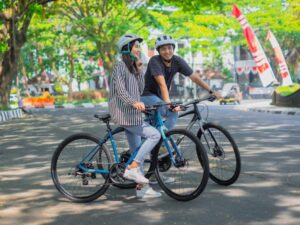 A hybrid bike that comes with a tire focused more on the road riding with more relaxed geometry compared to the actual road bike. When riding on Polygon Path, riders can have a more comfortable and nice upright position which is perfect for riders who want to get a speed on road yet couldn't risk the crouching down riding style because of back pain.
If you are looking for a commuter so you can get on and off work faster, consider having the Polygon Path 2 in your possession as it combines the efficiency of a road bike with a commuter geometry making it a perfect bike to have when you want a fun ride with friends or need a vehicle to dodge the traffic so you can get to work on time.
Polygon Heist Series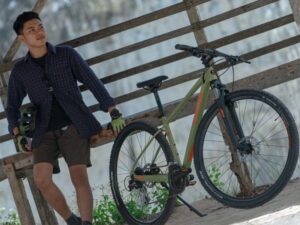 Polygon Heist series is a hybrid bike that comes with a mountain bike soul. Want an adventurous ride on the light-trail road or a nice ride in an urban area? You should've tried the Polygon Heist series.
The Polygon Heist Series comes with front suspension to allow its rider to have a more comfortable ride on paved trails and light gravel trails. While most hybrid bikes will get less lightweight in compensation for more comfort and durability, it seems like not the case with Polygon Heist X7 as they're built in the lightweight AL6 Alloy frame.
Reason Why Buy Polygon Hybrid Bike
When you are looking for a hybrid bike Singapore for your investment, the Polygon Hybrid bike will be worth the shot. This is because all the hybrid bike frames of Polygon are manufactured in the lightweight AL6 alloy technology which has gone through a strict quality control process before and after frame production.
The Path 2 comes with Alutech Rigid Fork ensuring the bike stability while crossing the road combined with a 24-speed groupset which gives the riders more scope to ride the longer steep sections since the lower gear and pedal down the fast descents on higher gears.
The Heist X7 comes with the highly adjustable trekking specific fork, the SR Suntour NCX Air Fork with 63mm travel which is light and provides comfort enabling the riders to ride in a variety of terrains. The nice part is it has a hydraulic lockout that you can switch off and on depending on the terrain you have been riding on.
Both the Polygon Path and Polygon Heist series are equipped with hydraulic disc brakes, giving the riders more powerful and easier access to stop the bike's movement. Both also use the Shimano groupset as their bike component with Path 2 using Shimano Altus MIX groupset while the Heist X7 uses the Shimano Deore groupset.
5 Best Polygon Hybrid Bike
Looking for a beat hybrid bike to purchase? Here is some of the list from Polygon Hybrid Bike that you will fall in love with immediately:
Polygon Path 2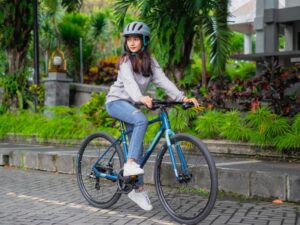 When you need a city ride you will have to ensure your bike can offer you the speed, style, and agility in commuting. Path 2 is built with an AL6 PAVEMENT frame, the AL6 alloy material of Polygon's technology that has undergone a strict before and after manufacturing quality control, guaranteeing a lightweight yet durable kind of frame, budget this bike is around SG$649 .
Polygon Path 3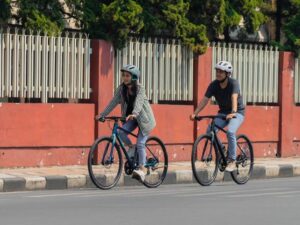 Get the utmost comfort from this bike with the slightly raised handlebars, shorter wheelbase, and slacker head tube angle that gives riders an absolute cozy riding position. Built with an AL6 Urban Pavement frame and Shimano Acera MIX 3×9-speed groupset, allowing riders to have more scope to climb the long steep sections, budget this Polygon Path 3 is around SG$799.
Polygon Heist X2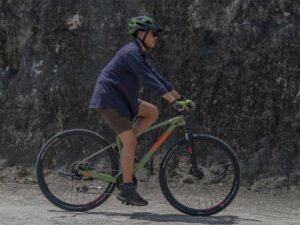 Covering the wide spectrum of rides, Heist X2 is a perfect choice for your daily commuting ride and a short escape on local tracks. Built in AL6 Urban Cross Frame combined with the adjustable trekking fork SR Suntour Nex 63mm travel, riders are allowed to enjoy rides in a variety of terrains.
Heist X2 is equipped with a Shimano Acera MIX 2×8-speed groupset with internal routing, you only have to spend around SG$749.
Polygon Heist X5

Want an urban bike with the mountain bike soul? The Heist X5 is your perfect go-to bike. Built around Polygon AL6 Urban Cross Frame with adjustable trekking fork SR Suntour NVX 63mm travel, as well as a Shimano Deore 1×10-speed groupset and internal routing, giving this bike a neat look with durable and lightweight high-quality bikes.
Get the best commuting ride and a fun short escape ride on local tracks by purchasing the Polygon Heist X5 for only around SG$1,049.
Polygon Heist X7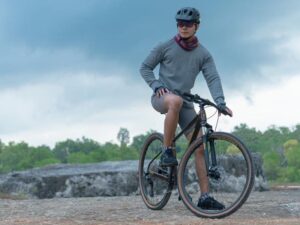 The advanced version of the previous models, Heist X7 is coming with a Shimano Deore 1×11-speed groupset and a great quality Entity steering parts combined with the durable and lightweight alloy wheelset fitted in 700C tires, making this bike have a lower rolling resistance enhancing the efficiency of the bike.
Get this high-quality bike at Polygon Singapore official distributor: Rodalink, only for SG$1,249. You can enjoy ride around urban pavement areas to light-trail roads on the Park Connector Network.
Check out more bike selections of renowned brands by visiting Rodalink. Aside from bikes, Rodalink also offers a wide range selection of bike parts, accessories, and even apparels that will complete everything you need to start your riding journey.
Get the special offer by registering as part of the Rodalink community and enjoy the deals and events exclusively for members only. Community members can also save points for every purchase made which can later be redeemed for a purchase discount voucher.
Want to buy it now and pay for it later? You can do it by choosing Hoolah as your payment method when you are purchasing, and enjoy the 0% interest fee. Having a high-quality bike at a budget price is no longer a dream because you can have it through Rodalink.