Cycling, in general, has been a popular and fun activity recently. Some people who like challenges also go mountain biking to enjoy the adrenaline sport. However, if you are interested in mountain biking and planning to invest in one bike, make sure you don't miss our Polygon mountain bike review that probably could help you save some bucks for your investment in interest.
Buying a new bike, especially for a more advanced type of bike like a mountain bike, will cost you quite a lot. Hence, it will be wise to determine which kind of mountain bike you will need based on your riding style so you can avoid purchasing the wrong bike.
How to Choose a Mountain Bike
Whether you are completely new to the cycling world or are a road biker who seeks a new challenge by hitting the dirt and going off-road, knowing what you have to pay attention to when looking for a perfect-fit mountain bike is going to save you from investing in a wrong type of bike. Here are some tips to find a bike that is suitable for you:
Look For the Right Size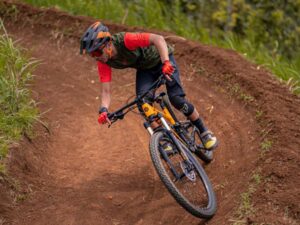 Considering your comfort during a ride, finding the right size of your bike is the right thing to do. By mentioning "finding the right size", you don't necessarily have to rely on the stated size because each manufacturer might have different sizing but rather, ensure that the bike you buy is the right fit for you.
Pay attention to measurements of the distance from the saddle to the grip on the handlebar and the distance from the center of the crank to the mid-head tube. Riders should not be afraid of a little longer measurement compared to a road bike as a long front triangle will put the axle further ahead, letting the rider's weight for grip without risking going straight over the bars at the first impact and helping the rider with climbing by keeping the front wheel planted.
Choose a Wheel Size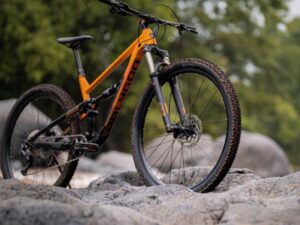 There are two diameters in size of a mountain bike wheel, the 27.5″ one and the 29″ one. The 27.5″ or 650b wheel size is often used to tackle the aggressive trail and downhill while the 29″ wheel size is often found in the cross-country and trail mountain bikes.
Determine which type of terrain you wish to ride on. If you prefer to go for long-distance riding, you might want to pick a bigger wheel, and if you looking for a wheel that is strong enough to help you smash the trail track, the smaller wheel will probably be in your favor more.
Hardtail or Full Suspension?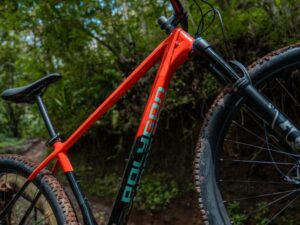 Many people are often confused between choosing either a hardtail mountain bike or a full-suspension mountain bike. Understanding the fact that there will be extra manufacturing complications to make a full-suspension bike, the expense you will have to spend to take home such a bike will be higher than picking on a hardtail. But if a cost is not a problem for you, getting a full-suspension bike for the first go is not a problem.
Scratch the myth about beginners having to start learning with a hardtail bike before upgrading it into the full-suspension bike, it is a personal preference of each biker, and if you don't have any problem getting a full-suspension bike as your first ever mountain bike, then you should probably go for it.
Determine Your Riding Style
One of the most important things to look after before deciding to buy a mountain bike is to determine your riding style. Some types of mountain bikes according to your riding style:
Cross-Country Mountain Bike
Perfect choice for riders who enjoy climbing and speed for longer, amazing rides in the backcountry. If you often ride on mixed rough forest paths and singletrack, smooth fire roads, and paved paths connecting the trails, you should consider having this bike.
Trail Mountain Bike
If you are the typical riders who are equally focused between technical downhill riding and uphill rolling cross-country terrain, seeking an adventurous side in mountain bike, don't mind a long climb as long as there's a downhill that gets the adrenaline pumping with drops, jumps, berms and rock garden, this type of bike will suits you more.
Enduro Mountain Bike
Enduro mountain bike is designed for riders with aggressive riding styles, riding around the downhill and technical but in the backcountry of single and eroded double-track trails, or area with technically demanding and generally descending terrain with sections of singletrack, consider bringing this bike home.
Why Polygon Mountain Bike?
Among so many options of mountain bike brands, Polygon bike is one of those brands you should have put into consideration before deciding on an investment. If you look up on the internet, you might come across a couple of Polygon bikes review Reddit and most of it is going to be talking about how this bike offers what any other brand can hardly do: high-quality drivetrain components for a cheaper price.
But actually, it is not only the fact that most Polygon bikes use the world's renowned brand of groupset: Shimano, but also their bike frame is built in the material of advanced technology within the strict quality control. Polygon understands that riders nowadays are looking for a bike that is not only light in weight but also strong-built and rigid.
Although the aluminum material had been used to manufacture the bike frame since the late 1990s, Polygon managed to take this material to a more advanced level by launching the ALX Alloy; an aluminum blend that is not only lighter in weight but also more durable than any material used by its competitors. Along with the 6061 triple-butted tubings and heat-treated for strength and durability, ALX frames are built to be long-lasting.
For a better understanding of Polygon's mountain bike, let's see what other bike enthusiasts talk about Polygon bike by trying to absorb the information compiled from the Polygon bikes review 2021, such as:
Siskiu Series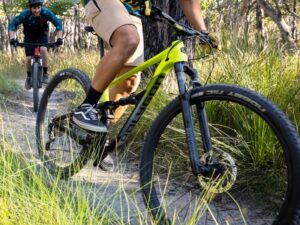 The Siskiu series is Polygon's all-around, capable, and fun full-suspension bike series that answers the wish of most riders that seeks the true spirit of the mountain bike. The Siskiu series comes in three different types and each type is used to conquer different terrains. Types of Polygon Siskiu series are:
Siskiu D: Polygon's all-around cross-country trail bike can handle almost everything from riders' fun local trails. Built with the lightweight ALX alloy material for its suspension frame that is designed with the modern geometry;
Siskiu T: Polygon's trail bike which handles the demand of the modern trail bike: sticking balance between playful handling and high-speed control. As their slogan stated, the Siskiu T is made for any trail and any riders;
Siskiu N: Polygon's enduro bike is built with full suspension ALX alloy material that combines parts and technology design so the bike is ready to be ridden in the most demanding of conditions.
After a brief introduction to Polygon's Siskiu types, now it's time for the Polygon Siskiu review. This time, we will be starting with a Polygon Siskiu D7 review.
A well-known bike reviewer and expert on bikes, Guy Kesteven, who has tested thousands of bikes for over 25 years commented that Siskiu D7 has fast-rolling tires, different cost, and efficient yet supple rear suspension, with a decent frame and cockpit geometry with dropper-post and thru-axle ready.
The versatile geometry of Polygon Siskiu D7 combines 120mm front-wheel and 45mm rear travel, allowing the riders to excel on smooth to moderately rough immediate descents with quick handling and a lively demeanor. Despite the build of this bike being within budget, it still functions with a thoughtful choice of components like the wide handlebar and dropper seat posts that offer so much help to enhance riders' comfort and control during the ride.
The difference between the Polygon Siskiu D7 2021 review with the Polygon Siskiu 2022 is probably in the weight of the bike which differs by about one kilogram.
Besides the Siskiu D7 series, we also have the Polygon Siskiu T7 review which also praises the lower-cost pricing despite using the components of renowned brands that are high performing. Coming with 140mm (29″) and 150mm (27.5″) front-wheel and 55mm rear travel, Siskiu T7 is a trail bike that performs well for uphill riding and is capable of downhill.
The highlight of the Siskiu T7 is the light and rigid frame, the stability of the bike that gives the rider confidence during the ride, and the stylish look of the bike.
Conclusion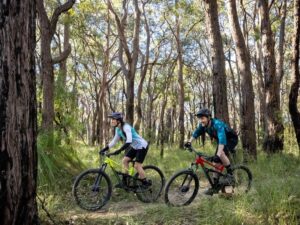 After reading through the Polygon full suspension bike review, are you now considering putting an investment into it? If you happen to be interested or looking for Polygon's bike, you can visit their official distributor: Rodalink.
The benefit of purchasing at Rodalink is that they will send your bike in front of your doorstep in ready-to-ride form so you don't have to go through much hassle by looking for how to assemble the bike through the internet because Rodalink already did it for you.
You can also enjoy the buy now and pay later options with a 0% of installment by using ShopBack as your payment method. If you are new to the cycling world, you also don't have to worry because, with a wide range of bikes, accessories, parts, and apparels from renowned brands, you are guaranteed to find the perfect bike and its accessories at Rodalink.