If you are enjoying cross-country mountain riding and looking for a bike that you want to buy, one of the recommendations will be the Polygon Siskiu D6. Let's have a little sneak peek at this bike through this Polygon Siskiu D6 review and decide whether or not this bike is worth your cash.
Introduction to Mountain Bike
At a glance, a mountain bike shares some similarities with another bicycle except this bike is specifically designed for off-road riding hence, it has features that will enhance the bike's durability and performance over rough terrain causing them to be heavier in weight and less efficient when being ridden on a smooth surface.
Initially, mountain bikes are classified into:
Cross country mountain bike which is primarily designed for racing and heavily emphasizes the endurance of the bike;
Trail mountain bike, the developed type of cross-country bike often used to tackle the singletrack, up and down over challenging terrain, and rocky mountain areas;
Enduro mountain bikes, gaping between the trail mountain bike and the downhill bikes typically featured a longer full-suspension design with 140mm suspension travel designed to be efficient on the climbs while still providing confidence and control on rough and technical descents.
Downhill mountain bikes are usually equipped with a high gear ratio and soft suspension with 200mm or more suspension travel suitable for race sources and dedicated trails.
Polygon Mountain Bike Siskiu Series
Since we are going to talk about the Polygon Siskiu review, it will be best if we get to know what type of bike the Siskiu is and how many series it has:
Polygon Siskiu D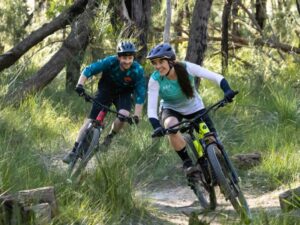 Siskiu D series is specialized in an all-around cross-country mountain bike built around a lightweight ALX suspension frame with more modern geometry offering a slacker head tube angle, longer reach, lower bottom bracket, and shorter chainstay allowing riders to have maximum performance when it comes to climbing and descending, regardless of the gradient, technicality, and distance.
Siskiu D series features 120mm suspension with a one-piece linkage system reducing lateral flex in the rear triangle while improving the linear movement and performance of the shock. As for the wheel size, Siskiu D comes in two sizes, the 27.5-inches wheel, and the 29-inches wheel.
The model of this series is Polygon Siskiu D5, Polygon Siskiu D6, and Polygon Siskiu D7. We will be having a review and comparison of the three later on.
Polygon Siskiu T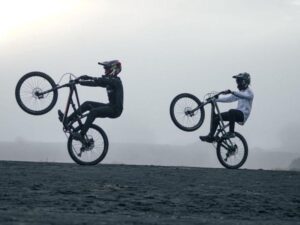 Siskiu T series is specialized for any trail through encompassing progressive geometry into an attainable package with an additional space to attach your water bottle. Siskiu T handles the demands of a modern trail mountain bike striking a balance between high-speed control and playful handling.
The 29-inches wheel model of the Siskiu T series features a 135mm of rear travel with 140mm forks while the 27.5-inches model features a 140mm rear travel and 150mm upfront. The seat tube is designed shorter to allow 150mm dropper posts on the small and medium frames and 170mm dropper posts on the large and extra-large frames.
Polygon Siskiu N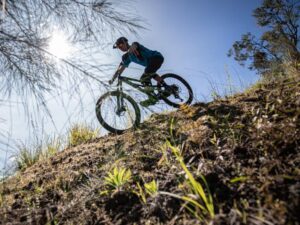 Siskiu N series is an aggressive, agile, and fast bike specialized for enduro trail mountain biking built around an aluminum full suspension frame with a combination of parts and technology designed to be ready on tackling the most demanding conditions.
The Siskiu N bike is adopting the new Boost Hub standards coming with a 170mm suspension fork travel for the 27.5-inches wheel and a 160mm suspension fork travel for the 29-inches wheel. For the rear suspension system, the Siskiu N series utilizes the FAUX BAR technology that maintains the frame to keep being lightweight while reinforcing the high-stress areas and reducing flex under heavy loads.
As the cherry on top, the frame of the Siskiu N series is finished with a tapered headset, rear thru-axle, 150mm dropper posts in the small and medium frames, and 170mm dropper post on the large and extra-large frames. It also comes with internal routing for gears making the bike look clean and stylish.
The Review of the Siskiu D Series
Before we get into our Polygon Siskiu D series throughout reviews, let's get to see the specifications of each type of bike:
Polygon Siskiu D5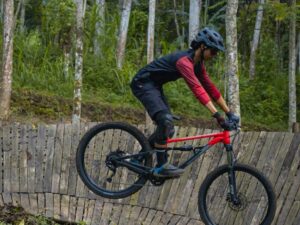 Frame built around an ALX aluminum alloy with 120mm travel fork (27.5″) and tapered head tube. Manufactured in SR Suntour XCM HLO suspensions, Shimano Alivio Mix 2×9-speed groupset, and Shimano hydraulic disc brakes.
Polygon Siskiu D6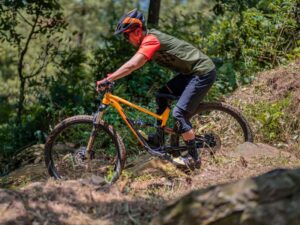 The Polygon Siskiu D6 2022 frame built around ALX aluminum alloy with SR Suntour XCR 32 Air 120mm travel fork suspensions and Shimano Deore 1×10-speed groupset with the 32-T crankset and 10-42T cassette, Shimano hydraulic disc brakes, and a dropper post and two sizes of wheel: 27.5″ and 29″.
Polygon Siskiu D7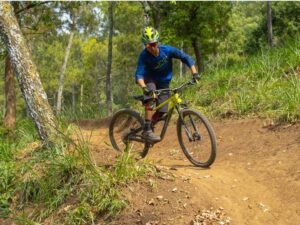 The Polygon Siskiu D7 comes with ALX aluminum alloy with RockShox Recon Silver RL 120mm travel suspensions, equipped with Shimano Deore 1×11-speed groupset with the 32-T crankset and 11-51T cassette, a dropper posts, and Shimano hydraulic brakes with two sizes of the wheel the 27.5″ and 29′".
When comparing Polygon Siskiu D5 vs D6, the Polygon Siskiu D6 dominates by adapting the 2HRU system that allows riders to switch from thru-axle which allows riders to switch from thru-axle to a quick release without major frame changes.
Siskiu D6 also comes with a Shimano Deore 1×10-speed groupset, giving the riders a more focused ride and making the bikes more lightweight and beginner-friendly. The dropper posts in Siskiu D6 give more maneuverability, more traction, and more speed to give its riders more confidence when riding their bike.
But when talking about Polygon siskiu D6 vs D7, Siskiu D7 will get the upper hand considering the usage of D6 suspension is more entry-level to mid-range while the suspension used in D7 is in mid-range to pro-level—which considers understandable since the pricing between D6 and D7 differs by SG$400. Weight-wise, the Siskiu D7 will save you about 1.3kgs of weight compared to D6.
A slight Polygon Siskiu D7 review, this bike comes with a Shimano Deore 1×11-speed groupset which offers more efficiency and provides a wider range, and an easy way of shiftIng in comparison to the Siskiu D6 which comes with a Shimano Deore 1×10-speed.
But anyway, either Siskiu D5, D6, or D7, all three served quality for the price. Siskiu D5 with Alivio 2×9-speed offers reliable performance for climbing even over steeper hills. The Shimano Deore 1×10-speed in D6 allows riders to boost the maneuverability, speed, and traction over the ride. While the Shimano Deore 1×11-speed provides a wider range and easy way of shifting while increasing the efficiency of the gear.
To conclude, if you are just into cross-country mountain biking and looking for an affordable entry-level bike, go for Siskiu D5. Polygon Siskiu D6 is more into the mid-range level of bike although it still is friendly and going to be amazing for even beginners. The more mid-range to the upper-range level cross-country should go to Siskiu D7.
If you are more into trail track riding, you should have considered getting the Siskiu T series instead. A fair pick is between Polygon Siskiu T7 or Polygon Siskiu T8 which we are going to review in the upcoming blog posts.
Now regardless of which kind of bike you are wishing to have, remember to purchase it only through the official distributor to get the original set. You can visit Rodalink to get your desired bike. They have a wide range of bikes, accessories, parts, and apparels selections from renowned brands.
Aim for a hassle-free bike shopping only at Rodalink, all you need to do is register as a Rodalink community member and purchase your desired bike through Rodalink online store which you can access 24/7 and get the special deals or join their exclusive event for more beneficial purchase.
Have your bike delivered right in front of your doorstep in ready-to-ride form. No more nuisance of searching "how to install your bike" because Rodalink has got it covered for you. So what are you waiting for? Get your dream bike now only at Rodalink.